About The MRRL
The Michigan Rock and Roll Legends (MRRL) is a totally independent and proudly non-commerical website that is primarily a tribute to the artists and songs of Michigan's first vinyl records era. A total of 124 artists and individuals have been inducted into the MRRL Hall of Fame during the past eighteen years.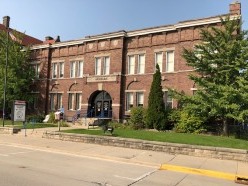 Historical Museum of Bay County
The MRRL Hall of Fame has a permanent home at the Historical Museum of Bay County, located at 321 Washington Avenue in downtown Bay City, Michigan. The MRRL HOF exhibit opened on March 12, 2022. Highlights include a Motown Time Capsule video of the years 1960 - 1979, the Inductee Wall of Fame, the legendary Frankie Lymon tombstone, a collection of Dennis Loren's rock and roll posters, an assortment of autographed guitars, and displays featuring Alice Cooper, Madonna, Creem magazine, the Bay City Rollers, Del Shannon, and ? and The Mysterians. Admission to the musem is free.
Another MRRL HOF display can be found at Scotty's Sandbar - located on the banks of the Saginaw River at 1201 Evergreen Drive on Bay City's Middle Ground. The venue is the city's premier live music club and the perfect spot to house a tribute to Michigan's Rock and Roll legacy.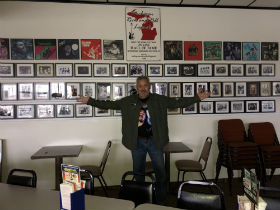 Dr. J at Scotty's Sandbar
An Oldie but Goodie: Video Tour of the Michigan Rock and Roll Legends Hall of Fame display formerly housed at the Bay City Motor Company. The display was moved to Scotty's Sandbar after the Bay City Motor Company closed in 2019.
Motown Black & White: The MRRL Internet Hall of Fame was honored to be an interactive component of the Al Abrams' collection and exhibit on the Motown music empire. The MRRL kiosk was unveiled at the red carpet event at the Detroit Historical Museum on April 21, 2016.