Legendary Michigan Songs
91.) Be My Lover - Alice Cooper
Artist Name:

Alice Cooper

Year Inducted:

2015
Details

Category: Legendary Songs
"Be My Lover" (M. Bruce) – Alice Cooper; Warner Bros. label, # 49 Billboard Hot 100 – 1972. Inducted in 2015.
"Be My Lover" was written by guitarist Mike Bruce and was the second single released from Alice Cooper's "Killer" album. The album was reviewed in Rolling Stone by renowned rock writer Lester Bangs who had high praise for one of the album's best songs. "Be My Lover" sets Stones-like lyrics dealing with a sexual situation to a bedrock guitar riff straight from Lou Reed's "Sweet Jane", he wrote. "This may be the best vocal Alice's ever recorded, and Mike Bruce's words reflect the strutting, smug feeling of the nascent Superstar perfectly: 'And with a magnifyin' glance I just sorta look her over/ We have a drink or two, well maybe three/ And then she starts tellin' me her life story'."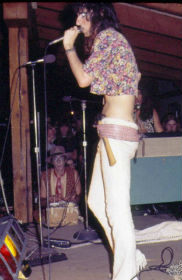 Bangs went on to write: "Later there is a great moment hilariously reminiscent, whether intended as parody or not, of "Honky Tonk Women": 'I told her that I came from Detroit City/ And I played guitar in a long-haired rock & roll band' – and here Glenn Buxton's guitar takes off in a great swooping flight set at reduced volume level so you don't quite catch it at first – 'She asked me why the singer's name was Alice/ And I said, Listen baby, you really wouldn't understand'. The name and the self-conscious sense of charisma will recur later, when he throws in a 'This is Alice speakin!', and even if you've never experienced the pandemonium of a live show you know that this man is a hero to countless American kids, and he knows it too."
Alice Cooper was known for their controversial stage show, but the "Killer" album's two singles, "Be My Lover" and "Under My Wheels", firmly established them as a top flight rock and roll band and a top concert draw in the early 70's.
YouTube Video:

https://www.youtube.com/watch?v=46lHQT-_0Ig