Legendary Michigan Songs
92.) Papa Was A Rollin' Stone - The Temptations
Artist Name:

The Temptations

Year Inducted:

2015
Details

Category: Legendary Songs
"Papa Was A Rollin' Stone" (N. Whitfield, B. Strong) – The Temptations; Gordy label, # 1 Billboard Hot 100, # 5 Billboard R&B – 1972. Inducted in 2015.
Although Norman Whitfield produced the original version of "Papa Was A Rollin' Stone" for Motown's Undisputed Truth in late 1971, the definitive recording of the song was done the following year by The Temptations.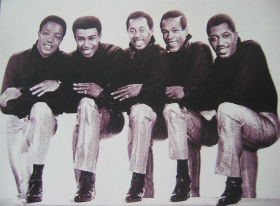 Beginning with "Cloud Nine" in late 1968, Whitfield had produced a number of big hits for the Temptations in a style described as psychedelic soul. "Papa Was A Rollin' Stone", a classic example of Whitfield's production technique, was originally a 12-minute cut on the Tempts' "One Direction" album but was edited down to just under 7 minutes for the single.
By 1972, the Temptations' line-up had undergone some changes. Eddie Kendricks had left to go solo and his falsetto had been replaced by Damon Harris; and Richard Street was filling in for Paul Williams. The two new Tempts joined with regulars Dennis Edwards, Melvin Franklin, and Otis Williams to perform the vocals in true ensemble style: alternating vocal lines, taking the role of siblings asking their mother about their now-deceased father and getting their mother's repeated response: "Papa was a rollin' stone/ wherever he laid his hat was his home/ and when he died, all he left us was alone".
"Papa Was A Rollin Stone" won three Grammys in 1973 including Best R&B Vocal Performance by a Group. It's b-side, an instrumental featuring the Funk Brothers without the Temptations' vocals, won Best R&B Instrumental. Composers Norman Whitfield and Barrett Strong also won for Best R&B Song.
YouTube Video:

https://www.youtube.com/watch?v=fDi2X