Legendary Michigan Songs
103.) Jenny Take A Ride - Mitch Ryder and The Detroit Wheels
Artist Name:

Mitch Ryder and The Detroit Wheels

Year Inducted:

2016
Details

Category: Legendary Songs
"Jenny Take A Ride" (Crewe/Johnson/Penniman) – Mitch Ryder and The Detroit Wheels; New Voice label, # 10 Billboard Hot 100 – 1966. Inducted in 2016.
Mitch Ryder and The Detroit Wheels' third single welded Chuck Willis' "C. C. Rider" to Little Richard's "Jenny, Jenny" and was the first of seven high energy chart hits by the group.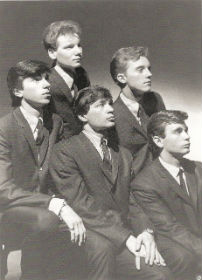 The group first came together in 1964 in Detroit as Billy Lee & The Rivieras with lead singer Billy Levise, lead guitarist Jim McCarty, drummer John Badanjek, bassist Earl Elliott, and rhythm guitarist Joey Kubert. By mid-summer they had attracted a fanatical local following. The band's live performances were so potent that the unrecorded group was soon headlining over major Motown artists at clubs and casinos in the Detroit area.
The band changed its name to Mitch Ryder and The Detroit Wheels after signing with Bob Crewe's New Voice label. What followed was a wild two-year ride through the star-making machinery of the record industry that brought them fame but not fortune and tore the group apart in the process.