Legendary Michigan Songs
105.) Reach Out I'll Be There - The Four Tops
Artist Name:

The Four Tops

Year Inducted:

2016
Details

Category: Legendary Songs
"Reach Out I'll Be There" (Holland-Dozier-Holland) – The Four Tops; Motown label. # 1 Billboard Hot 100, # 1 Billboard R&B – 1966. Inducted in 2016.
The Four Tops' biggest hit of 1966 was written and produced by Motown's top production team of Holland-Dozier-Holland. According to the Tops' Duke Fakir, the trio realized that when lead singer Levi Stubbs hit the top of his vocal range, it sounded like someone hurting, so H-D-H liked him to sing up there so that you could hear the tears in his voice.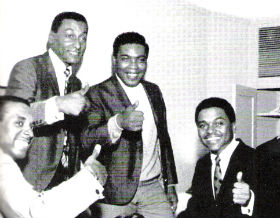 Stubbs delivered many of the lines in a tone that straddled the line between singing and shouting. The song features a dramatic, semi-operatic tension and release and contains a rock-solid groove compliments of the Funk Brothers.
"Reach Out I'll Be There" is one of the most-well-known Motown songs of the 60's and is today considered to be the Four Tops' signature song. It was # 1 on the Hot 100 for two weeks in October until it was replaced by "96 Tears" by ? and The Mysterians.
It also reached # 1 on the British charts in 1966 where it stayed for three weeks. At the time, it was only the second Motown song to reach # 1 in Great Britain.
YouTube Video:

https://www.youtube.com/watch?v=c56Sj7kMbLk