Legendary Michigan Songs
110.) True Blue - Madonna
Artist Name:

Madonna

Year Inducted:

2016
Details

Category: Legendary Songs
"True Blue" (Madonna, Steve Bray) – Madonna; Sire label. # 3 Billboard Hot 100 – 1986. Inducted in 2016.
"True Blue", the title track of Madonna's 1986 album, was the third of five hit singles released from the record. The song is a tribute to the girl groups, including those on Motown, that were popular when Madonna was growing up in Michigan and were a direct influence of her music.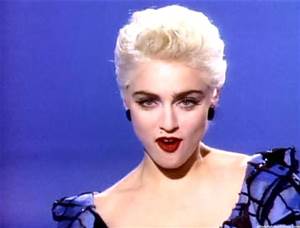 According to Madonna, "True Blue" took its title from a favorite expression of her then husband Sean Penn and his very pure vision of love; and it was a direct tribute to him. When interviewed later, following her divorce for Penn, Madonna said of "True Blue": "It's a song about love. I didn't know what I was talking about when I wrote it."
Madonna's video for "True Blue" was shot in the fall of 1986 in New York and was directed by James Foley who has also done the videos for "Papa Don't Preach" and "Live To Tell". Foley's charming retro video features Madonna and three dancers and a 50's car in an all-blue diner. Madonna performs the song in choreographed moves backed her dancers in a direct tribute to the rock and roll culture of the 1950's.
YouTube Video:

https://www.youtube.com/watch?v=_U0vsmn2G3w