Legendary Michigan Songs
113.) All Along The Watchtower - Savage Grace
Artist Name:

Savage Grace

Year Inducted:

2017
Details

Category: Legendary Songs
"All Along The Watchtower" (B. Dylan) – Savage Grace, Reprise Records, Did not chart nationally – 1970. Inducted in 2017.
Savage Grace's progressive rock cover of Bo Dylan's "All Along The Watchtower" was one of the best songs on the band's 1969 self-titled debut album. Although it did not chart when released as one side of Savage Grace's first single on Reprise Records, it was popular on Detroit radio stations and was a showcase for guitarist Ron Koss during live performances.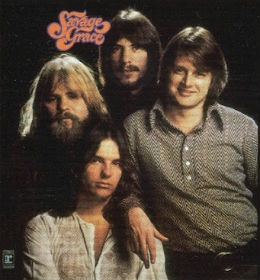 The band came together on the east side of Detroit in the late 1960's when Koss joined forces with keyboardist John Seanor and drummer Larry Zack to form a power trio called the Scarlet Letter. After they were joined by bassist and lead vocalist Al Jacquez, the group changed its name to Savage Grace.
The band's live performances created a buzz around Detroit, and an impressive opening set for Creedence Clearwater Revival led to the recording contract with Reprise Records.
YouTube Video:

https://www.youtube.com/watch?v=WoJYA844C4A