Legendary Michigan Songs
114.) The Wind - The Diablos
Artist Name:

The Diablos

Year Inducted:

2017
Details

Category: Legendary Songs
114. "The Wind" (N. Strong, J. Guiterriez, W. Hunter, Q. Eubanks, B. Edwards) – The Diablos, Fortune Records, Did not chart nationally – 1954. Inducted in 2017.
Although Detroit is not known as a hotbed for doo wop, the city produced one of the great early groups of the genre in the Diablos. Formed at Central High in Detroit in late 1950, the group featured the unique high tenor lead vocals of Nolan Strong. The Diablos name came from El Nino Diablo, a book that Strong was reading in school.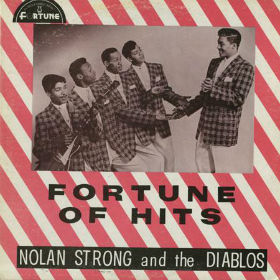 Fortune Records, owned by Jack ad Devora Brown, was located across the street from the high school; and in 1954, the Diablos recorded their first single on Fortune, "Adios My Desert Love", a Latin flavored cha-cha written by Devora Brown.
It was the group's self-penned second single, "The Wind", that established the Diablos as doo wop legends. Released in the fall of 1954 with Maurice King serving as musical director, the recording uses Strong's silky falsetto to evoke memories of a lost love that were brought back like a dream by the wind.
"The Wind" was a big R&B hit in Detroit and also in some other important markets such as Chicago, Cleveland, Pittsburgh, and New York; but Fortune's inadequate distribution prevented it from charting nationally. The Jesters, a doo wop group from Harlem, covered "The Wind" in 1960, and scored a minor hit on the Billboard charts.
YouTube Video:

https://www.youtube.com/watch?v=UikYboldB6U