Legendary Michigan Songs
116.) Work With Me, Annie - The Midnighters
Artist Name:

The Midnighters

Year Inducted:

2017
Details

Category: Legendary Songs
"Work With Me, Annie" (H. Ballard) – The Midnighters, Federal Records, # 22 Billboard Hot 100, # 1 Billboard R&B – 1954. Inducted in 2017.
When Hank Ballard joined the Royals as their new lead singer in 1953, the group was specializing in ballads similar to the recordings of the Orioles and the Five Keys. Ballard, who had been writing songs for some time, convinced the Royals to embrace a more modern, upbeat urban sound. The group was signed to Federal Records because of Ballard's songs, and they scored their first national R&B hit with "Get It" in 1953.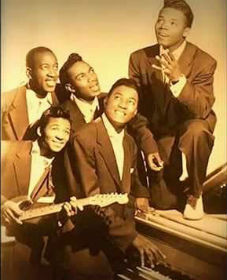 In order to avoid confusion with another group called the 5 Royales, Ballard suggested they change their name to the Midnighters for their next release. "Work With Me, Annie" was originally titled "Sock It To Me Mary" before it was changed in the recording studio. With its driving beat and slightly suggestive lyrics ('work' was slang for sex in the black community), "Work With Me, Annie" attracted the attention of not only black record buyers but also white teenagers who were looking for alternatives to the bland white pop music of the early 1950's.
Despite being banned on some radio stations, "Work With Me, Annie" spent seven weeks at # 1 on the R&B chart and even crossed over to the Pop charts where it became a Top 40 single. The hit was so popular that it spawned a number of 'answer songs', including "Annie Had A Baby" and "Annie's Aunt Fanny" by the Midnighters.
YouTube Video:

https://www.youtube.com/watch?v=9C9chhFclUQ