Legendary Michigan Songs
118.) The One Who Really Loves You - Mary Wells
Artist Name:

Mary Wells

Year Inducted:

2017
Details

Category: Legendary Songs
"The One Who Really Loves You" (W. Robinson) – Mary Wells, Motown Records, # 8 Billboard Hot 100, # 2 Billboard R&B – 1962. Inducted in 2017.
Mary Wells' first two Motown singles, "Bye Bye Baby" and "I Don't Want To Take A Chance" were Top Ten R&B hits that featured a rough vocal style. When her third single failed to chart, Berry Gordy placed her with writer and producer Smokey Robinson for her next release.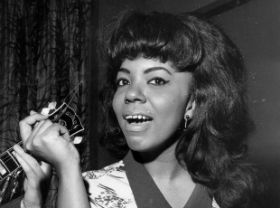 Robinson heard something different in Mary's voice, and he completely changed her sound. He wrote songs that brought out the vulnerability in her voice and steered her away from the gritty stylings of her first two R&B hits.
"The One Who Really Loves You" was the first song that Robinson wrote and produced for Wells. The song's calypso beat was inspired by the recordings of Harry Belafonte and was a perfect match with Wells' gentle, yet soulful vocal. "The One Who Really Loves You" was a smash hit, reaching the Top Ten on both the R&B and Pop charts and establishing Mary Wells as the 'first lady of Motown' and one of its biggest-selling artists.
The Robinson-Wells combination produced three subsequent # 1 hits on the Billboard R&B chart ("Two Lovers", "You Beat Me To The Punch", and "My Guy") before Mary Wells shocked everyone at Motown by leaving the label in 1964.
YouTube Video:

https://www.youtube.com/watch?v=y7ZSaebUhoE