Legendary Michigan Songs
119.) Cool Jerk - The Capitols
Artist Name:

The Capitols

Year Inducted:

2017
Details

Category: Legendary Songs
"Cool Jerk" (D. Storball) – The Capitols, Karen Records, # 7 Billboard Hot 100, # 2 Billboard R&B – 1966. Inducted in 2017.
The Capitols were a soul music trio that formed in Detroit in 1962. The group was unusual in the fact that all three members played instruments: Samuel George – drums and lead vocals, Don Storball – guitar and backing vocals, and Richard McDougall – keyboards and backing vocals. The group was discovered by Ollie McLaughlin at a Barbara Lewis show, and he signed them to his own Karen record label. After the Capitol's debut single failed to chart, the group dissolved.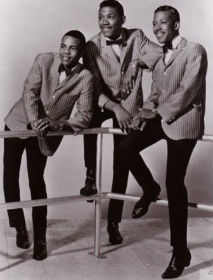 'The jerk' was one of the popular dance crazes of the 1960's, and a sexualized version of the dance called the 'pimp jerk' had become popular in Detroit clubs. Don Storball wrote a song about the pimp jerk, but called it "Cool Jerk" knowing that radio stations would ban any song with 'pimp' in its title. Thinking that he had a potential hit, Storball got the other two Capitols back together and contacted McLaughlin to set up a recording session.
"Cool Jerk" was produced by Ollie McLaughlin and recorded at the Golden World Studio in Detroit. The music was provided in large part by moonlighting members of the Funk Brothers. Eddie Willis played guitar, Johnny Griffith on piano, and Bob Babbitt bass on the recording. "Cool Jerk" became the biggest hit on Karen Records when it reached the Top Ten on both the Billboard Hot 100 and the Billboard R&B chart in the summer of 1966.
YouTube Video:

https://www.youtube.com/watch?v=DGThdYB38Hs