Legendary Michigan Songs
123.) Give Me Just A Little More Time - The Chairmen Of The Board
Artist Name:

Chairmen Of The Board

Year Inducted:

2018
Details

Category: Legendary Songs
"Give Me Just A Little More Time" (E. Wayne, R. Dunbar) – Chairmen Of The Board; Invictus label, # 3 Billboard Hot 100, # 8 Billboard R&B – 1970. Inducted in 2018.
The Chairmen Of The Board was put together in Detroit by the team of Holland-Dozier-Holland after they had left Motown and established their own Hot Wax and Invictus labels. Composed of Detroit natives Eddie Custis and Danny Woods, along with Canadian-born Harrison Kennedy, the group featured the lead singing of General Johnson. A native of North Carolina, Johnson had his first taste of success as the lead singer of the Showmen, who charted in the Hot 100 in 1961 with "It Will Stand".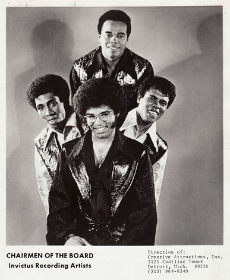 The group was the flagship act for the Invictus label, and their debut single, "Give Me Just A Little More Time", was released in January of 1970. The song was written and produced by Holland-Dozier-Holland along with Ron Dunbar. Because of the still-pending lawsuit against H-D-H by their former employer, Motown, the trio credited themselves as 'Edythe Wayne' on not only "Give Me Just A Little More Time" but many other early releases on both the Invictus and Hot Wax labels.
The members of Motown's in-house, the Funk Brothers, who had played on all of H-D-H's Motown hits, played on "Give Me Just A Little More Time" as well as many other Invictus/Hot Wax recordings.
"Give Me Just A Little More Time" would be the first of six singles to chart of the Hot 100, and it became the biggest hit of the Chairmen of the Board's career when it peaked at # 3 in the spring of 1970. The song was also a # 8 hit on the Billboard R&B chart and a # 3 hit on the UK Singles chart. One million in sales of the record was confirmed in May of 1970, and the group was presented a gold record by the R.I.A.A. for their achievement.
YouTube Video:

https://www.youtube.com/watch?v=gzIAiyxS-nk