Legendary Michigan Songs
126.) Where Did Our Love Go - The Supremes
Artist Name:

Supremes

Year Inducted:

2018
Details

Category: Legendary Songs
"Where Did Our Love Go" (Holland-Dozier-Holland) – Supremes; Motown label, # 1 Billboard Hot 100, # 1 Billboard R&B – 1964. Inducted 2018.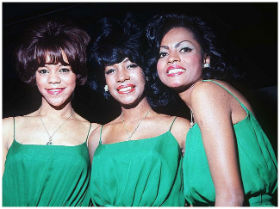 "Where Did Our Love Go" was the first of 12 # 1 hits for the Supremes, establishing them as the most successful girl group in history. During the Supreme's most successful period from 1962 through 1969, with Diana Ross as the lead singer, they charted a total of 33 singles on Billboard's Hot 100.
Brian Holland, Lamont Dozier, and Eddie Holland had begun working with the Supremes in late 1963 and had written and produced the group's first Top 40 hit, "When The Lovelight Starts Shining Through His Eyes", but their follow-up, "Run, Run, Run", barely scraped into the Hot 100 at # 93. According to Brian Holland "Where Did Our Love Go" was written with the Supremes in mind, but Mary Wilson wrote in her book, Dreamgirl – My Life As A Supreme, that the girls thought the song sounded childish.
After the Marvelettes turned the song down, the Supremes somewhat reluctantly recorded it in the spring of 1964. Berry Gordy had assigned Diana Ross to be the group's lead singer but her high vocals didn't work until H-D-H instructed her to sing in a lower register. The combination of Ross's lead vocal, along with the soulful backing of Wilson and Florence Ballard, brought a fresh yet hypnotic sexiness to "Where Did Our Love Go", which spent 2 weeks at #1 and a total of 9 weeks in the Top Ten on Billboard's Hot 100 shortly after the passage of the Civil Rights Act of 1964.
The formula worked for the Supremes on their many future hits, and they were looked upon as examples of African-American achievement and fashion. They became Motown's first big crossover sensation and the most successful chart-topping American popular music group of the 1960s.
YouTube Video:

https://www.youtube.com/watch?v=izzKUoxL11E