Legendary Michigan Songs
10.) What's Going On - Marvin Gaye
Artist Name:

Marvin Gaye

Year Inducted:

2007
Details

Category: Legendary Songs
"What's Going On" (A. Cleveland, R. Benson, M. Gaye) - Marvin Gaye; Tamla label, # 1 Billboard R&B, # 2 Billboard Hot 100 - 1971. Inducted in 2007.
The title song from Marvin Gaye's greatest album was written from the point of view of his brother Frankie, a Vietnam veteran sickened by an unjust war and returning to the confusion of American life in the late 60's.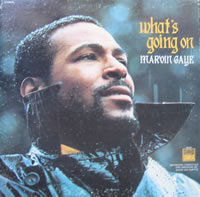 Marvin Gaye Whats Going On
Although written from a black man's point of view, "What's Going On" also displays Marvin's identification with the era's hippies who he admired for having the guts to stand up to the establishment.
Because it was so unlike Gaye's previous hits, Berry Gordy was at first reluctant to release it. As the lead song from the "What's Going On" album, it began the transformation of Marvin Gaye into an artist whose albums were just as important as his singles, maybe more so.
Marvin Gaye's groundbreaking "What's Going On" album was inducted into the Grammy Hall of Fame in 1998.
YouTube Video:

https://www.youtube.com/watch?v=H-kA3UtBj4M