Legendary Michigan Songs
22.) Where You Gonna Go - The Unrelated Segments
Artist Name:

The Unrelated Segments

Year Inducted:

2008
Details

Category: Legendary Songs
"Where You Gonna Go" (R. Mackavich, R. Stults) - The Unrelated Segments; Liberty label, Did not chart nationally - 1967. Inducted in 2008.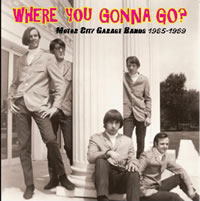 The members of the Unrelated Segments were from the downriver suburbs of Detroit: Taylor, Allen Park, Melvindale, and Lincoln Park, respectively. The band name came from an economics term that one of the band members had heard during a class he was taking.
"Where You Gonna Go" was the driving follow-up single to their Detroit chart debut, the excellent "Story Of My Life". With its propulsive beat and compelling vocals, it's almost shocking that "Where You Gonna Go" was not a smash hit for the Unrelated Segments.
The record had the unfortunate luck of being released the same month as the Detroit race riots in the summer of 1967, however. In the turbulence and its aftermath, record sales in the Motor City suffered. That could be the only possible explanation as to why this quintessential slab of Michigan rock and roll did not break nationally.
YouTube Video:

https://www.youtube.com/watch?v=TxZyURGNhh8