Legendary Michigan Songs
142.) Shop Around - The Miracles
Artist Name:

The Miracles

Year Inducted:

2021
Details

Category: Legendary Songs
"Shop Around" (W. Robinson, B. Gordy) – The Miracles; Tamla label, # 2 Billboard Hot 100, # 1 Billboard R&B – 1960. Inducted in 2021.
The hit that Berry needed to finally convince him to start distributing his own records was "Money" by Barrett Strong; but the 45 that really put Motown on the map to stay was "Shop Around" by the Miracles after Gordy had decided to take the plunge and distribute Motown records on his own. Released in late 1960, "Shop Around" was the chart-topper needed to establish the young label.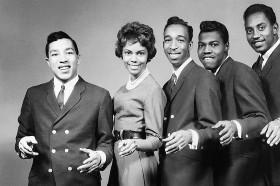 The Miracles
The song depicts a mother giving her now-grown son advice about how to find a woman worthy of being his girlfriend or wife. A slower, bluesy version of "Shop Around" had already been issued in Detroit when Gordy suddenly decided to bring the Miracles back to the studio to re-cut the song in the middle of night. The success of the re-recorded "Shop Around" taught Gordy a valuable lesson about trusting his gut feelings.
"Shop Around" was the first million-selling record for Motown, and it was also the first Motown record to be released in the U.K. The hit made the Miracles the company's first important act and Smokey Robinson the label's first star.
The song even inspired a Motown answer record, "Don't Let Him Shop Around", by Debbie Dean, the label's first white female singer. Dean's only charting record reached # 92 on the Hot 100 in February 1961.
YouTube Video:

https://www.youtube.com/watch?v=dA5509mcQd8