Legendary Michigan Songs
150.) I Need Somebody - ? and The Mysterians
Artist Name:

? and The Mysterians

Year Inducted:

2021
Details

Category: Legendary Songs
"I Need Somebody" (R. Martinez) – ? and The Mysterians; Cameo label, # 22 Billboard Hot 100 – 1966. Inducted 2022.

"I Need Somebody" was ? and The Mysterians' follow-up single to their chart-topping hit, "96 Tears." Although not as immediately catchy as its predecessor, the song is a garage-punk classic featuring a snarling vocal by Question Mark and the signature organ sound of Frank Rodriguez.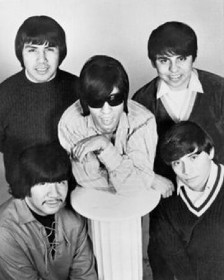 ? and The Mysterians
In a nod to fellow Michigan artist Stevie Wonder and his 1963 hit "Fingertips Pt. 2", Rodriguez added a brief snatch of "Mary Had A Little Lamb" during the song's instrumental break.
"I Need Somebody" was recorded at the Allegro Sound Studios in New York City in the fall of 1966 and was produced by Neil Bogart. The single was released in November 1966 in conjunction with the release of the band's "96 Tears" album. "I Need Somebody" was the lead track on the LP that contained 11 original songs composed by band members.
Although "I Need Somebody" would prove to be the final Top 40 single for ? and The Mysterians, the band managed to place three additional singles on the Billboard charts in 1967. The band also released a second album before the Cameo-Parkway label was shut down for stock manipulation by the Securities and Exchange Commission.
YouTube Video:

https://www.youtube.com/watch?v=M_KwWRzRnB8