Legendary Michigan Songs
39.) Baby I Need Your Loving - The Four Tops
Artist Name:

The Four Tops

Year Inducted:

2009
Details

Category: Legendary Songs
"Baby I Need Your Loving" (B. Holland, L. Dozier, E. Holland) - The Four Tops; Motown label, # 11 Billboard Hot 100 - 1964. Inducted in 2009.
The Four Tops signed with Motown in 1963, but their first recording for the label was an album of jazz standards. In 1964, they were teamed with the songwriting and production team of Brian and Eddie Holland and Lamont Dozier. H-D-H provided the Four Tops with "Baby I Need Your Loving", which spent 12 weeks in the Hot 100.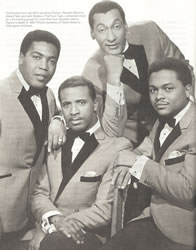 The secret ingedient for almost all of Motown's great hits, however, were the label's great session musicians, the Funk Brothers. According to Earl Van Dyke, the leader of Motown's great house band, they would sometimes get called to the studio to cut rhythm tracks for songs that hadn't even been written yet. A lot of these tracks wound up as parts of melodies and even vocal backgrounds on the label's hit songs.
On "Baby I Need Your Loving", the background that the Four Tops sang actually came from the melodic lines that Van Dyke played on his piano for one of those rhythm tracks. H-D-H took Earl's piano out of the mix and had the Four Tops sing the melody he created instead. Holland, Dozier, and Holland then added strings and the female backing vocals of the Andantes to the group's pristine harmonies and Levi Stubbs' powerful lead vocals to produce one of Motown's classic singles.
YouTube Video:

https://www.youtube.com/watch?v=KUOntQocGWk