Legendary Michigan Songs
48.) (Love Is Like A) Heat Wave - Martha & The Vandellas
Artist Name:

Martha & The Vandellas

Year Inducted:

2010
Details

Category: Legendary Songs
"(Love Is Like A) Heat Wave" (B. Holland, L. Dozier, E. Holland) – Martha & The Vandellas: Gordy label, #1 Billboard R&B, # 4 Billboard Hot 100 - 1963. Inducted in 2010.
"Heat Wave" was the second single and the first Top Ten hit written for Martha & The Vandellas by Motown's new writing and production team of Holland-Dozier-Holland.
Produced with a gospel-like fervor, the song opens with a 27-second instrumental passage featuring handclaps, Joe Hunter's piano, Thomas "Beans" Bowles sax, and the drumming of "Pistol" Allen. "Heat Wave" is often credited as being one of the first songs to exemplify the style of music that would later be called the "Motown Sound".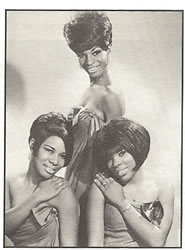 "Heat Wave" is probably Martha Reeves greatest vocal performance, and it helped Martha & The Vandellas become the first Motown group to receive a Grammy Award Nomination for Best R&B Vocal Performance by a Duo or Group. Martha Reeves remembered watching the network news during the summer of 1963. "I was in my mom's living room when the anchorman said, 'There's a heat wave in Los Angeles,' it was a hundred and something and then they played "Heat Wave". I jumped all over the floor. My mom told me to sit down and shut up! I screamed, 'We're on network TV! They're playing our song!"
"Heat Wave" has been recorded by many artists over the years. Linda Ronstadt had a # 5 hit single in 1975 with her cover of the song.
YouTube Video:

https://www.youtube.com/watch?v=XE2fnYpwrng