Legendary Michigan Songs
1.) Runaway - Del Shannon
Artist Name:

Del Shannon

Year Inducted:

2007
Details

Category: Legendary Songs
"Runaway" (D. Shannon, M. Crook) - Del Shannon; Big Top label, # 1 Billboard Hot 100, # 3 Billboard R&B - 1961. Inducted in 2007.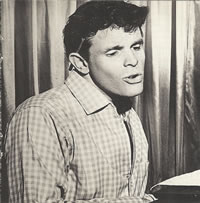 Del at piano
Del's biggest hit was the result of a jam with keyboard player Max Crook at the Hi-Lo nightclub in Battle Creek, Michigan. The chord changes were loosely based on a song called "Kaw-Liga", written by Hank Williams - one of Del's early influences when he was growing up in Coopersville, Michigan.
The distinctive solo on "Runaway" is played on a musitron, an electronic keyboard invented by Max Crook. "Runaway" was on the charts for 17 weeks and was Billboard's Song of the Year for 1961. Shannon released a "live" version of "Runaway" in 1967 but it was only a minor hit.
In 1986, Del re-recorded "Runaway" with new lyrics for use as the theme for the television drama Crime Story. Shannon's original recording of "Runaway" was inducted into the Grammy Hall of Fame in 2002.
"Runaway" has been covered by numerous artists over the years including the Small Faces, Bonnie Raitt, the Shirelles, and Elvis Presley.
YouTube Video:

https://www.youtube.com/watch?v=Ln8qkQn3t1o