Legendary Michigan Songs
49.) Chain Of Fools - Aretha Franklin
Artist Name:

Aretha Franklin

Year Inducted:

2010
Details

Category: Legendary Songs
"Chain Of Fools" (D. Covay) – Aretha Franklin; Atlantic label, # 1 Billboard R&B, # 2 Billboard Hot 100 - 1968. Inducted in 2010.
Aretha Franklin's recordings on Atlantic in 1967 and 1968 firmly established her as the 'Queen Of Soul'. "Chain Of Fools" was her fifth consecutive Top Ten hit produced by Jerry Wexler. Employing memorable tremolo guitar licks by Joe South in its introduction, "Chain Of Fools" features Franklin's trademark powerhouse vocal and a great gospel-style call-and –response chorus provided by her sister Carolyn along with the Sweet Inspiration and the great songwriter Ellie Greenwich.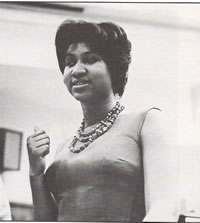 Aretha 66 photo
Written by R&B singer Don Covay, "Chain Of Fools" was released as a single in late 1967. Although she did not write the hit, her sister Carolyn said: "She might as well have. It was her story." Aretha felt trapped in an abusive marriage to her manager Ted White. She was unhappy but was afraid that leaving him would have an adverse effect on her career.
The song spent four weeks at # 1 on the R&B charts in late '67 and early '68, while peaking at #2 on the Hot 100. Aretha won a Grammy Award for "Chain of Fools" for Best R&B Vocal Performance. The song was inducted into the Grammy Hall of Fame in 2001.
YouTube Video:

https://www.youtube.com/watch?v=BloxxEFwibo