Legendary Michigan Songs
53.) Baby Love - The Supremes
Artist Name:

The Supremes

Year Inducted:

2011
Details

Category: Legendary Songs
"Baby Love" (B. Holland, L. Dozier, E. Holland) – The Supremes; Motown label, # 1 Billboard Hot 100 - 1964. Inducted in 2011.
With "Baby Love", The Supremes became the first Motown artist, and the first girl group, to have two consecutive # 1 singles. But this was just the beginning. The Detroit trio would go on to record a total of twelve # 1 singles during the 1960's. "Baby Love" was the biggest of these hits, spending 4 weeks at the top of the charts during the fall of 1964.
"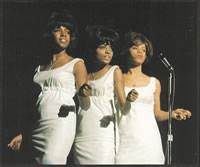 Supremes 4Baby Love" was the follow-up single to the group's first # 1 hit, "Where Did Our Love Go". The song again featured the Funk Brothers' instrumental backing, but the main focus of the recording was on Diana Ross' sexy, cooing vocal. Although both Florence Ballard and Mary Wilson had brief solo ad-libs at the end of the song, Ross would continue to take center stage on both group recordings and live performances.
Berry Gordy had felt that Diana Ross' unique voice would set The Supremes apart from the many girl groups of the time, and his decision to team them with the writing and production team of brothers Eddie and Brian Holland and Lamont Dozier turned out to be the perfect combination. The pairing would go on to produce 19 charting hits, including 10 of the # 1 singles recorded by The Supremes.
YouTube Video:

https://www.youtube.com/watch?v=9_y6nFjoVp4