Legendary Michigan Songs
57.) Mony Mony - Tommy James and The Shondells
Artist Name:

Tommy James and The Shondells

Year Inducted:

2011
Details

Category: Legendary Songs
"Mony Mony" (T. James, R. Cordell, B. Gentry, B. Bloom) – Tommy James and The Shondells; Roulette label, # 3 Billboard Hot 100 - 1968. Inducted in 2011.
After two successive singles failed to crack the Top 40, Tommy James went into Century Sound Studios to work on a track for a proposed party rock song inspired by past hits by Gary (U.S.) Bonds and Mitch Ryder and The Detroit Wheels. The song started as a basic rhythm track. James and Ritchie Cordell then took the original tape and began a process of reassembling what they had, adding snippets of organ, piano, and background voices until they had a catchy melody with a verse and irresistible hook.
The night before they were supposed to finish the record, the pair convened in James' New York apartment to write the lyrics. They assembled a list of nonsensical one-liners but could not come up with a suitable title. They wanted to use a two-syllable girl's name, but every real name they came up with didn't sound right.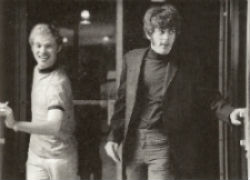 Around midnight they decided to take a cigarette break on the terrace while looking at the Manhattan skyline. Tommy James noticed the Mutual of New York Insurance Company building a couple of blocks away. It had a flashing neon sign on top of it with the company logo: MONY. Just like that, they had their name, and a rock and roll party classic was born.
Although it only reached # 3 in the U.S., Tommy James and The Shondell's "Mony Mony" was # 1 hit in England. In 1987, Billy Idol had a # 1 hit in the U.S. with a live version of the song.
YouTube Video:

https://www.youtube.com/watch?v=pkMgs3lFwkQ