Legendary Michigan Songs
58.) Sock It To Me-Baby! - Mitch Ryder and The Detroit Wheels
Artist Name:

Mitch Ryder and The Detroit Wheels

Year Inducted:

2011
Details

Category: Legendary Songs
"Sock It To Me-Baby!" (Crewe, Brown) – Mitch Ryder and The Detroit Wheels; New Voice label, # 6 Billboard Hot 100 - 1967. Inducted in 2011.
In early 1967, Mitch Ryder and The Detroit Wheels followed up their first Top Ten single, "Devil With A Blue Dress On & Good Golly Miss Molly", with the prototypical riff-rockin' "Sock It To Me-Baby!". Co-written by band producer and New Voice label head Bob Crewe, the song was a party rock classic that kept pace with earlier band workouts like "Jenny Take A Ride!" and "Little Latin Lupe Lu".
"Sock It To Me-Baby!" became the band's second and last Top Ten single when it peaked at # 6 in the Billboard Hot 100 early in 1967, even though it was banned on several radio stations for being "too sexually suggestive". In spite of this initial flap, the term 'sock it to me' ended up becoming a national catch-phrase when it appeared both on Aretha Franklin's "Respect" and after it began to be used on a weekly basis on the hit TV comedy show, Rowan and Martin's Laugh-In.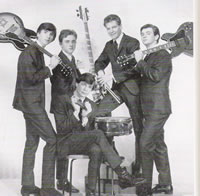 Mitch & Wheels ( Billy Lee(1)
Unfortunately, Bob Crewe's contract gave him full control over Mitch Ryder's career. After one last single, he dismissed The Detroit Wheels and began concentrating on turning Mitch into a mainstream singing star. Ryder went on to minor chart success as a solo act, and the "Sock It To Me" LP, released in the spring of 1967, became the last official release by Mitch Ryder and The Detroit Wheels.
YouTube Video:

https://www.youtube.com/watch?v=lX_2mqFeGRk