Legendary Michigan Songs
3.) Respect - Aretha Franklin
Artist Name:

Aretha Franklin

Year Inducted:

2007
Details

Category: Legendary Songs
"Respect" (O. Redding) - Aretha Franklin; Atlantic label, # 1 Billboard Hot 100, # 1 Billboard R&B - 1967. Inducted in 2007.
Both Otis Redding, who wrote the song, and Michigan's Rationals had charting hits with "Respect" prior to Aretha. Franklin's version, however, became one of the greatest soul recordings of all time.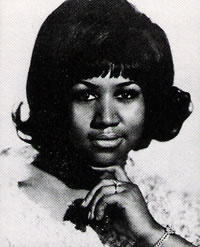 Aretha late 60s
Her powerful, gospel-trained voice turned "Respect" into both a feminist call to action and an appeal for civil rights. The "sock-it-to me's" from the backing singers as well the clever spelling of the song's title in her vocal performance also helped Aretha claim the song as her own.
"Respect" was Aretha's first # 1 hit on the Hot 100, and it spent 8 weeks at the top of Billboard's R&B Chart while serving to establish her as the "Queen of Soul".
Aretha's version of "Respect" was inducted into the Grammy Hall of Fame in 1998. The song was # 5 on Rolling Stone magazine's 500 Greatest Songs of All Time and was also listed as part of the Rock and Roll Hall of Fame's 500 Songs that Shaped Rock and Roll.