Legendary Michigan Songs
61.) Anytime You Want Some Lovin' - Tonto and The Renegades
Artist Name:

Tonto and The Renegades

Year Inducted:

2012
Details

Category: Legendary Songs
"Anytime You Want Some Lovin'" (D. Wagner) – Tonto and The Renegades; Sound Of The Sceen label, Did not chart nationally -1968. Inducted in 2012.
Grand Ledge's Tonto and The Renegades employed an all-star Michigan cast for the recording of their second single. The song was written and produced by Dick Wagner formerly of The Bossmen and featured harmonica by Donny Hartman of Wagner's new group, The Frost. In addition, the recording was done at Dave Kalmbach's Great Lakes Recording Studio in Sparta, Michigan, with Kalmbach serving as sound engineer.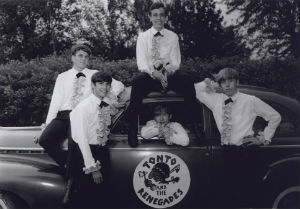 The band had become acquainted with Dick Wagner after The Bossmen had played at The Sceen, a teen dance club where Tonto and The Renegades were often booked. Knowing the quality of Wagner's songwriting, they asked him about the availability of some of his material for their next single. Wagner brought his acoustic guitar to Gary "Tonto" Richey's house, where the band practiced, and he performed a number of his unrecorded songs.
According to drummer Tom Kirby, "Anytime You Want Some Lovin'" stood out immediately, and was everyone's first choice for the A-side of their second 45. The finished recording would be a quite a departure from the driving garage rock of "Little Boy Blue", their debut single. Wagner's production of "Anytime You Want Some Lovin'" was a very polished mid-tempo pop rock ballad, featuring some fine group harmonies from the band members, and even a horn section composed of two students from the Grand Ledge High School band.
The recording was financed by Don Trefry, owner of The Sceen and the booking agent for Tonto and The Renegades. Kalmbach's studio offered the chance to release records on your own vanity label, so Trefry chose one that would advertise his teen club. Unfortunately, the tiny label's limited distribution hurt the record's chances of becoming something more than a regional hit.
YouTube Video:

https://www.youtube.com/watch?v=nGU7WQPxFOs