Legendary Michigan Songs
63.) Misery - The Dynamics
Artist Name:

The Dynamics

Year Inducted:

2012
Details

Category: Legendary Songs
"Misery" (F. Baker, W. Tippett) – The Dynamics; Big Top label, # 44 Billboard's Hot 100 - 1963. Inducted in 2012.
The classic R&B dance hit "Misery" was the biggest hit on Billboard's Hot 100 by The Dynamics, a black vocal group from Detroit. At that time, the group was a quintet made up of Fred "Sonny" Baker, Starling Schafer, Lorenzo Campbell, Samuel Stevenson, and George White. The terrific instrumental backing was provided by an all-white combo from Dearborn called The Royal Playboys, featuring guest artists Joe Cyers on drums and MRRL Inductee Cliff Bramlett on guitar.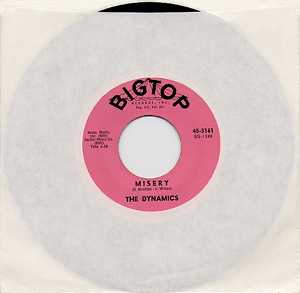 The song was recorded at the United Sound studio for Fox Records, a small independent Detroit label, but the master tape was sold to Big Top Records out of New York and distributed nationally. "Misery" was a big hit in the Motor City, spending most of the fall of 1963 in WKNR's Top Ten on the popular AM station's Classic Top 30 Survey. The song also did well nationally lasting 10 weeks on the Hot 100 and peaking at # 44.
The song would become the subject of a still unresolved controversy in 1964 when Pete Meaden, then manager/publicist of The Who, rewrote the lyrics to the song as "Zoot Suit" for The Who's first single, released in England as by The High Numbers. Meaden claimed sole songwriting credit for the melody he stole. The truth is in the grooves, however, as The Dynamics' recording of "Misery" completely blows "Zoot Suit" off the turntable when the songs are played back-to-back.
YouTube Video:

https://www.youtube.com/watch?v=9_1WVDVSxN0