Legendary Michigan Songs
64.) Rock And Roll Music - The Frost
Artist Name:

The Frost

Year Inducted:

2012
Details

Category: Legendary Songs
"Rock And Roll Music" (D. Wagner, D. Hartman) – The Frost; Vanguard label, # 105 Billboard's Bubbling Under Singles - 1970. Inducted in 2012.
"Rock And Roll Music" was recorded live at the Grande Ballroom in Detroit in 1969. According to producer Sam Charters, the vocals were re-done in the studio in order to clean up the sound, but that fact takes nothing away from this blast of Motor City rock that quickly became the band's anthem.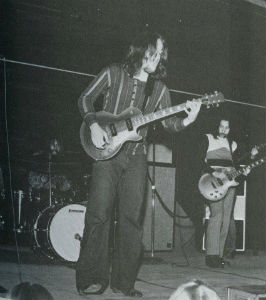 In his book, Not Only Women Bleed, Dick Wagner reveals that the genesis of the song came from a one-line rock song from the Frost's other guitarist, Donny Hartman. Hartman wanted Wagner to finish the song for him, and Wagner produced a finished product that combined lyric simplicity with an intensity that literally leaped off the turntable.
"Rock And Roll Music" was the lead track and title of The Frost's second album, and the only song the band charted nationally when it was released as a single. Although Wagner and Hartman shared the lead vocals, Dick Wagner was listed as the sole songwriter on the song.
In his book, Wagner wrote that for many years he believed that he had totally written the song, but now claims it was really a Hartman-Wagner collaboration. Wagner has tried to make it right in recent years by giving Hartman credit for his contributions whenever he performs "Rock And Roll Music" live.
Listen to "Rock And Roll Music"
YouTube Video:

https://www.youtube.com/watch?v=J8OgoVfSuBE