Legendary Michigan Songs
67.) Cat Scratch Fever - Ted Nugent
Artist Name:

Ted Nugent

Year Inducted:

2012
Details

Category: Legendary Songs
"Cat Scratch Fever" (T. Nugent) – Ted Nugent; Epic label, # 30 Billboard's Hot 100 - 1977. Inducted in 2012.
"Cat Scratch Fever" was the song that helped turn Ted Nugent into a major arena rock act in 1977. Nugent reportedly got the title from an antique medical journal that his wife was reading that mentioned 'cat scratch fever', and he mated it with what is arguably his most infectious guitar riff to produce his classic hit.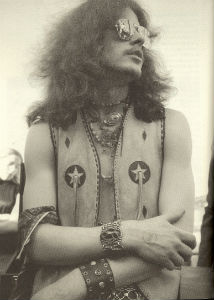 The song's lyrics may be somewhat autobiographical, and they have Nugent chronicling his long history of promiscuous sex, as well as lamenting his inability to control both himself and his female partners. Despite its lyrical content, "Cat Scratch Fever" has been used by the Detroit Tigers, the University of Cincinnati Bearcats, the San Jose SabreCats, and the Carolina Panthers to fire up fans before sporting events.
"Cat Scratch Fever" was Ted Nugent's only Top 40 single. Over the years it has been covered by a number of different artists, and it has appeared on the film soundtracks of Lords Of Dogtown, EDtv, and Stoned Age. In 2009, VH1 named it # 32 on its list of the Best Hard Rock Songs of All Time.
YouTube Video:

https://www.youtube.com/watch?v=fit99l6kHyA