Legendary Michigan Songs
5.) Do You Love Me
Artist Name:

Contours

Year Inducted:

2007
Details

Category: Legendary Songs
"Do You Love Me" (B. Gordy) - Contours; Gordy label, # 1 Billboard R&B, # 3 Billboard Hot 100 - 1962. Inducted in 2007.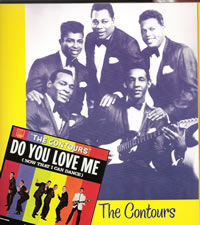 ContoursBerry Gordy Jr. wrote "Do You Love Me" for the Temptations, but when they were unavailable, the song was passed to the Contours. The Contours might never have been signed to Motown if Jackie Wilson had not phoned Berry Gordy on their behalf. Wilson's cousin, Hubert Johnson, was a member of the group and Gordy changed his mind about the Contours as a result of the call.
"Do You Love Me" would become the Contours only Top Ten hit, although they did chart seven more singles in the Hot 100. "Do You Love Me" also spent three weeks at # 1 on the R&B chart in 1962.
The original version of the song became a big hit all over again in 1988 after it was featured in the soundtrack of the hit movie Dirty Dancing.
YouTube Video:

https://www.youtube.com/watch?v=R7uC5m-IRns