Legendary Michigan Songs
82.) Talking In Your Sleep - The Romantics
Artist Name:

The Romantics

Year Inducted:

2014
Details

Category: Legendary Songs
"Talking In Your Sleep" (C. Canler, W. Palmar, M. Skill, J. Marinos, P. Solley) – The Romantics; Nemperor label, # 3 Billboard Hot 100 – 1984. Inducted in 2014.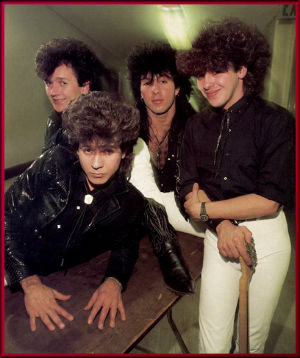 The Romantics formed in Detroit in 1977. "Talking In Your Sleep" was the first single released for the band's fourth album, "In Heat". The song became the band's biggest chart hit, reaching # 3 on the Billboard Hot 100 in early 1984 and staying at that position for three weeks.
"Talking In Your Sleep" garnered a great deal of radio airplay and eventually sold over one million copies of the 45 rpm single in the United States. The song's music video, in which the Romantics were shown performing while surrounded by standing, but supposedly sleeping young women in lingerie, pajamas, and other sleepwear, received heavy rotation on MTV and helped boost sales.
The song went # 1 on Billboard's Hot Dance Club Play charts and also topped the Billboard Album Rock Tracks chart. Although the single was unsuccessful in England, "Talking In Your Sleep" reached # 14 on the Australian Singles Chart and was a # 5 hit in Sweden.
YouTube Video:

https://www.youtube.com/watch?v=wcN_AEOQv4s