MRRL Hall of Fame
ARETHA FRANKLIN
Details

Category: Inductees
Created: Thursday, 29 September 2011 10:51
Written by Gary Johnson
Aretha Franklin was born in Memphis, Tennessee, but she was raised in Detroit, Michigan. Her father, the Reverend C. L. Franklin, was the pastor of Detroit's New Bethel Baptist Church and a nationally known gospel singer. Aretha began singing in the church choir at the age of eight. By the age of fourteen, she was the featured singer on her father's evangelistic tours. She recorded an album, "The Gospel Sound Of Aretha Franklin", two years later at the age of just sixteen.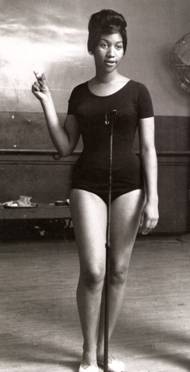 Aretha on Columbia Records
The Franklins were among the most prominent black families in Detroit. Smokey Robinson was a family friend, and Berry Gordy Jr. even tried to sign Aretha to his new Motown record label in the late 1950's. Reverend Franklin, however, refused to have Aretha sign with an unproven company. Aretha had also met Sam Cooke while traveling with her father on the gospel circuit. Cooke had recently crossed over from recording gospel to pop, and he encouraged her to sign with his RCA label.
Instead, Aretha signed with Columbia Records in 1960 after the label's legendary talent scout John Hammond heard her sing. Hammond, who discovered jazz singer Billie Holiday and would also sign Bob Dylan and Bruce Springsteen to Columbia, had Aretha move to New York.
Franklin's first singles, "Today I Sing The Blues", "Won't Be Long", and "Operation Heartbreak", did well on the R&B charts but were unable to cross over to much success in the pop market. In her six years at Columbia, Aretha released ten albums and a host of singles, but she only broke into the Top 40 once, reaching # 37 in 1961 with her rendition of "Rock-A-Bye Your Baby With A Dixie Melody".
In 1966, she experienced a major career boost when she left Columbia and signed with Atlantic Records. Producer Jerry Wexler brought her to Muscle Shoals, Alabama, to work with arranger Arif Mardin, engineer Tom Dowd, and the Fame Studio band. It was there that Franklin recorded the songs that would change her career. This same combination of people that had developed hits for Wilson Pickett the year before also produced Aretha's first Top Ten hit, "I Never Loved A Man (The Way I Love You)". The song started a three-year run of hits that established her as one of the most influential singers in popular music and earned her the title of the "Queen Of Soul".
Wexler produced Aretha's all-time greatest hit as her follow-up single. "Respect" was a song written and originally recorded by soul music legend Otis Redding in 1965. It was also popular with 'garage bands' across the nation. New York's Vagrants and Michigan's Rationals recorded cover versions of "Respect" before Aretha's was released.
Franklin's version, however, became one of the greatest soul music recordings of all time. Her powerful, gospel-trained voice turned "Respect" into both a feminist call to action and an appeal for civil rights. Aretha's version also featured a trio of soulful backing singers whose "sock-it to me" refrain gave the song an element of sexual liberation not found in the prior recordings. These components, along with her clever spelling of the title in her vocal performance, helped Franklin claim the song as her own. It also gave Aretha her first # 1 single as "Respect" topped the charts for two weeks in 1967. Her first Atlantic album, "I Never Loved A Man The Way I Love You", contained the first two singles and peaked at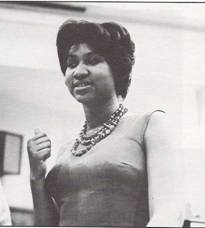 "Respect" # 2 on the album charts.
Aretha released her next hit single, "Baby I Love You", that summer and followed it with the album "Aretha Arrives" in the fall. By the end of 1967, she had released two more smash singles, "A Natural Woman" and "Chain Of Fools".
Franklin released her third album in less than a year in February of 1968. The "Aretha: Lady Soul" album contained her next single "(Sweet Sweet Baby) Since You've Been Gone". Both became Top Ten hits on their respective charts. Aretha Franklin was such a hot recording property that Columbia even released three singles from songs that she recorded for the label years before and charted with them.
Franklin capped off a tremendous year with five more hit singles: "Ain't No Way", "Think", "The House That Jack Built", "I Say A Little Prayer", and "See Saw". During the summer of 1968 she released her fourth consecutive Top Ten album, "Aretha Now", and then squeezed in a live album, "Aretha In Paris", in time for the Christmas buying season. In less than two years she had become the biggest selling soul music artist and a symbol of black pride and accomplishment.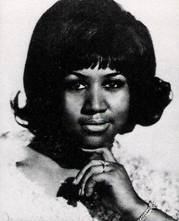 Lady Soul
Offstage, however, Aretha's life was often filled with turmoil. Although Franklin had been secretive about her private life, it was known that she was an unmarried mother twice before the age of seventeen. She married Ted White in 1961 and he served as her manager throughout the Sixties. White was also the co-writer of some of Aretha's original songs.
A Time Magazine feature article on Aretha reported that White had been abusive to Aretha in public and that he had been involved in some other violent incidents involving people connected with her career. Their marriage ended in 1969. Aretha had begun to drink heavily as a result of her unhappy marriage and the pressures involved with her newfound success. Franklin was arrested in 1968 for reckless driving and again the next year for disorderly conduct.
Despite her personal struggles, Aretha soon reclaimed her title as the "Queen Of Soul". In 1971 she charted three Top Ten singles: "Bridge Over Troubled Water", "Spanish Harlem", and "Rock Steady". Her "Aretha Live At Fillmore West" became her first gold album in three years and re-established her as a top concert draw. Franklin continued to be a force on the charts throughout the rest of the Seventies, but her recordings did not match the power and imagination of her early years on Atlantic.
Aretha signed with Arista Records in 1980. A role that same year in The Blues Brothers movie helped introduce her to a younger generation of fans. In 1982, she scored her biggest hit in eight years with "Jump To It", written and produced by her friend Luther Vandross. In 1985, Aretha scored big hits with "Freeway Of Love", "Who's Zoomin' Who", and duet with the Eurythmics called "Sisters Are Doin' It For Themselves". This was followed the next year by a hit cover of "Jumpin' Jack Flash" that was produced by Keith Richards.
76 charting songs
Franklin's final # 1 single was the duet with George Michael titled "I Knew You Were Waiting (For Me)" in 1987. Two years later, her duet with Elton John on the single "Through The Storm" became her last major chart hit.
Over the years Aretha has been an amazingly consistent hit-maker charting seventy-six songs. Her last chart success was 1998's "A Rose Is Still A Rose", which was written and produced by hip-hop star Lauryn Hill.
Aretha has struggled throughout her career with her weight. In recent interviews she has acknowledged that the problem has affected both her health and her ability to perform. She has also received some very negative publicity in the Michigan press for her failure to pay her bills.
In 2003, she was again in the news when one of her Michigan homes burned down while she was on tour. Arson was suspected in the fire. A recent embarrassment occurred at the final game for the 2004 NBA Championship in Detroit where Aretha was blasted by both the local and national press for her abysmal lip-synched performance of the national anthem.
The positives in her career, however, far outweigh the negatives. In 1987, she was the first woman to be inducted into the Rock and Roll Hall of Fame. Aretha has also won fifteen Grammy Awards. She was presented the Grammy's Living Legends Award in 1990 and the Lifetime Achievement Award in 1994.
Aretha Franklin passed away on August 16, 2018.
Aretha Franklin was inducted into the Michigan Rock and Roll Legends Hall of Fame in 2005. Aretha's version of "Respect" was voted the # 3 recording on the list of the Top Ten Legendary Michigan Songs in 2007. "Chain Of Fools" was voted a Legendary Michigan Song in 2010 and "A Natural Woman" in 2015.
MRRL Hall of Fame: https://www.michiganrockandrolllegends.com/mrrl-hall-of-fame
Video:
Watch Aretha Franklin perform "A Natural Woman" at a 1968 concert in Stockholm, Sweden at https://www.youtube.com/watch?v=kE7M2iAlU9M
Dr. J Recommends:
"Aretha Franklin Queen Of Soul: The Atlantic Recordings". 4 CD box set.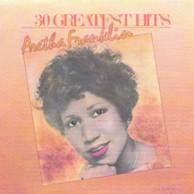 "30 Greatest Hits" (Rhino/Atlantic). This great collection has all the hits, the important album cuts, and the best b-sides from Aretha's career at Atlantic Records.
"Aretha Franklin: 30 Greatest Hits" 2 CD set (Rhino). If you just want the hits from the Atlantic years, this double CD is a very good choice.
From The Bookshelf
Aretha: From These Roots by Aretha Franklin and David Ritz. Villard 1999. Aretha's autobiography reveals a lot of information about the secretive singer's musical inspirations, her career, and her family. It does not, however, go into her marriage to Ted White or some other controversial aspects of her life in detail.