MRRL Hall of Fame
BILL HALEY AND HIS COMETS
Details

Category: Inductees
Created: Thursday, 29 September 2011 10:58
Written by Gary Johnson
Bill Haley, one of the pioneers of rock and roll music, was born on July 6, 1925 in Highland Park, Michigan. His mother was a classically trained pianist and his father played both the banjo and mandolin. Bill and his family then moved to Pennsylvania. It was there, at the age of thirteen, that Haley received his first guitar as a Christmas gift. His father, William Sr., taught young Bill to play the basic chords and notes by ear. Soon Bill found he was able to listen to a song on the family radio and pick it out on his guitar, note for note.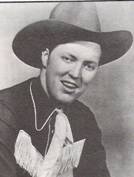 Bill Haley
Bill was a professional guitarist at age fifteen, and by the age of eighteen, he had made his first record. During the 1940's Haley, dressed in cowboy gear, toured the Midwest with various country bands.
In 1944, Haley joined the Down Homers, replacing Kenny Roberts who had joined the Navy during World War II. When Roberts rejoined the band after the war, Bill returned to Pennsylvania and became a popular disc jockey. Calling himself "the Rambling Yodeler", he formed his own group, the Four Aces of Western Swing, to play on his radio show.
Kenny Roberts went on to have a successful solo recording career as "The Jumpin' Cowboy", and in the early 60's hosted his own popular children's television show at WNEM-TV in Saginaw, Michigan.
In 1949, Bill formed a new band called Bill Haley and The Saddlemen. They made a number of country recordings that failed to create much interest. In 1951, however, Haley recorded a cover of Jackie Brenston's R & B hit "Rocket 88". Although the song only sold 10,000 copies, it was Haley's most successful recording. It convinced him that high-energy music that kids could sing along to, clap to, and dance to, would be popular.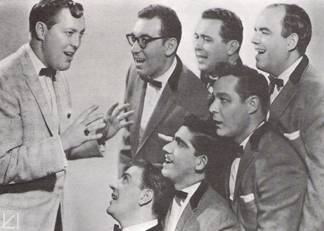 Bill Haley And His Comets
In 1952, Bill and the band had a hit with "Rock The Joint" on the Essex label. It was an early example of what became known as rockabilly. As a result, Haley decided to drop the cowboy image and rename his band 'The Comets'.
The first release under the new name in 1953 was Bill's own composition, "Crazy Man Crazy". The song became Bill Haley and His Comets' biggest hit to date. "Crazy Man Crazy" is also significant in that it was the first rock and roll record to make the Billboard pop charts at # 15.
In 1954, Haley signed with Decca Records. His first recording for his new label was a cover of "Rock Around The Clock", a song originally released by Sunny Dae in 1953. Bill's version of the song didn't sell that well when it was first released. It was its follow-up record, a cover of Joe Turner's "Shake, Rattle And Roll", that became Haley's first gigantic success when it reached the Billboard Top Ten and sold over a million copies in 1954. "Rock Around The Clock" was then re-released in 1955 after it was used on the soundtrack of Blackboard Jungle, a movie about high school juvenile delinquents. The song being played over scenes of young delinquents or "hoods" led viewers to identify Bill Haley as a rock and roll rebel. This first use of a rock and roll song in a film helped make Bill Haley and His Comets one of the most popular recording artists of 1955 and 1956. "Rock Around The Clock" was Bill's biggest hit and has been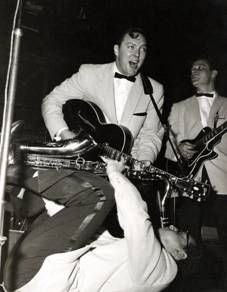 Haley and the Comets on stage estimated to have sold over thirty million copies worldwide.
Bill Haley was now one of the hottest recording artists in the country and was generally regarded as the leading figure in the new field of rock and roll music. Bill and the band followed up "Rock Around The Clock" with the hit "Razzle-Dazzle" during the summer of 1955. They finished the year with the two-sided hit "Burn That Candle/Rock-A-Beatin' Boogie". Haley lost three key members of the Comets over money issues at this time. They left to form their own group called the Jodimars.
Despite having to add three new members, the hits continued in 1956 with "See You Later, Alligator", "R-O-C-K", "The Saints Rock 'N' Roll", "Hot Dog Buddy Buddy", "Rip It Up", "Don't Knock The Rock", and the instrumental, "Rudy's Rock". Bill also starred in two early rock and roll movies, Rock Around The Clock and Don't Knock The Rock, that helped make him an international star.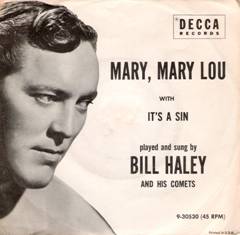 1957 single
By 1957, however, the fortunes of Bill Haley and His Comets had started to sag in the United States. Bill and his band mates were 10 to 15 years older than the new leaders of rock and roll that included Elvis Presley, Buddy Holly, Jerry Lee Lewis, Ricky Nelson, and the Everly Brothers. With his pudgy frame and famous spit curl hair-do, Bill looked more like some teenager's uncle than a rock and roll star. In addition, the Comets' musical sound had also not changed with the years and had begun to sound a little old-fashioned to teen record buyers. 1957 singles, "Forty Cups Of Coffee" and "(You Hit The Wrong Note) Billy Goat", did not make the Top 40. To make matters worse, the year's final release, "Mary, Mary Lou/It's A Sin" complete with picture sleeve, failed to chart at all.
Bill Haley and His Comets made a brief comeback in 1958 with their last Top 40 hit, the humorous rocker "Skinny Minnie". However, the follow-up single, "Lean Jean", continued the band's slide and did not crack the Top 40. Haley's last two chart entries were the instrumentals, "Joey's Song" and "Skokiaan (South African Song)". But by the middle of 1960, Bill had faded completely from the Billboard charts.
Haley and His Comets were still considered a major attraction overseas during the time their star was fading in the U.S. In Germany, a riot occurred among teenage fans at a sold-out 1958 Berlin concert. The incident, at which 17 were injured and 18 were arrested, made the international news and further established Haley as a symbol of rock and roll rebellion in Europe. Bill was even more popular in Great Britain where he and the band toured to a wildly enthusiastic reception. Haley's popularity among his English fans was such that "Rock Around The Clock" had re-entered the British singles charts an amazing seven times by 1974.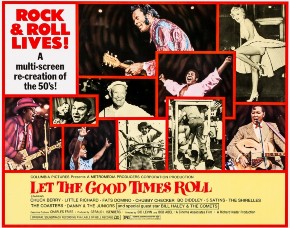 Let The Good Times Roll
Starting in 1969 and continuing through the early years of the 1970's, Bill Haley and His Comets were a popular part of the Rock 'n' Roll Revival shows that were promoted by Richard Nader throughout the United States. The 1973 film Let The Good Times Roll includes performance footage of Bill and the band from one of these concerts. "Rock Around The Clock" even returned to the Billboard Top 40 in 1974 after it was used as the theme song for the hit television series Happy Days.
Suffering from alcoholism and dementia, Haley died of a heart attack in 1981 after living in semi-seclusion for several years. Prior to his death, he reportedly had become bitter over his career decline and refused to perform or even grant interviews. Bill Haley was inducted into the Rock and Roll Hall of Fame in 1987, but The Comets were not included.
Bill Haley and His Comets were inducted into the Michigan Rock and Roll Legends Hall of Fame in 2005.
Five members of the original band, Marshall Lytle, Johnny Grande, Dick Richards, Franny Beecher, and Joey D'Ambrose, all in their 70's and 80's, were still performing together as The Comets up until 2006. They had all played and recorded with Haley during the glory days of the 1950's and could still rock the house. Grande's death and Beecher's retirement has put the future of this legendary band in doubt.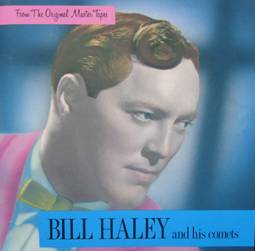 In 2007, Bill Haley and His Comets' recording of "Rock Around The Clock" was voted # 2 on the list of the Top Ten Legendary Michigan Songs. In 2009, the band's first Top Ten hit, "Shake, Rattle And Roll", was also voted in.
In 2012, the Comets were inducted into the Rock and Roll Hall of Fame as the result of a special committee formed to identify situations in which backing groups should be recognized along with the original lead singer.
MRRL Hall of Fame: https://www.michiganrockandrolllegends.com/mrrl-hall-of-fame
Video: In a clip from the 1956 movie Don't Knock The Rock, Bill Haley And His Comets perform "Hot Dog Buddy Buddy" complete with four sexy female dancers in short shorts at https://www.youtube.com/watch?v=oOP_1aOiZzA
Dr. J. Recommends
"Rock The Joint" Roller Coaster Records CD. This collection contains the early and essential Essex recordings including "Rocket 88" and "Crazy Man Crazy"
"Bill Haley And His Comets - From The Original Master Tapes" MCA CD. This set collects the essential Decca hits from 1954 - 1956 that made Haley an international star.
From The Bookshelf
Sound And Glory by John W. Haley (Bill's son) and John von Hoelle, Dyne-American Publishing 1990. "The incredible story of Bill Haley, the Father of Rock 'n' Roll and the music that shook the world".