MRRL Hall of Fame
DEL SHANNON
Details

Category: Inductees
Created: Thursday, 29 September 2011 11:17
Written by Gary Johnson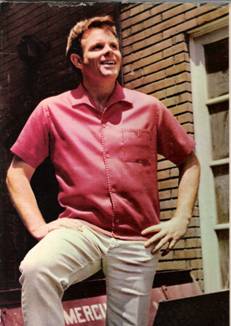 Del Shannon
Del Shannon was one of the few artists to bridge the gap between the early days of rock and roll and the newer styles ushered in by the Beatles and the British Invasion. In fact, Shannon has the distinction of being the first artist to chart in the United States with a Beatles' song. Del had toured with the group in England and released a cover of Lennon and McCartney's "From Me To You" in June of 1963. Little did Del Shannon know that in just six months the Beatles would start a new music revolution in America.
Del was born Charles "Chuck" Westover in the small Dutch Protestant farming town of Coopersville, Michigan, located west of Grand Rapids. His mother taught him how to play the ukelele, but he soon graduated to the guitar after a Coopersville resident showed him a few chords.
A fan of country music, Shannon was inspired first by the recordings of Hank Williams and later by those of Buck Owens. Chuck (Del) claimed that he really learned his instrument by watching country guitarists in Coopersville bars on Saturday nights.
He was thought of as a rebel in his very conservative hometown and a bit of a troublemaker at Coopersville High. Chuck's great love was music and he first started singing falsetto in high school by emulating Bill Kenny and the Ink Spots at pep rallies and talent shows.
Chuck (Del) was drafted into the service right out of high school. He won an Army talent show as a guitarist and was able to spend five months of his duty entertaining troops as part of the Special Services.
After he was discharged, Chuck joined the Air Force and he and his wife relocated in Battle Creek, Michigan, where he was stationed. He played guitar in a country band at night and before long he had taken over as the group's vocalist while performing under the stage name of Charlie Johnson.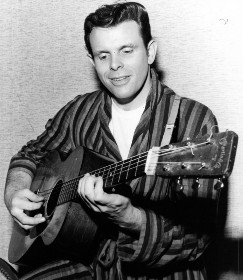 Shannon and guitar
Following his hitch in the Air Force, he began selling carpeting at a local store during the day while playing country bars at night. While working at the Hi-Lo Club in Battle Creek, he changed his name to Del Shannon. "Del" was a contraction of the much admired Cadillac Coupe de Ville his boss at the carpet store owned. "Shannon" came from a customer at the Hi-Lo who was a would-be wrestler and had envisioned performing under the stage name of Mark Shannon.
One night, Del and his band caught the attention of Ann Arbor deejay and independent record producer Ollie McLaughlin who then recommended them to a Detroit management team. Harry Balk and Irving Micahnik had first become successful in the Motor City managing the instrumental group Johnny & The Hurricanes in 1959. They signed Del to a contract with Big Top Records and sent him to New York to record some demos. Nothing that Shannon recorded in New York caused any excitement, and he soon returned to playing in Battle Creek.
Del's biggest hit, "Runaway", was the result of a jam with his keyboard player Max Crook one night at the Hi-Lo Club. The chord changes in "Runaway" were loosely based on an old Hank Williams' song called "Kaw Liga".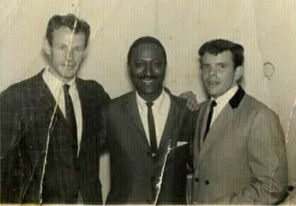 (L to R) Max Crook, Ollie McLaughlin, Del Shannon
The song also featured an unusual keyboard solo. Crook used the musitron, an electronic predecessor to the synthesizer, to help give "Runaway" its very distinctive sound.
Shannon employed his falsetto on the catchy refrain, "Why, why, why, why", and thereby established a vocal trademark that he would use on many future records. Del and his band played "Runaway" at the Hi-Lo for three months before his managers finally sent him back to New York to record the single.
"Runaway" was an immediate smash hit. Del then made his "big time" debut at Brooklyn's Paramount Theatre sharing a bill with Dion, Jackie Wilson, and Bobby Vee. "Runaway" spent four weeks at # 1 and was honored by the music publication Billboard as the top record of 1961.
Shannon then recorded a big hit follow-up to "Runaway" called "Hats Off To Larry" that peaked at # 5 that summer. Del's third consecutive hit single, "So Long Baby", came out in the fall and featured Shannon performing a kazoo solo on the song's instrumental break.
Del's chart success slipped a little in 1962. "Hey! Little Girl" peaked at # 38, and both the incredible "Cry Myself To Sleep" and Del's yodeling version of Roger Miller's "The Swiss Maid" failed to reach the Top 40.
During that same year, Del toured Great Britain for the first time to great acclaim. All three of his 1962 releases were major hits in Britain, and he was actually a bigger star there than in the United States. In addition, Del's unique sound was a major inspiration for a wave of English bands that collectively became known as the British Invasion of 1964.
When Shannon returned to the States in 1963, he recorded "Little Town Flirt" and it became his biggest U.S. hit since "Hats Off To Larry". With the release of "Two Kinds Of Teardrops", Del returned to England for a tour. It was there that he first met the Beatles when they were an opening act at Del's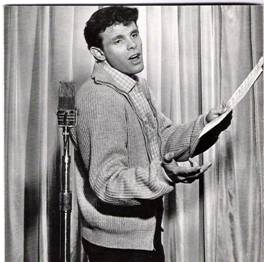 Del in the studioheadlining performance at London's Royal Albert Hall.
The Beatles had just released what would become their first # 1 hit in England, "From Me To You". Del liked the song and suggested to John Lennon that if he (Shannon) recorded a version of the song, it would help give the Beatles exposure in America. Del's release of "From Me To You" in June of 1963 was not a big hit, but it was the first U.S. chart appearance of a song written by Lennon and McCartney.
Del attempted to break away from his Michigan management team at the end of 1963. Thus began a series of legal entanglements that would plague his career for years to come. During this time, Del released two singles on his own Berlee label including the minor hit, "Sue's Gotta Be Mine".
For the next two years Del would record for the Amy label while trying to resolve his management situation. His first release for the label was his cover of "Handy Man". The hit put him back in the Top 40 and became a favorite part of his live performances. Shannon chose another cover version, "Do You Want To Dance", for the follow-up before recording what would prove to be his last major hit single, "Keep Searchin' (We'll Follow The Sun)".
Another of his compositions, "I Go To Pieces", was recorded at this time by the British duo Peter and Gordon who scored a # 9 hit with it in 1965. Del charted two more singles, "Stranger In Town" and "Break Up", in 1965 before finally breaking away from the team of Balk and Micahnik and signing with Liberty Records.
Shannon's years at Liberty were a disappointment, however. The move from Michigan to Los Angeles and his continuing legal hassles seemed to sap him of some of his career momentum. He had a minor chart showing with his cover of "The Big Hurt", but other quality singles such as "Show Me", and his covers of the Monkees' "She", and the Rolling Stones' "Under My Thumb" did not chart.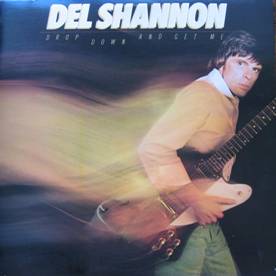 "Drop Down and Get Me" LP
In 1981, Del Shannon returned to the Hot 100 for the first time in over 15 years with his cover of "Sea Of Love". The song was produced by long-time Shannon fan Tom Petty, and it was taken from the album "Drop Down and Get Me" that featured backing by Petty and his band The Heartbreakers.
Following Roy Orbison's death from a heart attack in 1988, Del was rumored to be his possible replacement in the Traveling Wilburys. Both Tom Petty and Jeff Lynne had gone back into the studio with Shannon in 1989 and he had recorded ten new songs for an album.
After a brilliant new single, "Walk Away", was released in Australia and Asia, Del ended his own life with a .22-caliber rifle in 1990. There was no note, but apparently the tragedy was connected to personal problems in his life that caused Del to sink into a deep depression. There were some whispers of a possible murder, but nothing was ever proven.
In 1991, Shannon's second wife, LeAnne, sued the makers of Prozac, the antidepressant that Shannon was taking, claiming that it was the drug that contributed to his death. That same year, Del's final recordings with Petty and Lynne were released as the album "Rock On".
Just six months prior to Del's death, Tom Petty released a hit single called "Runnin' Down A Dream". In the song Petty wrote about listening to the radio while driving in his car: "Me and Del were singin' little "Runaway". I was flyin'."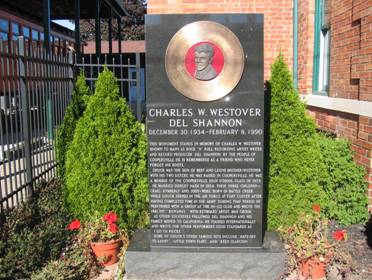 Del Shannon's memorial in Coopersville
In 1996, the Del Shannon Memorial was erected and dedicated in his hometown of Coopersville, Michigan. Besides being the site of Del's memorial, the Coopersville Area Historical Society and Museum has also constructed a small room dedicated to Del Shannon that contains many interesting photos, news articles, recordings, and gold records. If you visit the museum, curator Jim Budzynski will share interesting anecdotes about Del's career and his early days in Coopersville.
After being eligible for over a decade, Shannon was inducted into the Rock and Roll Hall of Fame in 1999.

Del was voted into Michigan Rock and Roll Legends Hall of Fame in 2005. Shannon's recording of "Runaway" was voted the # 1 on the list of the Top Ten Legendary Michigan Songs in 2007. In 2008, Del's "Keep Searchin' (We'll Follow The Sun)" was also voted in as one of Michigan's Legendary Songs. Del added a third song to the list in 2009 when "Hats Off To Larry" was voted in.
MRRL Hall of Fame: https://www.michiganrockandrolllegends.com/mrrl-hall-of-fame