MRRL Hall of Fame
GRAND FUNK RAILROAD
Details

Category: Inductees
Created: Thursday, 29 September 2011 16:24
Written by Gary Johnson
It's hard to imagine that a band composed of three musicians from Flint, Michigan could possibly break the Beatles' ticket sales record at New York's Shea Stadium. But in 1971 Grand Funk Railroad did just that. The group sold out a two-day stand in just seventy-two hours and grossed over $300,000 for their efforts. The tale of Grand Funk is a rags to riches story involving hard work, incredible success, questionable management, lawsuits, tax problems, and numerous break-ups and reunions among band members.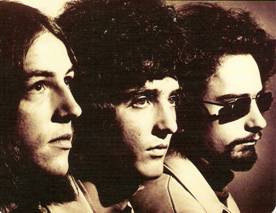 Although all of the members of Grand Funk Railroad played in a variety of local bands, the first real step toward stardom can be traced back to the Flint band, Terry Knight and The Pack. Knight was a popular deejay on several powerful AM radio stations including WTAC in Flint and CKLW in Windsor, Ontario.
When Knight decided that he wanted to front a band, he persuaded a Swartz Creek group called the JazzMasters to join him. Knight renamed the group 'The Pack', a name inspired by the motorcycle gang in the Shangri-Las' "Leader Of The Pack". The original five-man band included drummer Don Brewer. Mark Farner soon joined the group on bass and later switched to guitar.
Terry Knight and The Pack were very popular locally and opened for both the Rolling Stones and the Yardbirds when those bands toured in Michigan. The group had statewide hits with "A Change On The Way", "This Precious Time", and a cover version of the Yardbirds' "Better Man Than I". Terry Knight and The Pack charted their only national hit, "I (Who Have Nothing)" early in 1967.
Knight left the group in 1967 to pursue a solo career but had only limited success. The rest of the band continued on as the Pack and had a local hit with a cover version of "Harlem Shuffle". They then changed their name slightly to the Fabulous Pack and recorded two more singles, "Wide Trackin'" and a cover of Jimi Hendrix's "Fire" (renamed "Next To Your Fire"), before breaking up in 1969.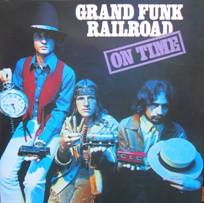 Farner and Brewer were interested in putting together a new power trio similar to Cream or the Jimi Hendrix Experience. They found the third member for their group, Mel Schacher, playing bass in a later version of ? (Question Mark) & The Mysterians. The Saginaw-area band had a # 1 hit in 1966 with "96 Tears", but they had not had a chart hit since 1967.
The three new band mates then recruited Terry Knight to be their manager because of his contacts in the record business. It was Knight who suggested their new group be called Grand Funk Railroad. The name came from the Grand Trunk Railroad, a rail line that ran through Michigan.
Knight had the band record a demo and arranged for them to open the Atlanta Pop Festival in front of 180,000 people on July 4, 1969. Grand Funk's powerful performance at the festival and their demo led to a recording contract with Capitol Records.
The group released their first album, "On Time", in the fall of 1969. Grand Funk Railroad's constant touring schedule and their bluesy first single, "Time Machine", helped the album become a hit. The band also charted with the single "Heartbreaker" that was taken from their debut.
Their second album, "Grand Funk" further developed the group's blues-based style. The band received heavy FM airplay for the songs "Mr. Limousine Driver" and a cover of the Animals' "Inside Looking Out".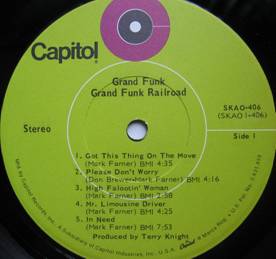 The hits continued as Grand Funk released "Closer To Home" in July of 1970. That spring manager Terry Knight came up with the idea of promoting the new album with what was then the world's largest billboard in New York City's Times Square. Knight was proven to be a marketing genius when the album became the band's biggest seller.
The title song, "Closer To Home/I'm Your Captain", featured the band's first use of an orchestral arrangement and it became Grand Funk's biggest single to date. It remains one of the band's most popular songs to this day. As he had on the group's first two albums, Terry Knight served as producer for "Closer To Home".
In December of 1970, Grand Funk Railroad released "Live Album" and scored a hit single with the version of "Mean Mistreater" that was released from it. In May of 1971, the band released another new album, "Survival". Grand Funk charted with two cover versions from the album, Traffic's "Feelin' Alright" and the Rolling Stones' "Gimme Shelter".
Just two months after the band's historic concert at Shea Stadium, Grand Funk was back in the studio again recording what was to be their last new album with Terry Knight. "E Pluribus Funk" was released in December of 1971 and contained the hit single "Footstompin' Music".
Grand Funk Railroad and their manager parted ways in 1972. Farner, Brewer and Schacher were tired of Knight's tight control over the band's musical direction, but the big issue was money and the fact that the group felt that Knight had taken advantage of them. The parting with Knight was not friendly and the next two years were tied up in litigation involving the matter.
During the legal battles with Knight, the group signed a new recording contract with Capitol Records. Grand Funk also changed their musical lineup by adding Flint native and keyboardist Craig Frost to help provide a fuller, more textured sound for the band. Frost had played briefly in the Pack, and his first contributions to the group can be heard on the hit single, "Rock 'N' Roll Soul", from the 1972 album "Phoenix".
Mark Farner wrote and sang lead on the song that pays homage to soul music, which was one of Grand Funk's main inspirations. "Rock 'N' Roll Soul" also demonstrates Grand Funk's basic rock and roll style that made them what was termed "a peoples' band". Their popularity with the masses got them little respect from the rock critics of the day, however, who seemed to delight in putting the band down at every opportunity.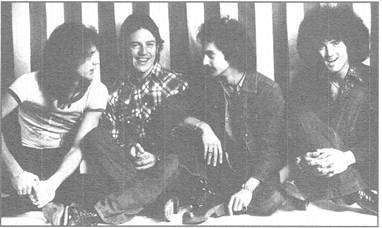 Despite the legal mess surrounding the dismissal of Knight, Grand Funk celebrated 1973 with their all-time biggest selling album "We're An American Band". Produced by fellow rocker Todd Rundgren, the title song from the album became the band's first # 1 single. This was followed by the album's second hit single, "Walk Like A Man".
Eight months later Grand Funk released yet another new album with Rundgren. "Shinin' On" produced a # 1 single with the band's cover of Little Eva's "The Loco-Motion" as well as another hit with the album's title track, both in 1974.
This was also the year that the band finally settled its legal difficulties with Terry Knight. Although the band won its freedom from Knight, the price was steep. Besides a large cash settlement, Knight was awarded the rights and royalties to every Grand Funk recording made while he was the band's manager and producer. In addition, he received all of the publishing royalties and copyrights to all the songs that were written by Farner, Brewer, and Schacher while they were under his management.
Terry Knight was living in Texas on the money earned from these royalties when tragedy struck in 2004. Knight was murdered by his daughter's boyfriend as he (Knight) tried to defend her during a domestic dispute at his home.
1975 would prove to be Grand Funk's last big year on the charts. The group's new album, "All The Girls In The World Beware!!!" would be the last to reach the Top Ten on the album charts. It also provided Grand Funk with its last two big hit singles, "Some Kind Of Wonderful" and "Bad Time".
The year ended with the release of their second live album "Caught In The Act". No singles were released to promote the more expensive double album and, as a result, it did not chart. It was also the first Grand Funk Railroad album not to win a Gold or Platinum sales award.
By early 1976 the band was in decline. Musical tastes were changing, the band was unhappy with Capitol Records, and disagreements between Mark Farner and Don Brewer over Grand Funk's musical direction and image were tearing the group apart. Perhaps not surprisingly, the band's new album with the prophetic title "Born To Die" was Grand Funk's first real big commercial failure. Neither the album nor its two singles, "Take Me" and "Sally", reached the Top 40.
The band gave it one more shot by recruiting the legendary Frank Zappa to produce Grand Funk's first album for their new label, MCA Records. Although "Good Singin', Good Playin'" provided Grand Funk with its final charting single, "Can You Do It", it also continued the band's downward spiral on the album charts.
Grand Funk's inevitable split was the result of a number of factors including burnout from years on the road, a feeling of musical stagnation, Mark Farner's desire to pursue a solo career, and various other disagreements among the band members.
After Grand Funk broke up in 1976, Brewer and Schacher formed the short-lived group Flint and released one album. Frost joined Bob Seger's very successful Silver Bullet Band. Mark Farner recorded two relatively unsuccessful solo albums.
Brewer and Farner then reunited for two Grand Funk albums in the 1980's, but neither was a hit. The original three members reunited again in 1996 for a successful tour and live album, but disagreements resulted in yet another split.
Brewer and Schacher are touring currently as Grand Funk Railroad, while Farner has recorded Christian music and toured with Ringo Starr's All-Starr Band. In July of 2003, Farner and his new band performed his Grand Funk hits at a concert at Bay City's Veterans Memorial Park.
The original Grand Funk Railroad was voted into Michigan Rock and Roll Legends Hall of Fame in 2005. In 2008, Grank Funk's "We're An American Band" was voted in as one of Michigan's Legendary Songs. In 2009, two more Grand Funk songs were voted in; "Closer To Home/I'm Your Captain" and "Some Kind Of Wonderful".
MRRL Hall of Fame: https://www.michiganrockandrolllegends.com/mrrl-hall-of-fame
Video: Watch Grand Funk perform "The Loco-Motion" on stage in 1974 with members of Wet Willie and the Williettes singing back-up vocals https://www.youtube.com/watch?v=wBVgVABsf-4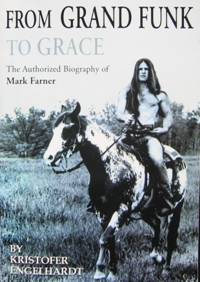 Dr. J. Recommends:
"Grand Funk Railroad Classic Masters" Capitol CD. This is a very good remastered greatest hits collection containing 15 songs.
"On Time" and "Grand Funk" Capitol CDs. All of Grand Funk's Capitol albums are being remastered with bonus cuts. Their first two albums are great examples of Grand Funk's brand of Michigan hard rock.
From The Bookshelf
From Grand Funk To Grace: The Authorized Biography of Mark Farner by Kristofer Engelhardt. Collector's Guide Publishing 2001. This is a candid account of the life of Grand Funk's outspoken and talented frontman written with the full cooperation of Farner himself. The book also contains a detailed discography, a career-spanning list of public performances by Farner, and a bonus CD containing nine songs written and performed by Mark Farner.