MRRL Hall of Fame
SMOKEY ROBINSON
Details

Category: Inductees
Created: Friday, 30 September 2011 00:20
Written by Gary Johnson
By 1972, Motown had moved its offices from Detroit to Los Angeles. Smokey decided to leave the Miracles that year to retire, play golf, and spend more time with his wife Claudette and their two children, Berry and Tamla. He performed on one last tour with The Miracles during the summer of 1972, introducing Billy Griffin as the new lead singer. Besides his successful career in the group, Robinson had written and produced many hits for other Motown artists. Smokey had also been a vice president in the company since 1964, concentrating on screening and signing new talent.
He wasn't retired a month when Berry Gordy called and implored Smokey to move to L.A. Gordy had just completed the filming of Lady Sings The Blues with Diana Ross, Billy Dee Williams, and Richard Pryor. Gordy had invested a great deal of money in the film and he wanted Smokey to write lyrics for Michel Legrand's lush theme song. Robinson had been with Motown since the beginning and Gordy had always depended on his input and his friendship.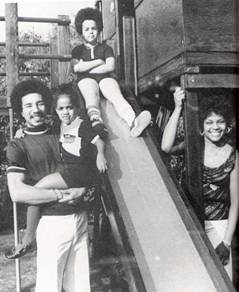 Smokey Robinson and family
It was a difficult decision for Smokey to leave Detroit, his home for all of his life. At first Claudette was reluctant. It meant leaving her family and friends, but she went along with the decision and proceeded to sell their house and settle their affairs while Smokey moved to California.
After arriving in California, Smokey kept reflecting back on his days as a Miracle and wrote a song about the group called "Sweet Harmony". When he played the song for some executives at the Motown office, they loved it and urged him to put out a solo album.
Around the same time, Smokey got a call from The Miracles' guitarist Marv Tarplin. Tarplin, who had been an important collaborator with Smokey in The Miracles, was unhappy in the group so Robinson invited him out to California to help on his new recordings. The result was Robinson's debut album, "Smokey", released in 1973. Both "Sweet Harmony" and "Baby Come Close" were charting hits from his first solo release.
Although Smokey continued to record and chart hit singles with "I Am I Am" and "Baby That's Backatcha", he had not performed live in three years. He and Claudette had struggled through a year-long separation and that experience opened up in Smokey the ability to express some of the discontent he had felt in his music – happy on one hand to back home with his family, but anxious, on the other, to start performing again.
His vehicle was the 1975 album "Quiet Storm". Although it did not contain any big hit singles, it was the first Top 40 album that he had recorded since 1969's "Time Out for Smokey Robinson & The Miracles". He then toured for the first time as a solo artist to promote it. The L.P. also started a new radio format for sexy, soft romantic soul music that was called Quiet Storm after the album's title.
Unfortunately Smokey was unable to follow up his hit album with any significant single or album hits until late 1979. It took an unused Marv Tarplin demo tape from the early Seventies to end Robinson's dry spell. Smokey had never been able to find the right words to match Tarplin's music until the day he was cruising down Sunset Strip listening to the radio and the old Young Rascals' hit, "Groovin'" was played. That inspired him to think of "Cruisin'" as a title, and suddenly a hit song started to fall into place. "Cruisin'" became Smokey's first Top Ten single as a solo artist and it peaked at # 4 in early 1980. It also helped the "Where There's Smoke..." album outsell "Quiet Storm".
Smokey continued his hot streak with more hit albums, "Warm Thoughts" in 1980 and "Being With You" in 1981. The title song "Being With You was a # 1 R&B hit single, and also became Smokey's all-time biggest pop single reaching # 2 on the Billboard charts. In the meantime, however, Robinson was having an affair with another woman that resulted in the birth of his son Trey, and his being again separated from Claudette. He also started smoking rock cocaine and began a downward spiral that caused him to disappear from the music charts for almost three years. During this troubled time, Smokey became a stranger to both his family and friends as he battled his addiction and a variety of drug-related heath problems.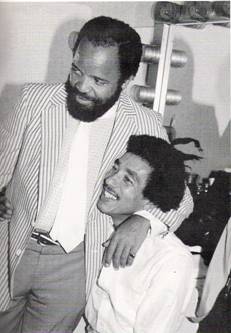 Berry Gordy Jr. and Smokey
Following a powerful spiritual experience with a preacher at a local ministry, Smokey found the strength to overcome his cocaine addiction and resume his career. Unfortunately his marriage did not survive and Smokey and Claudette were eventually divorced.
1987 was a big comeback year for Smokey Robinson. Berry Gordy served as executive producer on his old friend's album "One Heartbeat". The first single, "Just To See Her" was Smokey's biggest single in six years and his first Grammy winning performance. It was followed up the charts by the title cut, "One Heartbeat", that was also a Top Ten hit on both the R&B and pop charts.
The year also saw Smokey inducted into the Rock and Roll Hall of Fame along with two of his musical idols – Jackie Wilson and Clyde McPhatter, and two of his closest friends – the late Marvin Gaye and Aretha Franklin. Berry Gordy was inducted into the Rock and Roll Hall of Fame the following year in the Non-Performer category.
Smokey Robinson has had no other significant hits since Berry Gordy sold Motown in 1988. Smokey has remained drug-free and has continued to perform to sell-out crowds throughout the years. He is regarded as one of the top songwriters in popular music history, and many artists including the Beatles ("You've Really Got A Hold On Me"), the Rolling Stones ("Going To A Go-Go"), Johnny Rivers ("The Tracks Of My Tears"), Linda Ronstadt ("Ooo Baby Baby"), Rare Earth ("Get Ready"), Peter Tosh ("Don't Look Back") and Blondie ("The Hunter Gets Captured By The Game") have covered his compositions. Bob Dylan has called Smokey Robinson, "America's greatest living poet".
Smokey was inducted into the Michigan Rock and Roll Legends Hall of Fame in 2005. In 2006 Robinson released a new album of standards, delivered in Smokey's unique style, entitled "Timeless Love" on New Door Records.
MRRL Hall of Fame: https://www.michiganrockandrolllegends.com/mrrl-hall-of-fame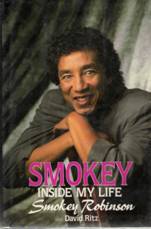 Dr. J. Recommends:
"Smokey Robinson: The Ultimate Collection": Motown CD. This is a great introduction to Smokey's solo career as it contains 17 of Smokey's best recordings from that period.
From The Bookshelf
Smokey: Inside My Life by Smokey Robinson with David Ritz, 1989, McGraw-Hill. In a candid autobiography, Smokey writes of the peaks and valleys of his life and career both as a Miracle and a solo artist.