MRRL Hall of Fame
STEVIE WONDER
Details

Category: Inductees
Created: Friday, 30 September 2011 00:26
Written by Gary Johnson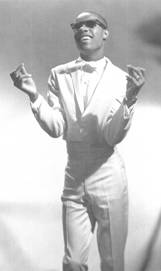 Little Stevie WonderStevie Wonder was born Steveland Judkins in Saginaw, Michigan, in 1950. His blindness at birth was caused by a condition called Retinopathy of Prematurity (R.O.P.) that causes blood vessels to detach from the retina. After his mother remarried, his last name was changed to Morris and Stevie moved with his family to Detroit in 1954.
Fascinated by music at an early age, he started playing harmonica at five and began piano lessons at the age of six. Stevie developed his singing skills by performing gospel music in a church choir and his appreciation of R&B by listening to the recordings of his favorite artists, Ray Charles and Sam Cooke on his transistor radio.
After learning to play drums and writing his first song at the age of ten, Stevie became something of a local sensation. His uncanny ability to sing like a seasoned professional brought him to the attention of Ronnie White, a member of the Miracles. White brought him to Brian Holland at Hitsville U.S.A. and Holland was impressed enough to arrange an audition for Stevie with Berry Gordy Jr. Stevie was signed to Motown's Tamla label in 1962 as a result of his audition and was given the stage name Little Stevie Wonder.
Stevie's first single was "I Call It Pretty Music, But The Old People Call It the Blues Pt 1". The song only reached # 101 on the Billboard charts and his next two singles failed to chart at all. During live performances, Wonder was featured playing harmonica, organ, drums, and piano, as well as singing. Motown publicity made much of his blindness and he was presented as a child prodigy in the Ray Charles mold.
Stevie scored a surprise hit in 1963 with "Fingertips – Pt. 2". The single was unusual for the time in that was recorded live in concert, but "Fingertips – Pt. 2" and the album it was taken from, "Little Stevie Wonder/The 12 Year Old Genius" were both # 1 hits that summer on their respective charts.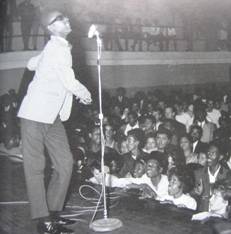 Stevie Wonder on stage 1960's
Stevie then enrolled in the Michigan School for the Blind where he studied classical piano while at the same time maintaining his recording career.
Wonder charted again in 1963 with "Workout Stevie, Workout". After a minor hit in early 1964, "Castles In The Sand", the appellation "Little" was dropped from his recordings. His first single under the name Stevie Wonder was "Hey Harmonica Man". During 1964 he also appeared in two teen-oriented films, Muscle Beach Party and Bikini Beach.
Wonder did not hit the Top Ten again until the # 3 single "Uptight" in 1966. That same year, Stevie became the first soul artist to have a hit with a Bob Dylan song as his version of "Blowin' In The Wind" reached # 9. The song helped establish Wonder as an artist who advocated nonviolent political change patterned after the teachings of Martin Luther King. Throughout his career, Stevie has embraced a number of social causes ranging from AIDS awareness, to crusades against drug abuse, and fund-raising for the blind and the homeless.
As the decade came to an end, Stevie had developed into one of Motown's most important recording artists. He had charted major hits with "A Place In The Sun", "I Was Made To Love Her", "I'm Wondering", "Shoo-Be-Doo-Be-Doo-Da-Day", "For Once In My Life", "My Cherie Amour", and "Yester-Me, Yester-You, Yesterday". By the age of 20, Stevie had become his own producer and arranger in the recording studio and was even playing most of the instruments himself. Wonder was also experimenting with synthesizers and other electronic keyboards.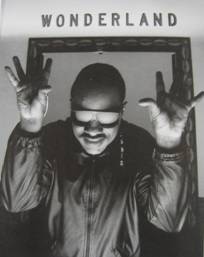 Stevie married singer Syreeta Wright in 1970. Besides writing with her, he also produced two of her albums. The new decade saw Stevie negotiate a new contract with Motown that granted him artistic control of his recordings. This made him, along with Marvin Gaye, the first Motown artists to achieve independence on the label.
Shortly after his marriage to Wright ended, Stevie opened for the Rolling Stones on their 1972 tour. As a result, Wonder was able to gain valuable exposure with huge white rock audiences who might not have normally seen him in concert. When they played Detroit's Cobo Hall, the Stones invited Stevie back on his hometown stage for an encore, and together they performed Stevie's hit "Uptight".
He followed the Stones' tour with the release of his first Top Ten album since 1963, "Talking Book". The album contained two # 1 hit singles, "You Are The Sunshine Of My Life" and "Superstition". "Superstition" was originally written for guitarist Jeff Beck. But Beck was putting together a new group, and when he didn't record the song promptly, Stevie recorded it himself. Soul music was evolving into "funk", a bass driven, percussive form of black music. "Superstition", with its irresistible dance groove, established Stevie as a leader of funk and progressive black music during the Seventies.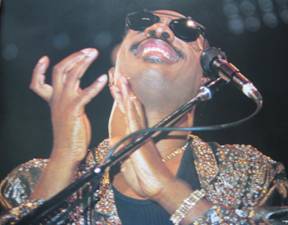 Stevie Wonder
Wonder produced his second classic album later in 1973 with the release of "Innervisions". The album contained two more hit singles with "Higher Ground" and "Living For The City".
Stevie narrowly escaped death near the end of the year when he was involved in a serious car crash. The injuries he sustained left him in a coma for four days.
Less than a year later, Stevie had fully recovered and put out his first # 1 album of the 70's, "Fulfillingness' First Finale". The album produced the hit singles, "You Haven't Done Nothing" with backing vocals by the Jackson 5 and "Boogie On Reggae Woman".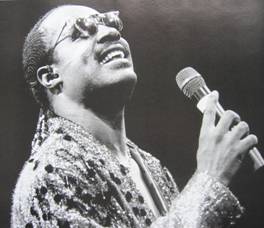 Stevie reached his career peak in late 1976 with the release of "Songs In The Key Of Life". The double album stayed at # 1 on the Billboard album charts for fourteen weeks. "I Wish" was the first # 1 hit single taken from the album. "Sir Duke", Stevie's tribute to Duke Ellington, followed it to the top spot four months later. By decades' end, Wonder had sold millions of records and had received 15 Grammy Awards.
His next project surprised most of his fans. Stevie worked for three years on a soundtrack to an unreleased documentary film titled "The Secret Life Of Plants". The primarily instrumental double album earned disappointing reviews as well as sales especially when compared to the overwhelming success of "Songs In The Key Of Life". Wonder returned to form with 1980's "Hotter Than July" and its hit singles, "Master Blaster (Jammin')" and "I Ain't Gonna Stand For It".
In 1982, he recorded his biggest all-time hit single, "Ebony And Ivory", a duet with Paul McCartney. He also released a compilation of hits from 1972 to 1982 called "Stevie Wonder's Original Musiquarium I".
His # 1 hit from 1984, "I Just Called To Say I Love You", won an Academy Award for Best Song from the movie Woman In Red. Stevie recorded what have been his last two # 1 hits in 1985. The first single, "Part-Time Lover", featured R&B singer Luther Vandross on backing vocals. The second, "That's What Friends Are For" was a Grammy-winning hit combining the talents of Dionne Warwick, Elton John, Gladys Knight, and Stevie. All proceeds from the international hit were donated to benefit AIDS research.
In 1986, his campaign to have Dr. Martin Luther King's birthday declared as a national holiday was realized when the first Martin Luther King Day was celebrated on January 15, 1986 with a concert at which Stevie Wonder topped the bill.
Generally recognized as being one of the most influential black musical artists, Stevie was inducted into the Rock and Roll Hall of Fame in 1989. Wonder was presented the Grammy's Lifetime Achievement Award in 1996. Stevie produced his first new album in ten years with the 2005 release of "A Time To Love".
Stevie Wonder was inducted into Michigan Rock and Roll Legends in 2005. "Superstition" was voted a Legendary Michigan Song in 2010. "You Are The Sunshine Of My Life" was honored in 2013 and "Fingertips Pt. 2" in 2018.
MRRL Hall of Fame: https://michiganrockandrolllegends.com/index.php/mrrl-hall-of-fame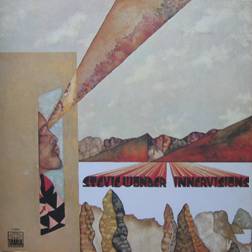 "Innervisions" album
Dr. J. Recommends:
"At The Close Of A Century" 4-CD Box Set, Motown Records. This excellent collection is a chronological history of Stevie Wonder's finest recordings at Motown.
"Stevie Wonder: The Definitive Collection", Motown CD. If you're looking for just a single disc hits collection, this 21 song set gives a good overall look at his career.
"Talking Book" or "Innervisions", Motown CDs. If you were going to buy one non-greatest hits album by Stevie Wonder, either one of these 70's classics would be a fine choice.