MRRL Hall of Fame
ANDRE WILLIAMS
Details

Category: Inductees
Created: Friday, 26 October 2012 11:11
Written by Gary Johnson
Although he was born in Alabama, Andre Williams moved to Detroit as a teenager in the early 1950s and quickly became an important player in the city's burgeoning R&B music scene. After scoring a number of hits on the legendary Fortune label in the Motor City, Williams went on to write, record, and produce hit songs for a wide variety of record labels, including Motown, during a remarkable career that has spanned nearly sixty years.
Andre was born Zeffrey Williams in Bessemer, Alabama, in 1936. Following his mother's death in 1943, he moved to Chicago with his father. He was shipped back and forth from Chicago to Alabama to live with his grandparents until the age of thirteen. While living with his grandparents Williams was brought up in a sanctified household with no smoking or drinking and attended church services seven days a week.
The "devil's music" was not allowed on his grandparents' radio, so Andre had little contact with R&B at this time. His exposure to the popular music of the day in Alabama was listening to the country music from Nashville's powerful WLAC on the truck radios of the Southern whites who he worked for and with in the sharecropper fields during the late 40s and early 50s. Hank Williams' songs were in constant rotation on the station, and he became Andre's first important musical influence.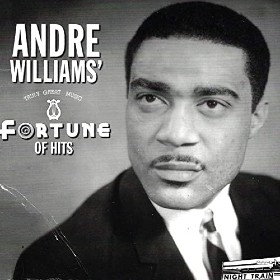 Fortune Records
Williams returned permanently to Chicago in the early 50s; but his father was a steelworker with a number of girlfriends. As a result, he was rarely home and provided meager parental guidance and financial support. To earn money for himself, Andre got a job washing dishes at Cadillac Bob's Steakhouse, one of Chicago's famous black cafes. It was located just down the block from the 708 club that booked many popular black acts of the day including Wynonie Harris, Sonny Boy Williamson, and Louis Jordan.
Cadillac Bob's had a jukebox that exposed Andre to all of the R&B hits of the day, and many of the 708's entertainers would eat at the café. None of those artists, however, impressed him as much as Cab Calloway. Whereas most black entertainers could only get booking in black clubs, Calloway was also playing the prestigious white clubs and appearing in Hollywood movies. He was impeccably dressed and had a style all his own, quickly becoming the artist Andre Williams most wanted to emulate.
Since Andre's shift started at 4:00 in the afternoon and ended early the following morning, school attendance quickly became a major problem resulting in several bouts with the truant officer and the juvenile court. Williams eventually quit school and, because he was underage, used his older brother's birth certificate to enlist in the Navy. His ruse was discovered after his brother was drafted, and Andre was court martialed for fraudulent enlistment and given a bad conduct discharge.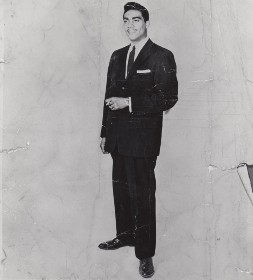 Andre Williams
After his stint in the military, Williams moved to Detroit. He made his first big splash in the city's entertainment circles in 1955 by winning the $25 dollar first prize at Tuesday night amateur show at the Warfield Theatre on Hastings Street for eight consecutive weeks. His wild performances led to a recommendation from the theatre owner to Devora Brown of Fortune Records. She signed Andre to a recording contract after witnessing one of his over-the-top performances at the Warfield.
Brown invited Williams to join a Fortune vocal group called The Five Dollars who had recently lost a member to the draft. It was an easy fit since his brother-in-law, Eddie Hurt, was already a member of the group. Andre's flamboyant dancing and wild stage antics soon made him the group's front man. An account of Williams' onstage act was given in David A. Carson's book Grit, Noise And Revolution; "At the Graystone Ballroom, he would let himself fall from the balcony railing, and once he'd landed, other group members would carry his limp body back to the center of the stage, where Williams would stun the audience by suddenly jumping up and dancing".
Knowing that he didn't possess a pleasing tenor voice like that of the immensely popular Clyde McPhatter or his Fortune label mate Nolan Strong, Williams came up with the gimmick of talking in rhythm rather than singing. Billed as Andre Williams and the Don Juans, the group recorded its first hit, "Goin' Down To Tijuana" in late 1955. In 1956, Williams scored his biggest hit with "Bacon Fat". Williams' singing style is often cited as an early example of hip-hop vocalizing and because of this, one of his many nicknames is the 'godfather of rap".
Williams claims that he wrote the song while driving down to Memphis for a gig. He was eating an egg and bacon sandwich while he was watching the cotton pickers on both sides of the two-lane road. Andre started tapping a beat on his leg and humming to himself, and he came up with an idea for a dance song that he named the "Bacon Fat".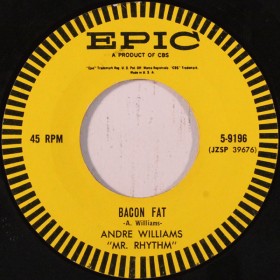 Leased to Epic Records
Devora Brown was reportedly less than enthused when he first tried recording the song at the Fortune studio on Linwood Avenue in Detroit, but popular R&B deejay "Frantic" Ernie Durham happened to be visiting Fortune that day and gave it the thumbs up. Durham played the song on his show at WJLB and it became a local sensation. Fortune then leased the song to Epic Records where it became a national hit, reaching # 9 on the Billboard R&B chart.
Williams used the formula again with "Jail Bait", an ode to the dangers of getting involved with a young girl; but Devora Brown balked at having to once again split the profits with Epic. Instead, the song was issued only on Fortune and the sales of the record suffered because of the tiny label's poor distribution. Subsequent local hits like "The Greasy Chicken", "Pass The Biscuits Please", and "Mean Jean" met the same fate.
Although it broke Williams' heart at the time, he claims that Brown may have done him a favor by not leasing anymore of his records to Epic. "I appreciate Devora Brown for this reason; she probably saved my life", he told interviewer Joss Hutton in 2001. "If I had went back to Epic for that second record I might have started drugging or OD'd because I was too arrogant! I hadn't matured. By Miss Brown being as she was, I had to go back to Fortune and it kept me sheltered from the real world".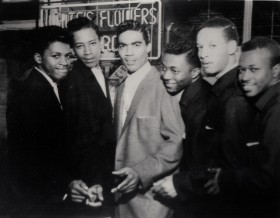 Andre Williams & His New Group
Williams met Berry Gordy at a barber shop in Detroit when Gordy was in the process of starting his own record label in 1959. Andre gave him the phone number of Art Talmadge, the president of United Artists Records which led to Gordy's first Tamla release, "Come To Me" by Marv Johnson, becoming a hit after it had been leased for national distribution by the UA label. Although his recordings continued to be issued on United Artists, Marv Johnson would become the first star to come out of Motown. He charted nine hits on Billboard's Hot 100 between 1959 and 1961, including two Top 10 singles.
Repaying Andre for the favor, Gordy hired him as an A&R and promotion man for Tamla - later Motown Records. In 1960, Andre recorded the single "Rosa Lee" on its short-lived Miracle Records subsidiary, but it was never released. Williams was primarily a writer/producer at Motown.
Although the label began moving away from the harder-edged R&B very early on, Williams worked with Stevie Wonder shortly after the young singer was signed and co-wrote his first song, "Thank You For Loving Me". He also worked with The Temptations on "Oh Mother Of Mine", one of their early releases. His biggest success at Motown was with The Contours. Starting with "Shake Sherry Shake" in 1963, he produced three Hot 100 hits for the group including "Don't Let Her Be Your Baby" and "Can You Do It". He also wrote "Oh Little Boy" for Mary Wells, which became the b-side of her biggest Motown hit, "My Guy".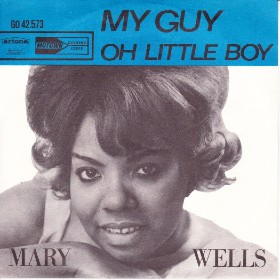 Williams composed "Oh Little Boy"
Williams has told interviewer Dan Epstein that his relationship with Gordy was volatile. "I was in and out of Motown from around '61 to '65. I almost started Berry (in the record business), and we had a friendship going, but I could never conform to his way of doing business, and I could never be a yes-man and suck up to him, so he fired me! But when he'd fire me, then he'd get a guilty conscience or something, and he'd call me back. I'd go back and work maybe six or seven months, then mess up again and he'd fire me again.
Gordy kept sayin', "Andre, I want to make you a millionaire, but you don't wanna be a millionaire; you don't wanna do things the way they supposed to be done! You got your own way of doing things, and I can't have that here at my company! I can't let you ruin my company!" And I'd say, "Well then, screw it, man. Bye". And then I'd go somewhere and get a hit – like I'd go to Chicago and do "Shake a Tail Feather" with The Five Du-Tones – and Berry'd send a telegram sayin' "Come back to Detroit".
Williams left Motown for good after an incident in which he fired a shot at a stranger who had entered the dressing room of Smokey Robinson. Andre described the circumstances surrounding the shooting to interviewer Kevin Goins; "I was bodyguarding Smokey Robinson, and some guy tried to get near Smokey. I asked him 'Who are you?' He said 'Who the f**k are you? I'm only here to see Smokey!' He came after me so I took out my pistol and shot him! Smokey loved me for covering his butt, but Berry - forget it."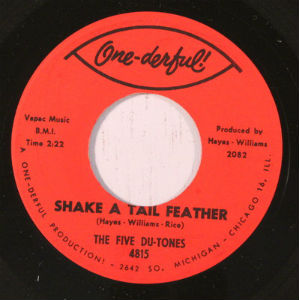 Co-written by Andre Williams
Williams came up the original idea for "Shake a Tail Feather", and then co-wrote the song with Otha Hayes and Verlie Rice after one of his firings from Motown. The song would eventually be covered by many artists including James and Bobby Purify, Mitch Ryder & The Detroit Wheels, Ike & Tina Turner, as well as Ray Charles in The Blues Brothers movie. The original 1963 version, produced by Williams and recorded by The Five Du-Tones, remains the definitive rendition of the song. Like many pioneers of the era, however, Andre Williams received little in royalties from his much-covered composition until almost forty years later.
After cutting ties with Motown, Williams went back to work as the house producer for One-derful Records in Chicago. He saw a group called Alvin Cash and The Crawlers perform in the city and had them record "Twine Time", a song he had written to exploit a teen dance that was the rage in the South Side of Chicago. Williams' production of "Twine Time" became a major hit, reaching # 14 on the Hot 100 and peaking at # 4 on Billboard's R&B chart. After leaving One-derful, Andre released two singles on the Arvin Records label, "Rib Tips (Parts 1 & 2)" and "Hard Hustling" b/w "Soul Party A-Go-Go".
Williams left Arvin to join Blue Rock Records, a subsidiary of Mercury Records in Chicago, where he produced Sir Mack Rice's original version of "Mustang Sally". After Mercury shut down the label in 1966, Andre signed a recording contract with Ed Wingate, Berry Gordy's main competition in Detroit.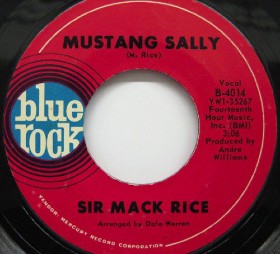 Williams produced "Mustang Sally"
He released two rather risque records on the Wingate label: "Loose Juice" and "Do It". Andre then recorded "You Got It And I Want It" on the Ric-Tic label in 1967, while also serving as the manager for Edwin Starr, the label's biggest attraction. Shortly thereafter, Ed Wingate sold his record labels to Berry Gordy, and Williams went into partnership with a few private investors and formed the short-lived Sport Records in mid-1967. Andre had a local hit with "Pearl Time" b/w "Soul Groove", but the small label soon went out of business.
Williams returned to the Windy City and signed with Checker Records, a subsidiary of Chess – Chicago's most important independent blues label. Andre released several moderately successful singles on Checker, including "The Stroke", "Humpin', Bumpin' and Thumpin'", and "Cadillac Jack", all classic examples of early funk. While signed to Checker, Andre produced records for the Duke label in Houston, including Bobby 'Blue' Bland's 1969 R&B hit, "Chains Of Love". He also recorded some songs at Duke under several pseudonyms; one of these was a funky version of "I Heard It Through The Grapevine" by The Quality Controls.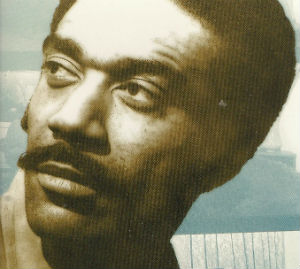 Andre Williams 1970's
By early 1970, Williams was working full-time for Duke Records, but this stretch of his career came to an end when his life was threatened by a gangster whose daughter had become involved with Andre. Given the gift of a plane ticket by his friend, blues star B.B. King, Williams headed for California and signed on with R&B duo Ike & Tina Turner, then in the last stages of their marriage and professional partnership.
Williams worked with Ike Turner for eighteen months, which was long enough to develop a full-blown addiction to cocaine. "You know how your mother would have little porcelain elephants or whatever, on the kitchen shelves, like salt and pepper shakers? Well, every single one of those in Ike's house was full of coke!" Williams recalled to Joss Hutton. "You could either pick the neck down or move a leg and shake a gram out of it. Full of coke! When I went to work with Ike I was weighing 185 pounds. At the end I was 85 pounds!" Andre managed to return to Detroit and recover temporarily, but the rise of the high-tech disco style had by now displaced his lowdown brand of blues and funk from the urban music charts.
Things went from bad to worse as Williams, prey to a long drug addiction, ended up in a Chicago homeless shelter. He made a living by panhandling, and recalled one day on which he was forced to sit on a bridge begging for quarters in a 40-below-zero wind chill, wearing five pairs of pants and nine shirts. "I found this little spot in Chicago where all the white boys come off the train with their purple platinum Visa" he recalled to David Kunian of the Best of New Orleans website. "I'd make me $150 by 9:00 A.M. Then I'd take the bus to the projects and by the time I left at 11:00, I'd have one dollar and 38 cents. I gave that up one New Year's Eve when I got so paranoid that I threw $290 in the Chicago River, and I almost threw in my coat. Those kinds of things are what turned me around".
Williams had no thought of resuming his music career until he was tracked down by rock and roll enthusiasts at both the St. George and Norton record labels. "I just woke up one morning, went to the bathroom, and all of a sudden the phone rang", he recalled. "It was Andre, do you want to make a record?" "And I said, are you trying to wake me from this terrible dream that I'm nobody? Okay, I'll try it. All of a sudden I'm playing in Europe, at festivals, everywhere. And suddenly I realized I am somebody". Williams released his "Greasy" album in 1996 and then moved to California's In The Red label for 1998's "Silky" LP.
Andre returned to his country roots in 1999 with the album "Red Dirt". Recorded with The Sadies, an alternative country band, Williams mixed classics of deranged country music such as Johnny Paycheck's "Pardon Me (I've Got Someone To Kill)" with originals like "She's a Bag of Potato Chips". Part of Williams' continuing success in the early 2000's was that he had no trouble writing new material, even as he approached 70 years of age. He told Hutton, "You come up with stuff about what the f**k happened yesterday! Always in life, if you wake up tomorrow, something's gonna happen in that day that the world can relate to. You just got to find that one thing that happened. And then put your own self in it".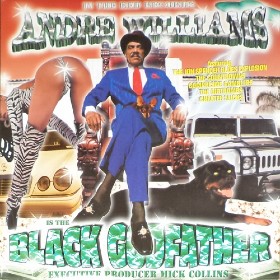 Black Godfather
In 2000, Andre Williams released "The Black Godfather", a noisy electric album featuring The Dirtbombs, a hard-rocking Detroit band. The album's title became his new nickname along with the outdated 'Mr. Rhythm' that had been bestowed on him years before by comedian Redd Foxx.
The experiences that Williams sang about in such songs as "Your Stuff Ain't The Same" from 2001's "Bait and Switch" were often sexual ones. Jeff Gordinier of Fortune addressed the dirty lyrics when he wrote that Andre's "salacious soul workouts are clotted with good old-school sonic crud; sometimes the mike literally sounds as if it's daubed with griddle fat and carburetor grime."
At the instigation of a Jamaican-born girlfriend, Williams converted to Judaism in 2001. Despite the raunchy content of his lyrics, he often professed religious faith in interviews and credited his career resurgence to divine intervention. Entering his eighth decade of life, Williams was making music at a pace that that exceeded even his busiest days in Detroit at the Fortune label.
He released the "Aphrodisiac" album on the Pravda label in 2006. It marked a return to soul-styled music with a more laid-back and funky groove than on his previous comeback recordings.
In 2007, Williams was the subject of a documentary titled Agile, Mobile, Hostile: A Year With Andre Williams that told of his early years at Fortune Records, his years of drug and alcohol abuse on the streets of Chicago in the 80s, his comeback in the 90s, and his current life at that time. The following year saw the release of his "Can You Deal With It" album on Bloodshot Records that featured the New Orleans Hellhounds (a.k.a. The Morning 40 Federation).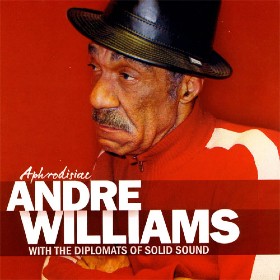 "Aphrodisiac" album
Williams also contributed a cover version of "The Way You Dog Me Around" in 2010 for the album "Daddy Rocking Strong: A Tribute To Nolan Strong & The Diablos" that honored his old friends from Fortune.
His latest release, "Life" is on Alive Records. Backed by a Detroit band led by Matthew Smith of Outrageous Cherry, the album features Williams' version of "Shake A Tail Feather" along with his humorous take on the 2012 election, "Blame It On Obama". In describing the video for the latter song, the Detroit Metro Times wrote; "The legendary Andre Williams has put out a video for the song "Blame It On Obama", which apparently caused a heap of controversy due to people getting all riled up before actually listening to the song, which happens to be pro the President. It's a slinky little number too. Williams' tongue is firmly in his cheek when he blames his wife's aging appearance on Obama. His wit is as sharp as ever.
Williams was voted into the Michigan Rock and Roll Legends online Hall of Fame in 2012. Sadly, Andre Williams passed away on March 17, 2019.
MRRL Hall of Fame: https://www.michiganrockandrolllegends.com/mrrl-hall-of-fame
VIDEO: Watch the video for Andre Williams' "Blame It On Obama" by clicking below: https://www.youtube.com/watch?v=P4vGo4h8N-k
Dr. J. Recommends: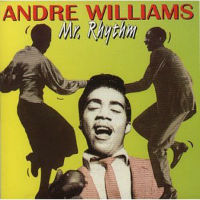 "Mr. Rhythm"
"Mr. Rhythm" CD. Although the sound quality on this disc is not the greatest, it contains all the classic singles that Andre Williams recorded at Fortune Records in Detroit during the 50's. I don't think they're available anywhere else, so if you want to hear the original versions of "Bacon Fat", "Jail Bait" and the rest of his early records with The Five Dollars (a.k.a. The Don Juans), this is the 27-song CD for you.
"Rib Tips & Pig Snoots" CD. Soul-Tay-Shus Recordings, New York. I'm a big fan of Andre Williams' early recordings, and this collection of songs from 1965 - 1971 is from the vaults of Avin, Sport, and Wingate Records. Lots of lowdown R&B workouts including "Pearl Time", "Loose Juice", "Sweet Little Pussy Cat", a very cool cover of "I Heard It Through The Grapevine", as well as the two title cuts in this 19-song collection of some of his more obscure singles.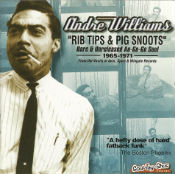 "Rib Tips and Pig Snoots"