MRRL Hall of Fame
BENNY & THE JETS
Details

Category: Inductees
Created: Sunday, 01 June 2014 09:44
Written by Gary Johnson
Many of the Michigan bands that formed in the late 60's and early 70's took their inspiration from British Invasion groups like The Beatles, The Rolling Stones, The Kinks, or The Yardbirds. Motown's non-stop hit factory was another important influence in a vibrant rock and roll scene largely based around a network of teen dance clubs all across the state.
Benny & The Jets, however, were stimulated by much earlier forces. They formed in Plymouth, Michigan, and took their name from one of the street gangs in the hit musical West Side Story. The band looked to the music of Elvis Presley, Rick Nelson, and Detroit's Jamie Coe for their direction; and like their local heroes, Brownsville Station, they used performances at large car shows around the country as their launching pad.
Benny Speer was born in Ann Arbor, Michigan, on September 12, 1955. He was the first of the four children born to Leo and Pat Speer, and he grew up in the little town of Plymouth, located about 16 miles east of Ann Arbor and 26 miles west of Detroit. The city is probably most famous for being the former home of the Daisy Manufacturing Company, best known for its development and production of the BB gun.
Speer, his two brothers, and sister all attended Plymouth High School. Their parents were in the medical field. His father was a doctor (chiropractor) with an office in Ann Arbor and his mother was a nurse. Both had attended the University of Michigan.
Strangely enough, Speer's initial contact with rock and roll came through his father. Dr. Leo Speer gradually slipped into the music business, first by becoming a silent partner in a couple of nightclub/bars that featured live entertainment. Benny was exposed to live music when he was very young, and by watching what went on at his father's clubs, he gained insights to the music business that weren't available to most kids his age.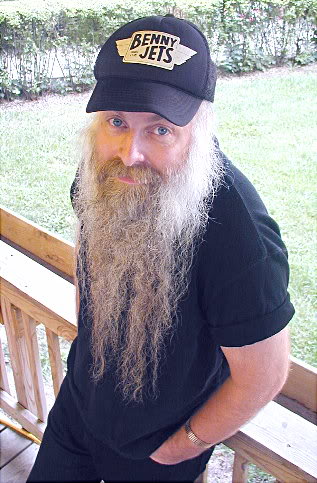 Benny Speer
Speer's father went on to become a major player in the music field, turning into a well-known promoter and owning several highly successful bar/night clubs. He eventually became the owner of the famous Michigan Palace Theatre in downtown Detroit. As a result, people like Bob Seger, David Bowie, Iggy Pop and countless other big names were well-known to the Speer family.
Dr. Speer first started out as a silent partner of the Military Inn at the corner of Telegraph and Warren in Dearborn, Michigan. It was a landmark structure that looked something like a castle and was home to a famous gun collection.
When it appeared that the bar was about to go under, Dr. Speer took over the operation. Benny's father brought in Jamie Coe to play at the club in the mid- 60's. Coe had already released several 45s, including his hit cover of "The Fool", that were popular in the Metro Detroit area. He had appeared on American Bandstand and although his career had peaked a couple of years earlier, Coe was arguably one of Detroit's most successful white artists at that time.
Benny Speer was in the second or third grade when he met Coe, and he had just started to learn how to play the guitar. He took a few lessons but was mostly self-taught. Speer would often sit at the side of the stage and watch Coe sing. Coe befriended the youngster and took him under his wing. Coe gave Benny his first microphone stand after seeing him try to tape a little microphone to a broomstick handle.
Jamie Coe was so successful that Leo Speer was able to sell the Military Inn and move him over another famous bar on the corner of 6 Mile and Telegraph in Detroit called the West Side 6, where Coe worked steadily for the next five or six years. During that time Jamie Coe almost became a member of the Speer family.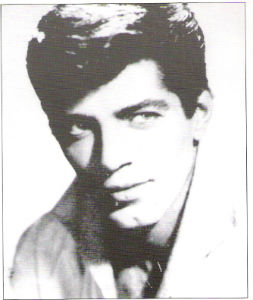 Jamie Coe
Because the live music at the West Side 6 was so popular, Dr. Speer looked to purchase the biggest bar in the Detroit area where he would continue to feature Jamie Coe and his band, The Gigolos. He found a location in Wayne, Michigan, that could seat 600 patrons. Dr. Speer called his new music club the Rock 'N' Roll Farm. Unfortunately, Jamie Coe's magic did not move with him and the business closed after a couple of years.
Leo Speer did manage to make an important contact while running the Rock 'N' Roll Farm, however. Robin Seymour was a popular Detroit DJ who had moved to television and hosted Swinging Time, Detroit's popular rock music program. Seymour was also promoting a Detroit band called The Sunday Funnies. The Sunday Funnies were booked to replace Coe and became very successful. By now, Benny was a teenager and still in high school, and Sunday Funnies became another major influence on his budding music career.
Young Benny Speer's first record was the second Elvis Presley Greatest Hits LP, "50,000,000 Elvis Fans Can't Be Wrong". But he got into the idea of performing rock and roll by watching the end of each episode of The Adventures of Ozzie and Harriet television show to see Rick Nelson sing one of his hits. Although, as an eight-year-old, he was caught up in the excitement of watching The Beatles on the Ed Sullivan Show, his main musical influences were drawn from the artists of rock and roll's first decade.
Back when Benny was in grade school in Plymouth, "The Twist" was the biggest dance craze ever and he and some friends won a little twist contest. Years later, Benny & The Jets went on to travel and become close friends with Chubby Checker. The band's first important professional gig was opening for Chubby Checker at the famous Stork Club in Toronto, Canada. The Stork Club was the setting for the traditional New Year's Eve broadcast featuring Guy Lombardo and His Royal Canadians performing "Auld Lang Syne".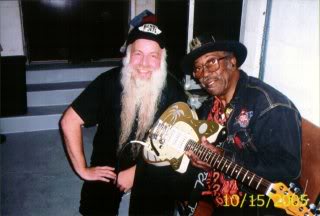 Benny with Bo Diddley
While on vacation in Florida with his family, Benny discovered that the act playing at the hotel they were staying was none other than Bo Diddley. Although he was only 10-years-old, his father told him; "If you were any kind of a guitar player, you'd be like Bo Diddley". Years later, Benny & the Jets would tour with Bo. Benny remembers that he called his father and said: "Hey Dad, it's me and Bo Diddley and we're playing the Las Vegas Hilton."
Benny's first band gig came the following year, in 1966, at the 6th grade junior high dance in Plymouth. He remembers that "Louie, Louie", "Wipe Out", "Gloria", and "House Of The Rising Sun" were all in the set list because they were fairly current songs at that time. Coincidently, they were still playing those same songs ten years later when Benny & The Jets became a traveling "oldies" band.
He and his friends grew up as 'greasers '– liking Elvis, Rick Nelson and Jamie Coe, and having to learn to accept The Beatles and the hippie style prevalent in Ann Arbor and in the music of The Sunday Funnies. When Benny was a teenager, he and a buddy took a bus and then hitchhiked part of the way to Detroit to see Elvis Presley perform at the 17,000 seat Olympia Stadium on September 11, 1970, just one day shy of his 15th birthday. It was Benny's first big concert experience and he recalled that Elvis' performance was unforgettable and tough for anyone else to live up to.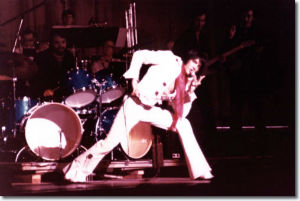 Elvis at Olympia 1970
Benny Speer describes Plymouth in the 60's and early 70's as "a small city with a real small town feel". Since it was located midway between Detroit and Ann Arbor, kids could easily travel to both cities for events.
Plymouth High School had a very strong music circle. Chris Campbell (Silver Bullet Band) went to school there. Benny and Campbell had been in bands together and had replaced each other in bands as they were growing up. Paul Warren (guitarist for Rod Stewart's band) also attended Plymouth at the same time. They were not jocks – Benny and his friends were into music exclusively. He even sang in choir in high school, but only because he thought it would be an easy grade.
Speer became a big fan of Cub Koda by hanging out in Ann Arbor during his junior high and high school days. He used to love to go to the Al Nalli Music Store where Koda used to work. Nalli's father started it out as a piano store, but as Al grew up and took over the business, he turned the store to a big amp and guitar shop. Ann Arbor had a great music scene and many up and coming area rock and rollers would buy equipment there. Al Nalli befriended many and was the manager for quite a few local bands, including Brownsville Station in its early days.
Benny and his friends would go there to buy guitar picks or anything else they might need musically for the band and try to rub elbows and talk to older guys, like Koda, who were a few steps ahead of them. Benny and Cub ended up becoming great friends, and several years later Cub wrote a very positive review of Benny & The Jets third album. Koda ended up becoming almost as famous as a music writer and reviewer as he was as a musician with his acclaimed Vinyl Junkie column in Goldmine magazine.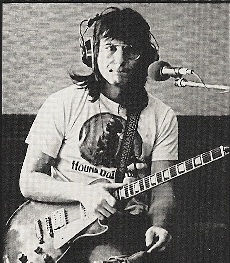 Cub Koda
All through high school the band always played and made money. They won several "battles of the bands" even though they were not the typical hippie teenage rock band. They were more on the fringe as a greaser band; into Elvis, Rick Nelson, and Bo Diddley rather than Rush and Aerosmith. Benny always sang – mostly because nobody else would or could. It was more need than desire.
It wasn't that difficult to make a good living playing music at that time. They never wanted for anything as young musicians during the 70's. When he was a senior in high school, Benny was playing four or five nights per week in a bar and going to school in the morning. He was driving a brand new car when he graduated from high school and was able to pay for it with cash.
While in high school, the band practiced mostly at the Speer house. Benny's family understood his love of rock and roll, although his father would have preferred he go into medicine rather than music. They used to rehearse in the enclosed back porch at the rear of the home. Once they got started, however, they didn't practice that much – only to learn new songs. Their thing was to play as much as they could, in as many places as would book them. After high school, when they were rolling full-time, they played continuously and practice was not a big part of their musical life-style.
Back in Plymouth, they were at the tail end of the teen night club era and in the middle of festival-type shows. Benny remembers going to one at Schoolcraft College near Plymouth, which featured afterschool concerts in their lunchroom area. It was where he saw ? and The Mysterians for the first time. The band became good friends with Question Mark and years later they toured around the country as ? and the Mysterians' opening act.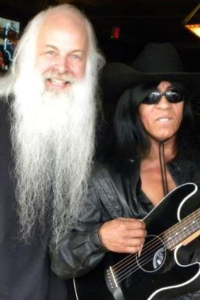 Benny and ?
The band went through several names before finally settling on The Jets. The inspiration was a popular Detroit oldies band called Moose & Da Sharks. Benny and several of his buddies played with them for a while and then splintered off to form The Jets. The Sharks and The Jets were the two gangs in West Side Story. Moose & Da Sharks became very successful playing the auto show circuit, and both they and The Jets had the same agent, Jerry Patlow.
By 1971, The Jets were playing five nights a week and the band members were making quite a bit more money than any of their classmates at Plymouth High. Bimbo's in Ann Arbor was a regular gig and Benny remembers meeting one of his high school teachers there. At the time, Speer was not even old enough to be in a bar. His teacher used to let Benny slide from his first hour class once he discovered Speer was literally playing every night. Back in their high school days, The Jets were making roughly $200 per night, which was major money for teenagers at that time.
The Jets were made up of "Slick" Rick Khorn, who went to high school with Benny and was there at the start. Khorn has played off and on with the band over the years. Like Khorn, a lot of guys get married, quit the band, get divorced and then come back. Part of the problem was the amount of traveling the band did. In 1982, they did 100,000 miles of travel in one year.
Therefore, a lot of musicians rotated through the band over the years. The original bass player was J. P. Morgan. He went to Plymouth High, and he was replaced by Khorn. The original drummer, Bill Hamil, has passed away. Hamil later played in a band with Marshall Crenshaw. Tony Fox replaced Hamil on drums and spent many years in The Jets – Fox was also from Plymouth High. Later members of the band included drummer Mike McGuigan, bassist Chris Cristy, guitarist Joe Prus, and sax man Fred Lorenz.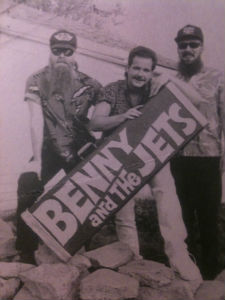 Benny & The Jets (L to R) Benny Speer, Tony Fox, Rick Khorn
Jerry Patlow was a well-known agent who handled everyone from Moose and Da Sharks to Alice Cooper. Patlow was the Jets agent and manager, and he was the one who got them onto the auto show circuit. Patlow worked with many acts over the years – Del Shannon, Paul Revere and The Raiders, Chubby Checker and many other national acts. He found a niche in the classic oldies circuit. Earlier on, Patlow was a promoter at the Eastown and several other small theatres in Detroit that specialized in psychedelic rock and roll bands.
They started calling themselves Benny & The Jets in 1973, about a year before Elton John recorded his # 1 hit "Bennie And The Jets". Although the song helped make the band name instantly identifiable, their sound was basically one-half Moose & Da Sharks and one-half Brownsville Station; and the name Benny & The Jets had more to do with West Side Story than it did with Elton John.
In their very earliest days, Brownsville Station was a 'greaser' band. Benny grew up heavily influenced by the combination of Cub Koda, Mike Lutz, Tony Driggins and T. J. Cronley. After Henry Weck replaced Cronley on drums and Tony Driggins left the band, Brownsville Station became a trio.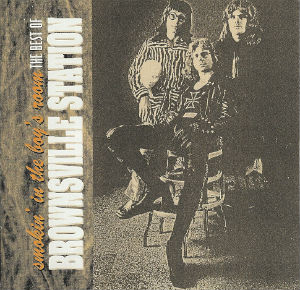 Cub Koda, Henry Weck and Michael Lutz
When Benny Speer was young, he wanted to be Cub Koda. The first Brownsville album had lots of early rock and roll songs like "Hello Mary Lou" and other songs from that 50's-early 60's scene that Benny loved. Because of their music choices, Brownsville Station played a lot of car shows. When they grew out of that, Benny & The Jets stepped right in to take their place.
Benny & The Jets did many of the same gigs, did the same tours, and used the same management as Brownsville Station. They filled the void that Brownsville left. The lead song on Benny & the Jets first album was "Barefootin'" which was a Brownsville Station staple. They basically tried to be Brownsville Station on their first album. The second song on Benny & The Jets debut album was "Rock With The Music", another Brownsville Station song. Their "School Punks" album is a basic blueprint for Benny & The Jets, and that's when everything came together for the band.
A Detroit-based company called Autorama put on car shows all around the country during their peak years in the 70's and 80's. After they graduated from high school, Benny & The Jets tied into the Autorama circuit that Brownsville Station had left. All through the 70's into the 80's, Autorama put on between 150 and 160 auto shows.
Being part of the Autorama car shows, Benny & The Jets played in all the biggest arenas across the United States, including the Kingdome, the Silverdome, and the Superdome to name just a few. Benny used to tell people that because of their work for Autorama, Benny & The Jets was the most famous unknown band in the world. Whatever city they played, their name would be on the billboards, TV commercials, and on the tickets.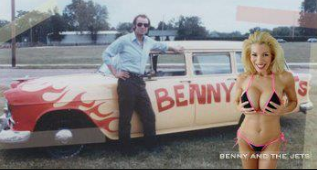 Benny with Autorama model Nikki
Benny & The Jets recorded their first album in 1974 at a small studio in Plymouth. A fellow high school student had some recording experience at United Sound studios in Detroit and then started his own Goodsite Studio. They recorded the album so that they had something to sell at the large auto shows that they were playing. They moved a lot of vinyl at the car shows. It was a nice souvenir for the attendees and they could meet the band and have it autographed after the shows. The albums were issued on the Butterscotch record label owned by Jerry Patlow. The album is now highly collectible as it's been out-of-print for many years.
Historically they've been a three-piece band. When they traveled all those years with the auto shows, they were a trio with the motto "slim, trim, keep it tight and mobile". Over the years, there were stints where the band used a saxophone and times when they added a piano player. A big part of Benny & The Jets' career was serving as the back-up band for both Freddy "Boom Boom" Cannon and Bo Diddley. Typically, they would be both the opening act and then backing band for the stars. If Cannon or Diddley wanted additional instruments, they would augment the band according to what was demanded.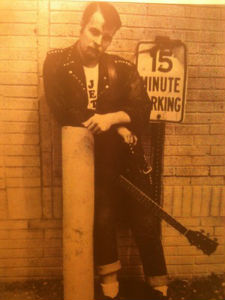 Benny Jet
Even though they were playing all over the country backing the oldies stars or playing the auto shows, Benny & The Jets maintained their Detroit roots. They had a regular Sunday night gig for years at a little bar called Ashley's at Telegraph and Joy Road. It was located about a mile or two north of where the Military Inn once stood.
Years later, Benny & The Jets opened for their old hero Rick Nelson and even got to be friends with him. The first time they opened for him, it was like opening for Elvis – they were told the backstage had to be cleared, no one was supposed to talk to him, and they were instructed not to ask for an autograph.
After they played their set, Benny was asked to go back out and introduce Nelson. The promoters told told him not to shake his hand, look him in the eye, or touch him. They had made Rick out to be something bigger than life, but Nelson instead acted like Speer's best friend. The star came out a hugged him and said "Benny, it's so good to see you. I've always wanted to meet you."
How did Rick Nelson get to know about a young man and his band from Plymouth, Michigan? Rick told Benny that his father, Ozzie Nelson, was the president of the Musician's Union; and every time he was at his parents' house, he would see the Musician's Union newspaper lying on the kitchen table. Benny & The Jets had put an ad in every issue of the paper to both establish and protect the band's name. Rick often wondered who Benny & The Jets were, and now he had a chance to actually meet them.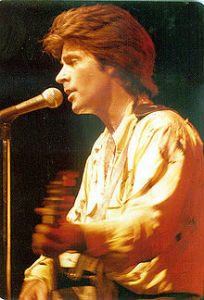 Rick Nelson
Today, Benny Speer says that all the money they spent on advertising in the union paper was worth it just to have Rick Nelson say that he always wanted to meet him and his band. It would have been an unthinkable scenario when Benny was that little kid lying on the living room floor and watching Rick Nelson on TV. Speers told the story to Nelson's sons, Matthew and Gunnar, at their dad's funeral. They loved it because there was the impression among many people that their dad was rather aloof when, in reality, he was very open and friendly.
According to Benny, Madonna saw Benny & The Jets several times. The first time they were playing in Ann Arbor at the 2nd Chance bar. Bob Seger and many others played there over the years. Madonna was attending the University of Michigan and was a waitress at Shakey Jake's bar next door. All the waitresses used to come over to see the bands. Years later, Benny & The Jets were playing at one of the car shows – this time outdoors at the Dearborn Hyatt Regency when Sean Penn and Madonna were staying there. Speer says the famous pair watched the band before flying off in a helicopter to Madonna's concert at the Silverdome.
The band's second album was released in the 1980's. Tilted "Benny & The Jets Live", the album was recorded at the Toldedo Sports Arena.
Benny & The Jets released just one 45 rpm record. The band released the politically incorrect "Dumb Girls" single around 1985. Benny enjoys listening to sports radio, and while driving from a gig he tuned into a show on the Sports Fans Network where there was a discussion about girls being let into men's locker rooms as sports reporters. Benny heard a sports radio host, "J.T. the Brick", ranting about having "dumb girls" in locker rooms, and Benny pulled off and called the station to tell him that Benny & The Jets had just recorded a single called "Dumb Girls". The song ended up being played as the radio show's theme song for a time, giving it a lot of unexpected exposure.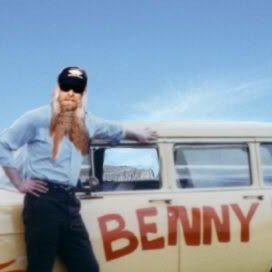 Benny and the touring car
The "Dumb Girls" video was done by a fan from Georgia named John Mitchell who paired an unrelated video of a girl dancing with the song. Somehow the combination worked perfectly and the video went semi-viral getting over 50,000 hits on Youtube during the Internet channel's infancy.
The song was included on the band's third album, "Benny & The Jets III". The album was originally released as a cassette and then issued later as a CD. The single "Dumb Girls" was released to promote their third album with the catch phrase: "The song Beavis and Butthead would love".
Speer claims that one of the good things about being a semi-cover, oldies, tribute band is that the songs have stood the test of time. Old favorites like "Little Red Riding Hood" and "Last Kiss" have been recorded and are regular parts of the band's sets. "Wipe Out", one of the songs been played at the school dances in Plymouth, showed up almost 30 years later on "Benny & The Jets III" – the one reviewed by Cub Koda. Some originals like "This Old Face", based on an incident in 1980 when the band's equipment was stolen, are sprinkled in with the oldies. Benny & The Jets' recordings aren't on iTunes but they have material on Reverb Nation, Garage.com, and Youtube.
Speer has been married for 25 years – he met his wife Pam at a gig. They lived together for ten years before they got married. They have three daughters and they live in a brick bungalow with a grand piano and a fireplace in Inkster, Michigan. He has been a musician all his life and has worked no other job. He's not sure it can be done by a young musician in today's world. Benny played for 25 years on Tuesdays at the Wayne Road Pub in Westland, Michigan. It has since gone out of business like so many venues that used to feature live music.
The opportunities for a band to play regularly have dwindled, and many of the older musicians no longer want to play the smaller bars – even if there were opportunities out there. The Benny & The Jets band reconvenes for the occasional big festival or concert such as the Harley- Davidson Ride Across America in Boston or the Belleville Strawberry Festival and the Wyandot Spring Fling. The band still includes Slick Rick Kron and Tony Fox, and also features Fred Lorenz on sax.
Benny now plays almost 99% of his gigs as a solo acoustic performer. He sings songs (mostly oldies) and tells some stories in an act that's both fun and budget friendly for bar and restaurant owners. He has also gone out on the road as a solo, playing gigs in Las Vegas, Pasadena, Los Angeles, and Phoenix.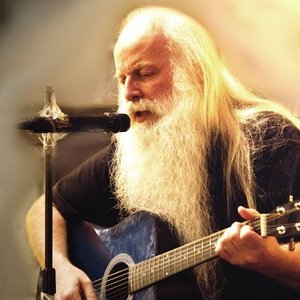 Benny performing solo
On every Wednesday from 5:00 PM to 7:00 PM for the past 15 years, Speer has served as the co-host of The Doctor Doo-Wop Show, broadcast on radio station WCXI-1160 AM out of Fenton, Michigan. The program is a combination of talk and oldies and was first established by Dr. Roman Franklin, a practicing hematologist and oncologist and also a record collector of the first order. With Franklin and Speer sharing the microphone, the stories behind classic rock and roll songs are presented as well as information about the era in which they were recorded.
The Doctor Doo Wop Show is a very free-flowing program where listeners can call in at 248-557-1460 and their conversations are heard on the air. The program often features all-star guests such as Martha Reeves, Jimmie Rodgers, Aretha Franklin, Duke Fakir of the Four Tops, actor Gary Busey, surviving members of Bill Haley's Comets, and many more.
The show first aired on WPON-AM in the late 1990's when Dr. Franklin was encouraged by the station's morning DJ, "Crazy Al", to host his own show. In recent years, WPON merged with WCXI and their AM signal reaches mid-Michigan cities like Flint, Fenton, and Frankenmuth. The show is broadcast world-wide through the Internet at wpon.com or on tunein.com. The program is also simulcast on youstream.tv where you can watch the show as well as listen on your computer.
Benny & the Jets still is a hard-working band that has played coast to coast in the U.S. as well as Canada. The band finished first in the 2014 balloting for induction to the Michigan Rock and Roll Legends online Hall of Fame. Benny Speer knew and played with many of the nominated artists on the 2014 ballot and feels that all of the nominated Michigan artists have a story that's worth sharing.
Regarding the band's induction, Speer remarked: "It's a real treat for any band to get a tip of the cap recognition-wise, and to have its fans feel it is important enough to vote for them and thereby have their story documented on the MRRL Hall of Fame".
MRRL Hall of Fame: https://www.michiganrockandrolllegends.com/mrrl-hall-of-fame
Video: Watch the Youtube video for "Dumb Girls" at https://www.youtube.com/watch?v=jq7dLhUzLpA
Video: Watch Benny perform the title song for Nothin' But The Music, an independent film about the dying breed of artists who still manage to make a living playing music. https://www.youtube.com/watch?v=ZC7UVnSbPls&app=desktop