MRRL Hall of Fame
BETTYE LAVETTE
Details

Category: Inductees
Created: Friday, 01 June 2018 08:36
Written by Gary Johnson
Although she did not enjoy the chart success of Aretha Franklin, Diana Ross, Mary Wells, or Barbara Lewis, Bettye LaVette has weathered numerous setbacks and pitfalls to fashion a remarkable career as one of Michigan's finest R&B singers and song interpreters.
LaVette was born Betty Jo Haskins on January 29, 1946, in Muskegon, Michigan. According to her fascinating memoir, A Woman Like Me, her parents, Frank Haskins and Pearlina Johnson, grew up in rural Louisiana and moved to Michigan as part of the large migration of Southern blacks to Northern industrial cities and high-paying factory work.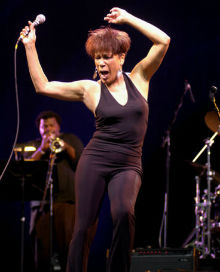 Bettye LaVette
Besides their day jobs, Betty Jo's parents also ran an at-home corn-liquor business at which they sold cheap drinks and barbeque sandwiches. As a youngster, Betty Jo grew up listening to blues and R&B on the jukebox in her home and also some of the biggest gospel stars at the time, including the Pilgrim Travelers, the Five Blind Boys of Mississippi, and the Dixie Hummingbirds - church entertainers who didn't want to be seen in public bars.
Betty Jo was raised in a drinking and partying atmosphere as her family moved their home-based drinking establishment first to Pontiac and finally to Detroit. She wrote in her memoir that she related to the world of adults and "wanted to drink, dance, and smoke and, when I learned about sex, I wanted to do that too."
Her mother enrolled her in St. Agnes Catholic School but Betty Jo was rebellious and got into trouble with the nuns for taking some of her parents' corn liquor to school to sell and then for singing the Coasters' ribald "I'm A Hog For You" at the school talent show. At the age of 14, one year after her father passed away from a stroke, her career at St. Agnes came to an end when she became pregnant.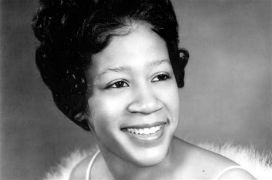 Betty Jo Haskins
She married her boyfriend and gave birth to a daughter, Terrye, born when Betty Jo was just 15. While in the hospital following her daughter's birth, she met Willie Jones, a singer with the Royal Jokers who'd had a hit with "You Tickle Me, Baby" on Atlantic Records. Shortly thereafter, she and Jones became a couple, and he introduced her to the Black Bottom colored entertainment area of Detroit that was centered on Hastings Street.
With daughter Terrye being cared for by her mother and older sister, Betty Jo began hanging out at the Graystone Ballroom, one of the hotspots in Detroit's thriving music scene. There she met a local music groupie named Sherma "Ginger" Lavett. That friendship resulted in Betty Jo Haskins changing her name to 'Bettye LaVette' and the aspiring singer being introduced to Timmy Shaw, a Detroit-born R&B singer who had released some singles on labels owned by Johnnie Mae Matthews.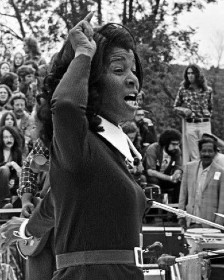 Johnnie Mae Matthews
Johnnie Mae Matthews is one of the unsung heroes of the Detroit music scene. In 1957, she made her first recordings with a quintet called the Five Dapps. The following year, she became the first African-American woman to own and operate a record label when she founded the Northern Recording Company in Detroit.
Matthews went on to become an important influence on the careers of Otis Williams, David Ruffin, Jimmy Ruffin, Richard "Popcorn" Wylie, Timmy Shaw, Joe Hunter of the Funk Brothers, and Norman Whitfield. In addition, Berry Gordy credits her with teaching him the ropes of the recording industry and helping him get a distribution deal with Chess Records for "Bad Girl" by the Miracles when Motown was in its infancy.
Shaw and Matthews were songwriting partners, and they offered LaVette a new composition called "My Man – He's a Lovin' Man". In the fall of 1962, LaVette, Matthews, and Shaw went into the studio with Robert West. West had produced "You're So Fine", a big hit by the Falcons, and he would soon become LaVette's manager. The single was originally planned to be released on one of Matthews' labels, but after Jerry Wexler heard "My Man – He's A Lovin' Man", he made a deal to release it on Atlantic Records. Listen to "My Man-He's A Lovin' Man" https://www.youtube.com/watch?v=kDPXOoStt9I
To promote her debut release, LaVette went on a package tour that also featured Clyde McPhatter, Ben E. King, Clarence "Frogman" Henry, and Barbara Lynn. While "My Man – He's a Lovin' Man" continued to move up the Billboard R&B chart, eventually peaking at # 7, LaVette had flings with Ben E. King on the tour as well as Otis Redding, who was on the road promoting his first hit, "These Arms Of Mine".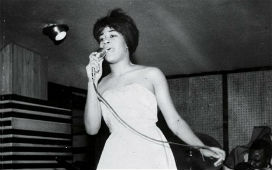 Bettye on stage 1960's
In early 1963, LaVette and Robert West went into the United Sounds Studio in Detroit to record her second single, "You'll Never Change". LaVette's fortunes changed quickly after her second single failed to chart. On a trip to New York to meet with Jerry Wexler to discuss her relationship with Atlantic, West got into a heated argument while drinking with Mary Wells' husband, Herman Griffin, and ended up accidentally shooting himself in the eye with his own gun when things got physical. West survived, but was never the same after the incident.
LaVette went to New York on her own to meet with Wexler and asked to work with Jerry Leiber and Mike Stoller, the writing and production team that had been behind all the hits by the Coasters, the Drifters, and Ben E. King. Unfortunately, Leiber and Stoller had left Atlantic after a dispute over royalty payments, and LaVette wound up asking for her release from the storied label instead.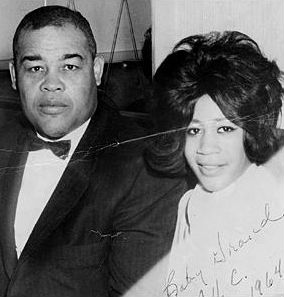 Bettye with Joe Louis 1964
After taking on Frank Kocian as her new manager, LaVette got a lengthy gig working as a vocalist with Don Gardner and Dee Dee Ford at Small's Paradise, a hip club in Harlem, but there were no offers for another recording deal. During this time, LaVette met writer/producer Luther Dixon who had been behind all the Shirelles' big hits on Scepter Records. Dixon brought her into the studio in 1964 to record a song called "Happiness Will Only Cost You One Thin Dime", but it was never released.
LaVette's next recording session was on Calla Records. The label was owned by Nate McCalla and was bankrolled by his underworld connections. LaVette recorded "Let Me Down Easy", a song written by Dee Dee Ford and produced by Don Gardner, and it became a # 20 R&B hit for her in 1965. It led to an appearance on Shindig, ABC's prime time pop music show. The success of the single also put her on the James Brown Revue as an opening act, but neither of her two follow-up singles on Calla managed to chart. Listen to "Let Me Down Easy" https://www.youtube.com/watch?v=-whyryu8mys
After getting involved with a vicious pimp who beat her and put her on the street, LaVette left New York and returned to Detroit. She recorded "I'm Holding On", a song written by her longtime paramour Clarence Paul, for Frank Kocian's Big Wheel label. After the single failed, LaVette began working with Jim Lewis. It was Lewis who encouraged LaVette to expand her natural singing ability by listening to master song interpreters like Sarah Vaughn and Frank Sinatra and learning from them the intricacies of phrasing and timbre manipulation that are part and parcel of any great vocalist. LaVette's ability to get inside a song's lyric and melodic line are the result of Lewis' tutelage, and it allows her to make any song that she covers uniquely her own.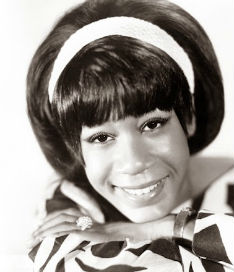 Bettye on Karen Records
It was during one of her gigs at a small Detroit club that Ollie McLaughlin came in and heard her version of "What Condition My Condition Is In", a big hit for Kenny Rogers' group, the First Edition. McLaughlin, who had discovered Del Shannon and Barbara Lewis, owned some small Detroit labels named after his daughters and had scored two big hits on them in 1966 with "Love Makes The World Go 'Round" by Deon Jackson and "Cool Jerk" by the Capitols.
McLaughlin signed LaVette to Karen Records, but none of the four singles she released on the label in 1968 and 1969 managed to chart. Kenny Rogers heard her cover of "What Condition My Condition Was In", however, and convinced his brother, Lelan Rogers to record her.
This led to LaVette signing with Silver Fox Records in Memphis in late 1969. There she recorded a number of sides with an unknown studio band, later to become famous as the Dixie Flyers and the Memphis Horns. Her first release, "He Made A Woman Out Of Me", reached # 25 on Billboard's R&B chart and her second, "Do Your Duty", peaked at # 38 in 1970. Listen to "He Made A Woman Out Of Me" https://www.youtube.com/watch?v=KspFr4lNNOI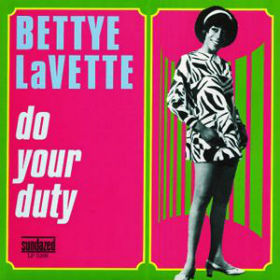 Recording for Silver Fox Records
LaVette had recorded enough songs for an album, but a falling out between Lelan Rogers and Shelby Singleton, the man whose money was backing the Silver Fox label, caused the project to be cancelled. In 1971, she released a non-charting single, "Never My Love" backed with "Stormy" on TCA Records, a label she co-owned with Lewis and her keyboard player Rudy Robinson
Bettye LaVette had now been recording for ten years and had still not released an album. In 1972, she recorded a cover of Neil Young's "Heart Of Gold" with Ollie McLaughlin in Detroit. McLaughlin took the song to Ahmet Ertegun at Atlantic, and the single was released on ATCO, Atlantic's subsidiary. LaVette was then given the go-ahead to record an album with producer Brad Shapiro at the Muscle Shoals studio. The sessions went well, and "Your Turn To Cry" was released as the lead single for the proposed "Child Of the Seventies" album. LaVette had been sent tickets for the promotional tour when Atlantic suddenly, and without explanation, decided to cancel the album and the tour. Listen to "Heart Of Gold" https://www.youtube.com/watch?v=jMftojMidrk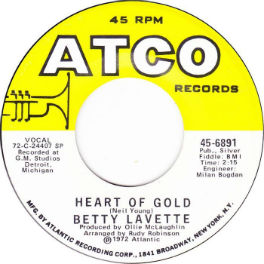 Bettye covers Neil Young
Understandably depressed over Atlantic's decision, Jim Lewis suggested that she enter a national talent contest to sing the jingle for the Shaffer Beer Commercial. LaVette made several recordings of the jingle and not only won the contest but also ended up winning a Clio Award for two versions of the commercial. The Clio Awards are presented each year in recognition of innovation and creative excellence in advertising, design, and communication. It was Bettye LaVettes's first singing award of any kind, but it did not land her a new recording contract.
With nothing much happening career-wise in Detroit, LaVette was invited to Los Angeles by Clarence Paul. While there, she sang backing vocals on Marvin Gaye's # 1 hit, "Let's Get It On" and got a gig as the opening act on a Solomon Burke tour.
In 1975, LaVette signed a recording contract with Epic, a subsidiary label of Columbia Records. She went into the studio and recorded four songs for her new label. "Thank You For Loving Me" was released as her debut single, but it only reached # 94 on the R&B chart. When her follow-up, a cover of Charlie Rich's "Behind Closed Doors", failed to chart, LaVette was dropped from Epic Records.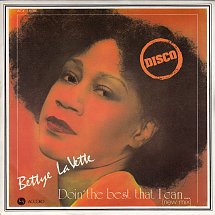 "Doin' The Best I Can"
Desperate for something to happen, LaVette even took a stab at recording a disco song despite the fact that she was not a fan of the genre. She recorded "Doin' The Best I Can" with 19-year-old producer Cory Robbins for the West End label in 1978. A re-mix of the song by Walter Gibbons became a dance-floor hit selling a reported 100,000 copies and reaching # 13 on Billboard's Disco-Dance chart.
In 1979, she was asked to audition for the touring company of Bubbling Brown Sugar, a Tony Award winning Broadway musical. She learned to tap dance and was hired for the role of Sweet Georgia Brown. LaVette worked with both Charles "Honi" Coles and Cab Calloway during the nearly four years she toured with the show.
In 1980, LaVette married Donnie Sadler, a man seven years younger, who worked for the Hyatt hotel chain. She moved to New Orleans with her new husband and performed locally there until she received a call from Lee Young, a Motown executive. Young told her that Diana Ross had left the label and there was an open slot for a female singer that included an album deal. LaVette's "Tell Me A Lie" album was recorded in Nashville in 1982 with Steve Buckingham producing.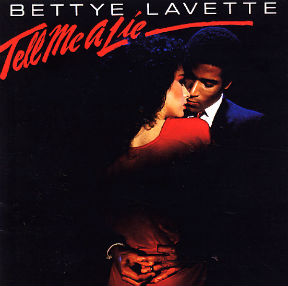 Motown's "Tell Me A Lie" LP
"Right In The Middle (Of Falling In Love" was issued as the lead single and it reached # 35 on the R&B chart; but LaVette was upset when the album was released without her picture on the cover. When she called Lee Young to see if he could change the cover, he told her that he had been replaced by Berry Gordy's ex-wife, Raynoma Singleton. LaVette's album got lost in the shuffle; and despite having another charting single with "I Can't Stop", also reaching # 35, the album failed to chart and she was dropped from Motown. Listen to "I Can't Stop" https://www.youtube.com/watch?v=cZb8jd6_YNk
By the end of the decade, LaVette had split with her husband and had lost Jim Lewis, her manager and mentor who died at the age of sixty-seven. She was back living with her mother in Detroit and playing local gigs in small clubs with her pianist Rudy Robinson. It was at one of those appearances that she met Robert Hodge, who soon became her manager and financial backer.
Although LaVette's career was on the downside in the United States, she was considered a star among Northern Soul fans, music lovers primarily based in Great Britain who prided themselves on loving the somewhat obscure Detroit music and artists from the 1960s.
Ian Levine was a product of the Northern Soul phenomenon and, with a large inheritance from his father who had owned several casinos in Great Britain, he took it upon himself to try and reclaim the music scene in Detroit that had been in shambles since Motown moved to California. Levine created a label called Motorcity Records and signed many former Motown artists including Bobby Taylor, Marv Johnson, Kim Weston, Dennis Edwards, Eddie Kendricks, Brenda Holloway, the Contours, the Four Tops, the Marvelettes, the Velvelettes, the Supremes (minus Diana Ross), and Bettye LaVette.
LaVette's Motorcity album, "Not Gonna Happen Twice", was released in 1990 and contained her versions of several past Motown hits including "Jimmy Mack", "I'm Ready For Love", and "Danger, Heartbreak Dead Ahead". But the synthesized backing used on the tracks for her album, as well as those of the other former Motown artists, did not appeal to music buyers, and the well-intentioned Motorcity Records soon went out of business.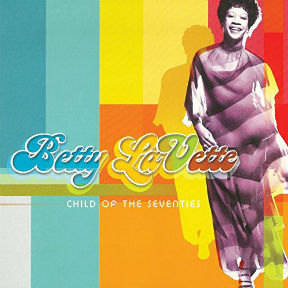 "Child of The Seventies"
She spent most of the 1990s gigging locally in Detroit, but the Northern Soul movement had opened the European market to LaVette, and she played blues festivals in England, France, Italy, Holland, and Germany. Her big breakthrough, however, came in 2000 when French collector/label owner Gilles Petard found the long-thought-lost master tapes to her "Child Of The Seventies" album while searching the Atlantic tape vaults. He licensed the tracks and released them in France on his own Art & Soul label as "Souvenirs".
At around the same time, a Dutch fan named Ben Mattijssen recorded LaVette live at a show in Utrecht, Holland, and released "Let Me Down Easy – In Concert" on the Munich label. The two CDs, released almost simultaneously, created a renewed interest in her and showed that she was still in excellent voice.
This led to LaVette being signed to a new label called Blues Express and recording her "comeback" album, "A Woman Like Me". After lots of drama, false starts, and the death of her beloved pianist Rudy Robinson, the CD was released in 2003. It was the same year she married Kevin Kiley, a recorded music and antiques dealer from New Jersey. Although it was not a big seller, "A Woman Like Me" won LaVette the coveted W. C. Handy Award for Comeback Blues Album of the Year as well as the Living Blues critics' pick as Best Female Blues Artist of 2004.
Bettye with Joe Henry
The attention generated by her comeback resulted in LaVette signing a three-record deal with ANTI Records. Her first release on the label, "I've Got My Own Hell To Raise", was produced by Joe Henry, a Michigan artist who had recently won a Grammy for a CD he had done with Solomon Burke. The album contained only songs written by women artists including Fiona Apple, Lucinda Williams, Aimee Mann, and Dolly Parton. "I've Got My Own Hell To Raise" got rave reviews and was on many critics' Best of 2005 lists. Unfortunately, because of a clerical error at ANTI Records, the CD was not submitted in time for Grammy Award consideration. Watch Bettye's live performance of Lucinda Williams' "Joy" https://www.youtube.com/watch?v=LfdoeNnuEV8
For her second release on ANTI, the label suggested an offbeat pairing with the alternative country rock band, Drive-By Truckers. The band was led by Patterson Hood, son of famed bass player David Hood from the Muscle Shoals Rhythm Section, and Mike Cooley. Drive-By Truckers' music and approach to recording was the polar opposite of LaVette's which made for some fireworks during the sessions at the FAME Studios in Muscle Shoals. The label insisted that LaVette needed to tap into the Drive-By Truckers' audience, and the struggles during the sessions eventually paid off. The resulting album, "The Scene Of The Crime", was nominated for a Grammy as Best Contemporary Blues Album.
LaVette received some well-deserved recognition during this period. In 2006, she was presented the Pioneer Award from the Rhythm and Blues Foundation. In 2008, she received a Blues Music Award for Best Contemporary Female Blues Singer. In December of that year, LaVette performed a critically acclaimed version of "Love Reign O'er Me" at the Kennedy Honors Tribute to The Who. Two months later, in January 2009, she had the honor of performing Sam Cooke's "A Change is Gonna Come" with Jon Bon Jovi for President-elect Barack Obama on HBO's telecast of the kick-off Inaugural Celebratory concert, We Are One.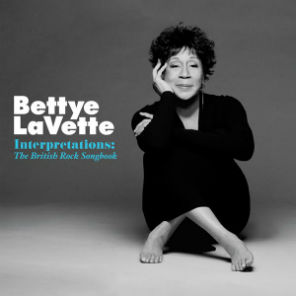 "Interpretations: The British Rock Songbook"
Her standout performance of "Love Reign O'er Me" at the Kennedy Honors inspired her husband, Kevin Kiley, to come up with the concept for her third ANTI album, "Interpretations: The British Rock Songbook". The Grammy nominated album had LaVette re-inventing songs written by British artists who had been initially inspired by American R&B. She recorded "Wish You Were Here" by Pink Floyd, "Maybe I'm Amazed" by Paul McCartney, and "Isn't It A Pity" by George Harrison as well as other well-known songs by Elton John, the Moody Blues, and the Rolling Stones. Watch Bettye's performance of "Love Reign O'er Me" at the Kennedy Honors. https://www.youtube.com/watch?v=EJi6maTueSc
2012 was a big year for Bettye LaVette. She released her fourth ANTI album, "Thankful 'N' Thoughtful" that was produced by Craig Sweet. In addition, her riveting autobiography, A Woman Like Me, was published. The no-holds-barred look at LaVette's life is incredibly open and honest about her relationships, sexual history, and drug use. It was co-written by David Ritz who had authored numerous acclaimed books about R&B legends, including Ray Charles and Marvin Gaye.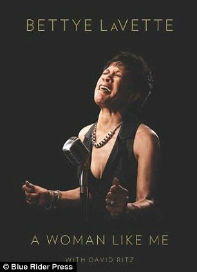 Bettye's autobiography
In 2015, LaVette signed with Cherry Red Records. Her first release, "Worthy", reunited her with producer Joe Henry. The album garnered LaVette her third Grammy nomination. That same year she was presented the Distinguished Achievement Award by the Detroit Music Society.
The following year, she received the Blues Music Award for Best Soul Blues Female Artist from the Blues Foundation. She was inducted into the Rhythm & Blues Hall of Fame in 2016, and she also received the Usung Heroine Award from the National R&B Music Society.
LaVette signed with Verve Records in 2017, her first major label deal since 1982. Her first release, "Things Have Changed", was her interpretations of a dozen Bob Dylan songs. The album, produced by Steve Jordan and including a guest appearance by Keith Richards, was released in early 2018. In June, Bettye LaVette was named an Honorary Inductee to the Michigan Rock and Roll Legends Internet Hall of Fame.
MRRL Hall of Fame: https://www.michiganrockandrolllegends.com/mrrl-hall-of-fame
Listen to "Political World" featuring Keith Richards https://www.youtube.com/watch?v=V6SzMxuAsa0
Main Sources:
A Woman Like Me by Bettye LaVette with David Ritz. Blue Ridge Press. Penguin Group. New York 2012.
About Bettye LaVette. @bettyelavette.com