MRRL Hall of Fame
BOB SEGER (solo)
Details

Category: Inductees
Created: Monday, 02 March 2020 09:19
Written by Gary Johnson
Wedged between the breakup of the Bob Seger System and the formation of the Silver Bullet Band, Bob Seger's solo career included the release of four high quality vinyl albums from 1971 through 1974. Seger also released nine excellent singles during this period. Although none of the albums or singles made much of an impact on the Billboard charts, it was during this time that Seger continued to refine his songwriting while establishing a working relationship with the Muscle Shoals Rhythm Section along with the other musicians who would help vault him into rock and roll stardom in 1976.
The Bob Seger System got off to a good start on Capitol Records with the single "Ramblin' Gamblin' Man", which featured Glenn Frey on backing vocals and acoustic guitar. "Ramblin' Gamblin' Man" peaked at # 17 on Billboard's Hot 100 in early 1969, and its success helped the album of the same name reach # 62 on the Top 200 Albums chart.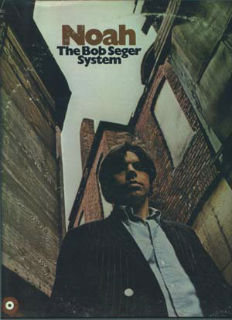 "Noah" LP
Things went south, however, with the release off 1969's "Noah" LP. Tom Neme was brought into the band, and he wrote and sang lead on five of the album's ten songs. Seger was only involved in the writing of four of the songs, and one of those, "Death Row", had been the B-side of his 1968 single, "2 + 2 =?". The title song "Noah", written and sung by Seger, was released as a single and, although it was a hit in Michigan, it, like the album, was a sales flop nationally.
Disheartened, Seger quit the band briefly and enrolled in college. When he returned, he fired Neme and recorded the "Mongrel" album in 1970. "Lucifer" was released as a single from the album and, although it is one of Seger's best early songs, it only reached # 84 on the Hot 100. The album, which peaked at # 171 on Billboard's Top 200, was also something of a sales disappointment despite being a big hit in Michigan and getting a review in Rolling Stone magazine that called it "Seger's best work".
In the fall of 1971, Seger released, "Lookin' Back", a strong non-album single that, like 1968's "2 + 2 =?", railed against the intolerance and political conservatism that gripped parts of the country. At the same time, he released a stripped down, solo acoustic album titled "Brand New Morning". It would prove to be Seger's final album on his initial deal with Capitol Records. It was also a major sales disappointment, this time failing to reach the Top 200.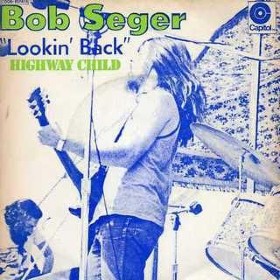 "Lookin' Back" single
Although Seger harbored ambitions of becoming a one-man act at this time, the vast majority of his fans wanted to see him rocking out with a band, not performing on a stool with an acoustic guitar. Peter C. Cavanaugh, in his entertaining memoir Local DJ, wrote about an incident in front of 12,000 fans at the first Wild Wednesday concert in June of 1971 at the Sherwood Forest outdoor venue in Davison, Michigan. It would lead to the next change in Seger's career.
Cavanaugh had signed Seger to headline the event, featuring some of Michigan's top groups, assuming that he would be playing with a band. A week before the show, Cavanaugh was notified by Punch Andrews, Seger's manager, that Bob wanted to go in a new direction and was planning to do an acoustic set. Cavanaugh wrote that he was upset by the decision, but changed the publicity for Wild Wednesday to let fans know that it would be an "all acoustical appearance by Bob Seger without his band." Instead of closing the show as originally planned, Seger would now perform his acoustic set at 7:00 p.m. on one of Sherwood Forest's two stages.
After Frijid Pink had completed its set on stage A, Seger began his acoustic performance on stage B. His set list was made up of songs from the soon-to-be-released "Brand New Morning" album that were, for the most part, unfamiliar to the large crowd. Also, a substanial segment of the audience either didn't hear about, or pay attention to, the publicized change in plan; and they expected Seger to be putting on his usual high energy show. Cavanaugh wrote that the crowd became restless midway through the set and shouts for "rock 'n' roll!", "Heavy Music!", "Ramblin' Gamblin' Man!", and even a few shouts of "fuck you!" were starting to drown out the music. Seger's acoustic set was quickly turning into a disaster.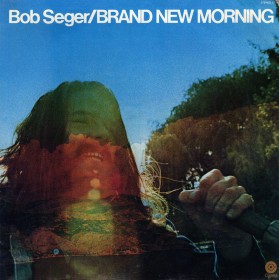 "Brand New Morning" LP
While this was going on, Teegarden and Van Winkle were setting up on stage A. The duo hailed from Oklahoma but had been working out of Detroit for several years. They had scored a Top 40 hit in the fall of 1970 with "God, Love and Rock & Roll" and were crowd favorites. Cavanaugh wrote that he came up with an idea and, after a quick discussion with Teegarden and Van Winkle, suggested to Punch Andrews that Seger should quickly walk over to stage A, plug in his electric guitar, and save the day by playing a bunch of oldies that the three of them already knew.
Their impromtu jam of old Chuck Berry, Bo Diddley, and Motown songs worked like a charm, and a potentially ugly situation was turned into a rousing success. After the show, Seger, Andrews, and Teegarden and Van Winkle spent hours in a discussion that led to a decision to start playing together on a regular basis.
They initially began touring using the initials of their last names STK (Van Winkle's real last name was Knape). Their shows would open with a Seger solo set featuring songs from "Brand New Morning", and then an electric STK set with Seger, Teegarden, and Knape. The group's biggest gig during this period was at the John Sinclair Freedom Rally on December 10, 1971. Staged at the Crisler Arena in Ann Arbor, they opened for Stevie Wonder and John Lennon and Yoko Ono.
In August of 1972, the trio, along with guitarist Michael Bruce, traveled to Leon Russell's Paradise Studio in Oklahoma and recorded ten songs together in two and a half days, seven of which were used on the "Smokin' O.P.'s" album. It was the first Seger album to be released on Punch Andrews' Palladium label and distributed nationally by Warner Bros. Records.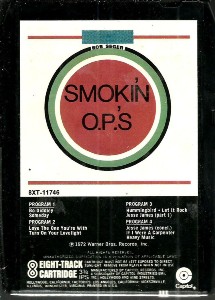 Smokin' O.P.'s 8-track
"Smokin' O.P.'s" was primarily made up of covers, and the title and cigarette pack album art stood for smoking other people's cigarettes or, in this case, covering other people's songs. Tim Hardin's "If I Were A Carpenter" was issued as a single, and it reached # 72 on the Hot 100. The album, released by Bob Seger as a solo artist, peaked at # 180 on the Top 200. There were only two Seger compositions on the album, "Someday" and the re-issue of "Heavy Music Pt. 1". The album's cover version of Chuck Berry's "Let It Rock" was significant in that it would go on to become a staple of Seger's live shows.
Unfortunately, the band members were unable to successfully write together, and their musical differences led to a parting of the ways shortly after the release of the album. Seger then began touring with a Michigan group called Julia that was led by Bill Mueller and managed by Ann Marston, who introduced the band to Punch Andrews. When Marston died unexpectedly of a stroke shortly thereafter, Andrews took over as Julia's manager.
In late 1972 Seger recorded his next album, "Back In '72". Part of the L.P. was recorded at the famous Muscle Shoals Sound Studio in Sheffield, Alabama. Those songs featured the highly regarded Muscle Shoal Rhythm Section that had backed a who's who of artists, including Aretha Franklin and Wilson Pickett. The rest of the LP was recorded at Pampa Studios in Warren, Michigan, with Seger's touring band.
"Back in '72" LP
Three covers were recorded for the album: the Allman Brothers' "Midnight Rider", Van Morrison's "I've Been Workin'" and a standout version of Free's "Stealer". Seger's composition of "Rosalie", a rocking tribute to Rosalie Trombley, the music director of CKLW-AM, was one of the album's highlights. Located in Windsor, Ontario, CKLW was one of North America's leading Top 40 stations, but the single failed to chart despite the shout-out.
The most memorable song on the "Back In '72" album, however, was the original studio version of "Turn The Page", which featured the sax debut of Alto Reed (a.k.a. Tom Cartmell) on a Seger recording. Released as a single, it failed to chart and remained an undiscovered gem in the Seger catalogue until the concert version on the "Live Bullet" album from 1976 made "Turn The Page" a staple of album-oriented radio stations.
All of Seger's bands up to this point had been run as a democracy, but he had become discouraged with how they had operated and felt that the band members were not always totally behind him. He decided at long last that he alone would choose all the songs and call all the shots going forward. Seger also wanted to reserve the right to record with studio musicians if the band's versions of his songs didn't turn out the way he envisioned them.
With that in mind, Seger told interviewer Timothy White that the musicians he recruited for his new Silver Bullet Band were: "All from the Detroit area, all grew up listening to my singles, and all believed in me." The original lineup was Drew Abbott on guitar, Charlie Allen Martin on drums, Rick Mannassa on keyboards, Chris Campbell on bass, and Tom Cartmell on sax.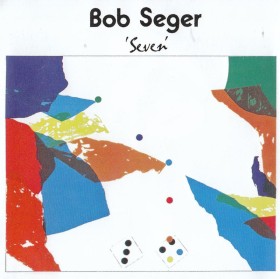 "Seven" LP
Seger's final solo L.P. was titled "Seven". It was his seventh studio album, and it was his first with the Silver Bullet Band. The band would not be fully credited with Seger, however, until 1975's "Beautiful Loser".
The rocking "Need Ya" was issued as the first single in late 1973. Although it was very popular in Michigan, it failed to make the Hot 100. "Seven" was the final Seger album to be released on the Palladium label and, despite the fact that it was a hit in Michigan, it failed to chart in the Billboard Top 200 in 1974.
One shining light from "Seven" was the "Get Out Of Denver" single which reached # 80 on the Hot 100 during the summer of 1974. Seger wrote the song when they were opening for some bigger name bands, and he felt the need for a powerhouse song that would grab the audience's attention in the brief time they were on stage. He claimed that he wrote the words in about 15 minutes and revealed that the song, which was basically about running from the cops after a near bust, was not based on real events.
The Silver Bullet Band would soon help propel Bob Seger to rock and roll stardom. "I had been trying for years to find the right band," Seger told Jim Girard from Cleveland Scene in 1977. "When I finally got Silver Bullet, I knew this was the right one. I've got a band committed to doing my songs."
Bob Seger's solo career was voted into the Michigan Rock and Roll Legends Internet Hall of Fame in 2020.
MRRL Hall of Fame: https://www.michiganrockandrolllegends.com/mrrl-hall-of-fame
Major Sources:
The Seger File by Scott Sparling
Local DJ: A Rock "N" Roll History by Peter C. Cavanaugh, Xlibris Corporation 2001.