MRRL Hall of Fame
COMMANDER CODY AND HIS LOST PLANET AIRMEN
Details

Category: Inductees
Created: Tuesday, 04 October 2011 09:10
Written by Gary Johnson
Commander Cody And His Lost Planet Airmen combined elements of western swing, boogie-woogie, rockabilly, and country into a good-natured musical brew that originated on the campus of the University of Michigan in Ann Arbor.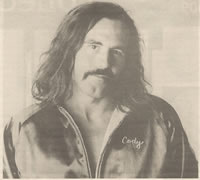 Commander Cody
George Frayne (a.k.a. Commander Cody) was born in Boise, Idaho, in 1944. He was raised and learned to play piano in both Brooklyn and Long Island, New York, after his family moved there. Following graduation from high school, Frayne enrolled in the University of Michigan to study art in 1963. While living on campus, he became friends with John Tichy, who was studying engineering and playing guitar in the Amblers, one of the few student bands on campus at that time.
Frayne joined the Amblers and played a Wurlitzer piano keyboard. George described his first band experience in a recent interview in Goldmine magazine: "It started innocently enough. We had a little five-piece frat band in Ann Arbor. The thing about frat bands is you don't practice; practicing is unmanly. You listen to the record and go over it in your mind, and go to the gig and drink a fifth and just play. It's gotta be that kinda tune." "We'd do a Friday night party, Saturday afternoon open house, Saturday night frat party, Sunday open house" – that translated to four and sometimes five gigs a weekend.
By 1964, Frayne had switched to a Farfisa Combo organ, and he and Tichy formed a new band called the Fantastic Surfing Beevers. They created quite a spectacle by driving to gigs in an old hearse with a surfboard mounted on the roof.
The first step towards the musical style that would make them famous came at a flea market in Ann Arbor. There, Frayne and Tichy found an album called "The Best Of Buck Owens". After listening to it, they incorporated "Act Naturally" and "I've Got A Tiger By The Tail" into their sets and developed an interest in country music. That summer back in Long Island, Frayne made another important musical discovery when he purchased a Bob Wills album at a local farmer's market. The band would incorporate some western swing into their set lists back on campus in the fall.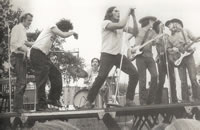 Performing in Ann Arbor
When Frayne and Tichy both graduated from U of M in the spring of 1966, the future of the band was in question. Tichy decided to go on to grad school in Ann Arbor. Frayne was unsure of his future plans, but once he received a scholarship for further study, he stayed on at U of M as well.
In 1967, Frayne and Tichy decided to form a new band that would better reflect their shared interest in country music forms. It was George Frayne who came up with the name 'Lost Planet Airmen' from a 1952 film put together from an earlier movie serial called King Of The Rocket Men. The hero of the serial/film was called 'Commando Cody', and Frayne took a variation of it as his stage name.
They recruited a group of musicians that Frayne would describe as "neo-radicals who specialized in a form of quasi-social mayhem". These included Steve Davis on steel guitar, John Copley on drums, John Farlow on stand-up bass, Ann Arbor native Bill Kirchen on lead guitar and lead vocals, Andy Stein on fiddle, Steve Schwartz on rhythm guitar, and Billy C. Farlow on harmonica and lead vocals.
About that time, Frayne also started selling marijuana in Ann Arbor. The group had, by now, expanded into a kind of stoned-out vaudeville troupe of over 30 people. Besides the core band, their show also contained other best-forgotten acts such as the Fabulous Tapdancing Green Sisters, the Galactic Twist Queens, and Pat the Hippy Strippy. Frayne paid everybody in reefer joints, which might explain the large number of people wanting to be part of the show.
This first edition of Commander Cody And His Lost Planet Airmen were popular attractions at Ann Arbor music spots such as the Canterbury House on East Huron, which also booked acts such as Neil Young. In the meantime, Frayne accepted a position as an assistant professor of art at Wisconsin State University. Not wanting to give up playing in the band, he would drive fourteen hours each week to perform with the band at their sold-out weekend gigs in and around Ann Arbor.
In 1968, guitarist Bill Kirchen left the band for San Francisco. By the end of that summer, as a result of Kirchen's urging, Frayne resigned from his teaching position in Wisconsin and traveled west in a van with Steve Davis, and Billy C. Farlow to join Kirchen. Upon arriving in San Francisco, they put the second edition of Commander Cody And His Lost Planet Airmen together by recruiting bassist "Buffalo" Bruce Barlow and drummer Lance Dickerson into the fold.
They would gain popularity in California for the next two years as the first hippie country band – blending flower power and country-roots music. Commander Cody And The Lost Planet Airmen would play everything from truck-driver tunes and corny country ballads (sung tongue-in-cheek) to jump numbers from the 1940's.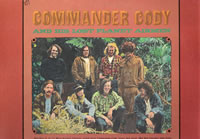 The group certainly was different from the other Michigan bands such as the MC5, Detroit with Mitch Ryder, and the Rationals, who they shared the stage with in January of 1970. Commander Cody And The Lost Planet Airmen had returned to Michigan to play at the benefit at the Eastown Ballroom in Detroit in an effort to raise money for the John Sinclair Defense Fund. When it was all over, they helped raise eight thousand dollars for the activist who had been jailed on a marijuana charge.
Commander Cody and the band would return to Michigan in December of 1971 to play at an even bigger "Free John Sinclair" rally at the Crisler Arena in Ann Arbor. They would perform at the benefit with Stevie Wonder, Bob Seger, Teegarden & Van Winkle, and John Lennon and Yoko Ono.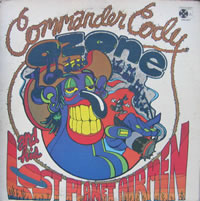 "Lost In The Ozone" LP
The band's popularity led to a recording contract with Paramount Records in 1971. The group's first album release, "Lost In The Ozone", came out late that year. Paramount released "Hot Rod Lincoln" as a single, and it became a surprise hit in early 1972. The song was a cover version of a 1960 novelty hit for both Charlie Ryan and Johnny Bond, and it featured Frayne as the lead vocalist doing his best impression of fast-talking comedian Phil Harris. The song peaked at # 9 on Billboard's Hot 100 in the early summer of 1972.
They were on the road when "Hot Rod Lincoln" took off, and their record company immediately wanted a follow-up hit single. The band returned to the studio and re-cut "Beat Me Daddy Eight To The Bar" (a 1940 hit for Will Bradley) as the follow-up. A live version of the song, recorded in Ann Arbor, had been on "Lost in the Ozone". The new version of "Beat Me Daddy Eight To The Bar" was only a minor hit, however, peaking at # 81 in the fall of 1972.
The band released its second album, "Hot Licks, Cold Steel & Truckers' Favorites" in 1972. The album sold well but did not contain any hit singles. Chris Frayne, George's brother and a fellow artist, did the covers for both "Lost In The Ozone" and "Hot Licks, Cold Steel & Truckers' Favorites".
"Country Casanova" was the title of the band's third album, released in 1973. "Smoke! Smoke! Smoke! (That Cigarette)" was released as a single from the album, but it only barely charted, reaching # 94 on Billboard's Hot 100. The song had originally been a # 1 Country and Pop hit for Tex Williams in 1947.
Not everyone appreciated a dope-smoking, hippie country band. According to Frayne's Goldmine interview, when Commander Cody And His Lost Planet Airmen played at the CMA convention in Nashville in 1973 they received a rough reception. He recalled that "they booed us off the stage." George remembered members of the audience letting loose with "Get a haircut!" and "Find a rock concert, you hippie freaks!"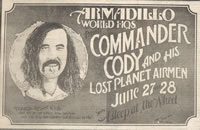 In 1974, Commander Cody And His Lost Planet Airmen recorded their classic live album in Austin, Texas, at the famous Armadillo World Headquarters. It would also be its final album on the Paramount label. The band had played the venue several times – the first opening for Waylon Jennings. "Live From Deep In The Heart Of Texas" turned out to be somewhat of a seminal recording that documented the spirit of the Texas-styled counterculture, sort of a southern counterpart to the Woodstock generation. On New Year's Eve 1980, a substantially different version of Commander Cody And His Lost Planet Airmen would play the final show at the Headquarters.
After leaving Paramount, the band signed with Warner Bros Records in 1975. They would record three albums for the label. "Commander Cody And His Lost Planet Airmen", the first of these, was released in 1975. "Don't Let Go" was put out as a single and would chart at # 56. It would be the band's last appearance on the Billboard Hot 100. The band would also release "Tales From The Ozone" that same year.
Following a European tour, the band broke up in 1976. Warner Bros. then released the live album, "We've Got A Live One Here!", as the original line-up's swan song.
After the break-up, Lance Dickerson and Bruce Barlow joined Roger McGuinn's Thunderbyrd band. Bill Kirchen went on to gain a cult following in country and rockabilly music. Billy C. Farlow embarked on a career playing the blues, while John Tichy pursued one in rockabilly.
Frayne continued to tour as Commander Cody with an ever-changing group of Lost Airmen. He's released a number of albums over the years, the latest being 2009's "Dopers, Drunks, and Everyday Losers" on Blind Pig Records. Frayne has also been a very successful painter, and his art works have been exhibited in galleries around the world.
In 2008, the band's biggest hit, "Hot Rod Lincoln", was voted one of Michigan's Legendary Songs. In 2009, Commander Cody And His Lost Planet Airmen was voted into Michigan Rock and Roll Legends Hall of Fame.
MRRL Hall of Fame: https://www.michiganrockandrolllegends.com/mrrl-hall-of-fame
Video: Watch Commander Cody And His Lost Planet Airmen perform "Everybody's Doin' It" from the 1976 film Hollywood Boulevard https://www.youtube.com/watch?v=VdEgmtOcv6U
Dr. J. Recommends:
"Lost In The Ozone" MCA CD The band's first album is a stone classic. There are too many highlights to mention. If you're going to buy one Command Cody album, this is the one.
"Live From Deep In The Heart Of Texas" MCA CD If you'd like to know what the original and most popular version of the band sounded like live, this is the best choice.
"Too Much Fun: The Best Of Commander Cody And His Lost Planet Airmen" MCA CD This is a collection of some of the best cuts from the four albums the band recorded for Paramount.