MRRL Hall of Fame
DIANA ROSS
Details

Category: Inductees
Created: Saturday, 29 October 2011 09:46
Written by Gary Johnson
By the time she left the Supremes in early 1970, Diana Ross was already the biggest female African-American star in the history of rock and roll music. Ross was the unquestioned star of the Supremes, who had recorded 12 # 1 hits for Motown from 1964 through 1969: and during that period she had emerged as a symbol of stylishness, sophistication, and success for all black women.
Diana Ross had been preparing for her solo career since the middle of 1969. The Supremes' last # 1 hit, "Someday We'll Be Together", was originally recorded by Ross to be a solo release before being issued as her final single with the group.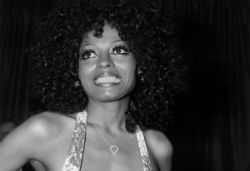 Diana Ross
Her first official solo single, released in April of 1970, was "Reach Out And Touch (Somebody's Hand)", written by the team of Nick Ashford and Valerie Simpson. The song was a # 20 hit, but it did not chart as high as "Up The Ladder To The Roof", the first Supremes' single featuring Jean Terrrell, Ross' replacement as lead vocalist in the group.
Diana racked up her first # 1 solo single with her rearranged cover of "Ain't No Mountain High Enough", another Ashford and Simpson composition that had been a hit for Marvin Gaye and Tammi Terrell in 1967. Her first two hits were both taken from her debut album, "Diana Ross". The cover of the album pictured the star as looking much like a street urchin in cut-off jeans and a T-shirt. The album peaked at # 19 on the Pop LP chart, but hit # 1 on the R&B chart.
Ross scored three more Top 40 singles in 1971 ("Remember Me", "Reach Out I'll Be There", and "Surrender") while Berry Gordy Jr. set plans in motion to make Diana a movie actress. Motown announced in late 1971 that Ross would portray the troubled jazz singer Billie Holiday in a film based on the late icon's autobiography, Lady Sings The Blues.
The casting of Ross in the part raised the hackles of some critics because she neither looked nor sounded anything like Billie Holiday, but Diana Ross possessed a drive for success unmatched by anyone at Motown, and she worked hard to prove any doubters wrong. Ross dove into the preparation for her role by visiting drug clinics, talking to doctors, interviewing people who knew Holiday, and totally immersing herself in the singer's life and music.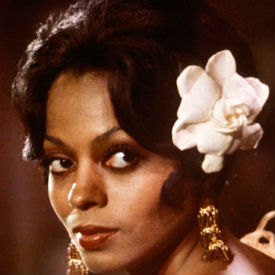 Diana Ross as Billie Holiday
Despite having no experience in films other than singing with the Supremes in Beach Ball and The T.A.M.I. Show, Ross did an excellent job in portrayal of the late singer; she won a Golden Globe for Best Newcomer and was nominated for an Academy Award for Best Actress before losing out to Liza Minnelli, who won for her performance in Cabaret.
Rather than try to imitate Lady Day's voice, Diana concentrated on capturing Holiday's phrasing to great effect. The "Lady Sings The Blues" soundtrack spent two weeks at # 1 on Billboard's Album chart, and Ross even had a Top 40 single in 1973 with "Good Morning Heartache", her cover of a Billie Holiday jazz recording from 1946.
Gordy and Ross had a romantic relationship that started while she was in the Supremes and ended shortly before she married Robert Silberstein in early 1971. Gordy was the biological father of Diana's first daughter, Rhonda, and although their personal relationship was over, he continued to have big plans for her.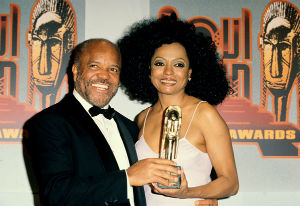 Berry Gordy Jr. and Diana Ross
The next step in his strategy to continue the upward trajectory of her solo recording career was to team her with Motown's leading male singer, Marvin Gaye. Like some other Motown artists, Marvin Gaye was resentful of Diana Ross and felt his own career had suffered because Berry Gordy lavished so much time on her. Marvin was a hot property because of the critical and commercial success of his self-written and produced album, "What's Going On", and the three hit singles taken from it.
The resulting duets album, "Diana & Marvin", was a difficult project from the onset with Gaye insisting on smoking marijuana during the sessions, and Ross objecting to it because she was pregnant with her second child. Although they ended up recording their parts separately, the album reached # 26 on the Pop LP chart and # 7 on the R&B chart. It also produced two Top 20 hits, "You're A Special Part Of Me" and "My Mistake (Was To Love You)".
Diana Ross earned her second # 1 solo hit during the summer of 1973 with "Touch Me In The Morning". The album of the same name was also a major hit, reaching # 5 on the Pop LP chart and # 1 on the R&B album chart.
Her next film project was Mahogany in 1975. Matched again with her Lady Sings The Blues co-star, Billy Dee Williams, Diana portrayed an aspiring fashion designer who becomes successful runway model and the toast of the fashion industry. Beset with production problems, Berry Gordy fired the original director and took control of the film himself, resulting in frequent clashes with his leading lady.
Ross left the film before all the shooting was completed, and some of her scenes featured a body double to cover for her absence. Although Mahogany made money, it got poor reviews. Despite all the difficulties, Diana Ross earned her third # 1 single with "Theme from Mahogany (Do You Know Where You're Going To)" in early 1976.
Her fourth # 1 single came just a few months later when she recorded the disco smash, "Love Hangover". Included on the "Diana Ross" LP, "Love Hangov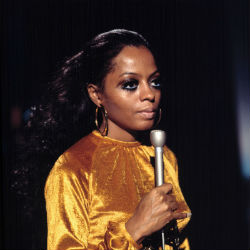 Ross in Mahoganyer" was one of Ross' greatest singles. It was nominated for a Grammy Award, and it exposed Diana to a new generation of young record buyers unfamiliar with her dance hits with the Supremes.
In June, she opened a one-woman show on Broadway called An Evening with Diana Ross. The elaborately staged theatrical concert, a two-act, 90-minute production that involved eight costume changes, was a tribute to Ross' career. Almost the entire second act, which began with a Supremes medley, was devoted to detailing her rise from housing-project waif in Detroit to superstar. The show closed with a lengthy version of her first solo hit "Reach Out And Touch", during which Diana ended up in the middle of the fourth row of the orchestra seats, smothered by the vocal affectations of her fans. Ross' critically acclaimed performance during the show's run won her a Tony Award.
In 1977, Ross and Silberstein divorced. That same year, Motown acquired the hit Broadway musical The Wiz as a film property through a production deal with Universal Pictures. The Wiz was an all-black fantasy based on The Wizard of Oz. Ross became determined to play the part of Dorothy although she was now almost 33-years-old.
With the role of Dorothy rewritten as schoolteacher living in Harlem, Diana Ross co-starred with Lena Horne, Michael Jackson, Richard Pryor, and Nipsey Russell in what would become, at that time, the most expensive movie musical ever made. The fact that the film was poorly reviewed and was a box office failure, probably did much to bring an end to Diana Ross' film career.
Ross appeared on the cover and was profiled in the August 11, 1977, issue of Rolling Stone magazine, shortly before the filming of The Wiz began. She revealed some of the reasons that her working relationship with Berry Gordy Jr.and Motown had begun to crumble in the interview when she desribed a conversation she had with then-presidential candidate Jimmy Carter. "I told him that the only organization I've personally been involved in is Motown, and how when it started, it worked. Because it was a family, and everybody knew everybody else. But when it got bigger, and it wasn't a family anymore, that's when it began to run less efficiently. People would want to get to Berry and he wouldn't be available. There wasn't any more communication. Nobody knew what anybody else was doing. Once something gets past a certain size, you just can't manage it anymore."
By the time that Ross recorded "diana", her final contractual album for Motown, her creative relationship with Berry Gordy had deteriorated completely. Nile Rogers and Bernard Edwards of the group Chic produced the album that contained two big hit singles: her fifth # 1 hit "Upside Down" and the # 5 smash "I'm Coming Out".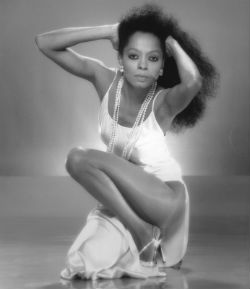 Diana Ross
In 1981, Diana Ross chose to sign with RCA for twenty million dollars, then the biggest contract in music history, rather than stay with the label that made her a star. She still had contractual obligations to Motown for a few songs, however, and she recorded some duets with Lionel Ritchie to fulfill them. One of their recordings, "Endless Love", the theme song from the Brooke Shields movie of the same name, would be Diana's sixth and final # 1 hit single in 1981.
The RCA years would start off strong with three Top Ten singles during her first year: her cover of "Why Do Fools Fall In Love", "Mirror, Mirror", and "Muscles", which was written and produced by her good friend Michael Jackson.
After a series of misses in 1983, Ross scored two Top 20 hits in 1984: a duet with Julio Iglesias on "All Of You", and "Swept Away", written and produced by Daryl Hall. Later that year Diana would release what would be her last Top 10 single, "Missing You", dedicated to Marvin Gaye who had been shot to death by his father eight months earlier following a family altercation.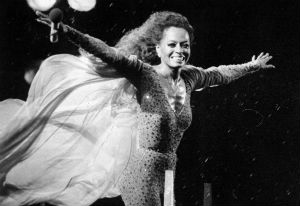 Dian performing in Central park
In 1985, she appeared as part of the supergroup USA for Africa and sang on the "We Are The World" charity single that sold over twenty million copies worldwide. In 1986, Ross married Norwegian shipping magnate Arne Naess. Their marriage would last until 2000.
By the middle of the decade, none of her releases on RCA were doing a great deal of business, even the single "Eaten Alive", which was co-produced by Michael Jackson and Barry Gibb, failed to break into the Top 40. As a result, Ross declined to renew her contract with the label in 1988. She re-signed with Motown in 1989, but none of her subsequent albums or singles were able to break into the Billboard Hot 100.
In 1999, Ross, Mary Wilson, and Florence Ballard's replacement Cindy Birdsong, held discussions about a possible Supremes reunion. Ballard, one of the original Supremes, had died in 1976. Ross, Wilson, and Birdsong had reunited in 1983 for the television special, Motown 25: Yesterday, Today, Forever, but it was marred by onstage altercations between Ross and Wilson. Their relationship was further soured by Wilson's best-selling book Dreamgirl: My Life As A Supreme, in which Ross was not always cast in the most flattering light. When the Supremes were inducted into the Rock and Roll Hall of Fame in 1988, only Mary Wilson attended to receive the group's award.
After negotiations between the three broke down, Ross hired late-era Supreme members Lynda Laurence and Scherrie Payne, and launched the Return To Love tour in June of 2000. Although the tour did well in the large cities, many fans were disappointed that the line-up did not include Wilson and Birdsong. That, and some negative press reports, doomed the tour in medium markets, and Return To Love ended abruptly after just fourteen dates.
Diana Ross made a comeback on the charts following successful European and American tours in 2004. "I've Got A Crush On You", her duet with Rod Stewart, reached # 19 on Billboard's Adult Contemporary chart in 2005, and that same year "When You Tell Me You Love Me" peaked at # 2 in the U.K.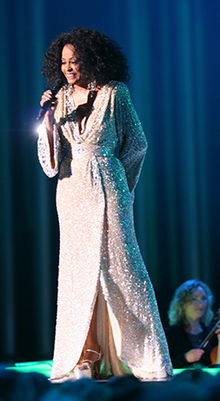 Ross was presented with the Lifetime Achievement Award in 2007 at the BET Awards. Later that same year, the prestigious Kennedy Center Honors committee, which recognizes career excellence, influence, and contributions to American culture, named Diana Ross as one of its honorees. Past honoree and fellow Motown alumni Smokey Robinson spoke on her behalf at the ceremony.
Diana performed a highly successful cross-country tour in the summer of 2010. The More Than Yesterday: The Greatest Hits Tour, featured an all-new set list and stage design, along with multiple costume changes. The shows, which were dedicated to the late Michael Jackson, earned her excellent reviews.
In 2011, Diana Ross was inducted into the Michigan Rock and Roll Legends online Hall of Fame. Her first # 1 solo hit, "Ain't No Mountain High Enough" and her cover of "Why Do Fools Fall In Love" were voted Legendary Michigan Songs in 2009 and 2020 respectively. In 2012, Diana Ross was presented the Grammy's Lifetime Achievement Award.
MRRL Hall of Fame: https://www.michiganrockandrolllegends.com/mrrl-hall-of-fame
Watch a video of Diana Ross' # 1 hit "Upside Down" https://www.youtube.com/watch?v=Po0BbGMSX4g
Dr. J. Recommends:
"Diana Ross The Definitive Collection" Motown CD. If you are only going to buy one Diana Ross CD, this would be your best choice. It's a great anthology of her very best songs from her Motown and RCA recordings.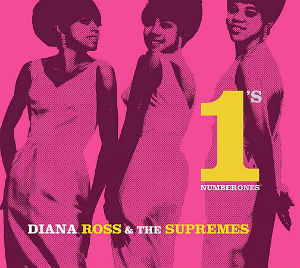 "Diana Ross & The Supremes # 1's" Motown/Universal CD. This is a very nice collection if you don't have anything by either Diana Ross as a solo artist or the Supremes as a group. The 24 songs include all 12 #1 hits that Ross recorded with the Supremes as well as the six she had as a solo artist. There is a duet with the Temptations and even one Supremes' hit recorded after Diana left the group.
On The Bookshelf:
Call Her Miss Ross by J. Randy Taraborrelli. 1989 Birch Lake Press, New York, NY. This unauthorized biography is a fascinating account of Diana Ross during the peak years of her career with the Supremes and as a solo artist. Not always flattering, the author based it on over 400 interviews with family members, friends, and present and former colleagues. This book is probably out-of-print and difficult to find, but it's worth the effort.