MRRL Hall of Fame
ESCHELONS
Details

Category: Inductees
Created: Saturday, 21 July 2012 11:23
Written by Gary Johnson
The culprits for this invasion were the late night DJs like "Hoss" Allen and Gene Nobles, broadcasting blues, R&B, and the wilder types of rock and roll from AM stations such as WLAC out of Nashville with a 50,000 watt signal that could be heard over much of the United States. Closer to home, WLS in Chicago was another of the brothers' top choices for exposure to the new music. The Beattys and their friends much preferred these stations to the offerings from local radio which concentrated their playlists on the popular "white bread" artists of the day like Pat Boone, Gale Storm, Georgia Gibbs, and Guy Mitchell.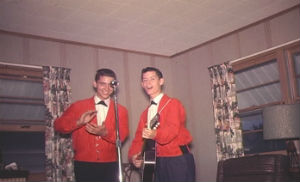 Dick and Ron Beatty.
When the rock and roll bug bit, Dick switched to drums and Ron started playing guitar. Although their stepfather didn't like rock and roll, he bought a drum set for Dick and a Les Paul Custom guitar for Ron. It certainly didn't hurt that their mother played the organ and was a big fan of Elvis Presley, as well as most of the early rock and roll songs. She was even instrumental in helping them pick songs to play once they had put their band together. When she said "you had better learn this one", they usually followed her advice.
Inspired to start a band by the growing popularity of The Kingtones, a group that formed the year before and was made up of students from Grand Rapids Union High School, Dick and Ron started practicing songs on the back porch of the Beatty home. They eventually recruited fellow Union classmates Vic Hill, Al Bischoff, Jack Hazewinkel, and Jim VanPutten for the band they named The Eschelons. Ron Beatty suggested the moniker, which came from "echelon", an aircraft term for flying in formation, but he misspelled it by adding an "s".
As in the case of the Beattys, parental support for the new band was mixed. Al Bishoff's mother was a Baptist, and wasn't thrilled with his participation, but his dad had played in Lawrence Welk's orchestra in Chicago and was all for it. Vic Hill's parents were supportive, and his mother was probably the only white adult in Grand Rapids who was a fan of Little Richard.
Although Ron Beatty had begun writing songs as early as 1957, the new band concentrated on the three-part harmony singing of Ron, Vic Hill, and Jim VanPutten while performing the hits of day by early inspirations like Dion & the Belmonts, the Stereos, and the Del-Vikings. The Eschelons' first gig was playing for free at a private party at the local Kiwanis Club.
They quickly discovered that the key to getting hired was to make contact with the radio DJs who usually hosted the dances. The Eschelons participated in "tryouts" at the WGRD-AM studios that eventually resulted in the band being booked by the radio station's DJs on a regular basis. Their first paid gig was on July 19, 1959, at a dance at the Civic Auditorium for the princely sum of $10. They eventually moved up to $20 for a 15-minute set at local dances that often included other live acts like Bob and The Bandits, the Kingtones, and the Rocking Revels. Marty Chirgwin and Rich Herringa briefly joined the Eschelons during this early period of the group.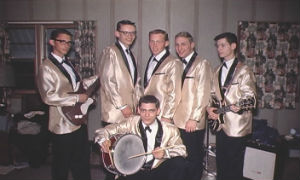 (l. to r.) Jack Hazewinkel, Vic Hill, Dick Beatty, Jim VanPutten, Marty Chirgwin. and Ron Beatty.
Grand Rapids being what it was, the dances at the Civic sponsored by WGRD and WMAX would only book white bands. Although the Eschelons' pay was minimal, their girlfriends got in for free; and if you didn't have a steady girl, there were lots of members of the opposite sex at the dances who wanted to meet the boys in the band.
To help in otaining gigs, the Eschelons recorded a demo of a Ron Beatty composition called "Waiting" at the Dimar Recording Studio in Grand Rapids. Besides having acetates to play for prospective employers, the band also sent copies to Chess Records in Chicago and Decca Records in New York but were rejected by both labels.
In the early days of the band, they played often at Union High assemblies and dances after football games. Other gigs during this time included performances at Birdland in Grand Rapids, a venue that employed a 16-year-old bouncer named Buster Mathis. Several years before boxing in the 1964 Tokyo Olympics and fighting Joe Frazier for the heavyweight title in 1968, Mathis would sometimes sing on stage with the Eschelons when they were booked in the club.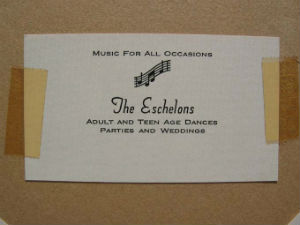 The band also performed at The Barn in Grand Haven, the Shelby Pavilion, the Guest House, a former movie theater turned dance club on Stocking and 4th in Grand Rapids, the Black and Silver Room in downtown, and the Armory on Michigan Street on Saturday nights. The Eschelons didn't just play rock and roll, however. They tried to appeal to adults as well by including tunes like "Theme From Picnic" and Cole Porter's "Begin The Beguine" in their sets.
In 1961, the Kingtones released their first single, "Wish For An Angel" b/w "Don't Come Around". After "Wish For An Angel" became a big hit on several West Michigan radio station charts including WMAX and WGRD, the Eschelons decided to cut their first 45.
Both sides of the single, "This Broken Heart" b/w "Lonely Christmas" were composed by Ron Beatty. They were recorded at Ted Mader's studio in Downtown Grand Rapids, one of several recording studios in town. Once again, Dick and Ron's stepfather came through for them by financing the 45 which was released on the SET-CO label, an acronym for his business, the Stalter Edge Tool Company. The single was pressed at the American Record Pressing Company in Owosso, Michigan.
Ron Beatty and Jack Hazewinkel drove to Owosso to pick up the 45s, and they got a chance to watch the plant press singles for Vee-Jay Records. Vee-Jay, like Motown Records, was an important customer for ARP, and the company was pressing numerous hit 45's for the Chicago label in late 1961, including "Moon River" by Jerry Butler, "Bright Lights, Big City" by Jimmy Reed, and "Duke Of Earl" by Gene Chandler.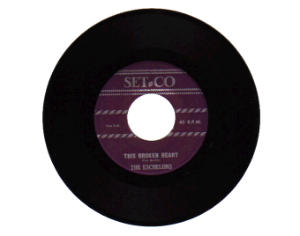 The Eschelons hand-delivered their single to WLAV and WGRD in hopes of getting local airplay. Their approach worked, as "This Broken Heart" reached # 16 on WGRD's Fabulous "50" chart in January of 1962, shortly before the band underwent a major lineup change compliments of their biggest Grand Rapids rivals, the Kingtones.
Gil King had started the band that eventually became the Kingtones back in 1957 while he was a student at Oakleigh Junior High. The band's name came from a contest his father ran at his drafting firm in Grand Rapids, and it was King who lined up the Kingtone's first important gig by going to the WGRD radio station and promoting the band to the station's DJs. King's family also had connections with Doc Jorne, a professional musician who took the group under his wing and recorded their first single in his basement studio.
Following the recording of the second Kingtones single, "A Love I Had" b/w "To Have A Little Girl", King wanted to add a female vocalist to the group. The Kingtones put an ad in the newspaper and held auditions. They chose a young singer from Grand Rapids South High School named Sue Greiner.
Sue was born in Ohio and had moved to Grand Rapids when she was in the 5th grade. Sue's first singing experience was in the high school choir. She was dating a boy from Grandville, Michigan, named Ron Thorpe, and she used to sing to him while they were dancing. He told her about the Kingtones' audition and drove her there. In a recent interview, Sue said that she would have "chickened out" if he hadn't brought her there. She met Gil King at the audition, and Sue recalled that they quickly became very good friends, "like brother and sister".
Greiner performed with the Kingtones at a dance in Shelby, Michigan. Although the gig went very well, lead singer Pete Mervene was not thrilled with the idea of adding a female vocalist. King was the band leader and was insistent, however, so Sue was brought in permanently. Shortly thereafter, there was a major falling out between Gil King and the rest of the band resulting in King's departure from the Kingtones.
King immediately joined up with the Eschelons adding keyboards to the band, but he did not sing. When vocalist Vic Hill decided to leave the band, there was an opening for another singer. King recommended Sue Greiner for the position. Since Sue was only sixteen and would need a chaperone to travel with the Kingtones when they went on the road, the band decided that Sue should go with Gil and the Eschelons.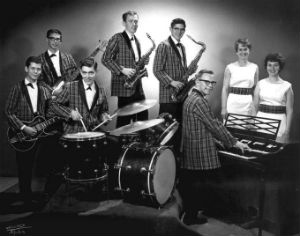 (l. to r.) Ron Beatty, Jack Hazewinkel, Dick Beatty, Jim VanPutten, Al Bischoff, Gil King, Cheri Woudstra, and Sue Greiner.
Greiner performed successfully with the Eschelons, prompting Gil King to theorize that if one female singer was good for the band, then two would be better. He remembered being impressed with Cheri Woudstra from her audition for the Kingtones, and she was added to the Eschelons as a second female vocalist.
Cheri was a senior at nearby Wyoming Park High School when she joined the Eschelons. She had sung with the choir and in madrigals all during high school and at the Wyoming United Methodist Church. She had also sang at weddings and performed in a folk music trio at school, specializing in the songs of Peter, Paul and Mary. Cheri and Sue had first met when they both auditioned for the Kingtones. They became good friends while singing in the Eschelons, and each sang solo numbers as well as backup vocals with the band. Greiner's mother sewed the dresses that both Sue and Cheri wore on stage.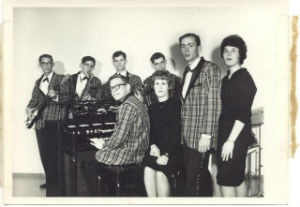 (l. to r.) J. Hazewinkel, A. Bischoff, G. King, R. Beatty, C. Woudstra, J. VanPutten, and Sue Greiner.
Greiner remembers Gil King as "a very interesting and talented man who preferred to write and produce songs rather than perform on stage". King assumed both roles on the second single by the Eschelons. "Lonely Footsteps" and "My Lonely Senior Year" were recorded in 1962 inside the Hazewinkel Brothers warehouse where the Eschelons usually rehearsed. The second 45 was once again released on the SET-CO label. Ron Beatty was listed as the vocalist on both of the songs that were written and produced by Gil King. "Lonely Footsteps" was the local hit, reaching # 12 on WGRD's Fabulous "50" chart on May 12th. The footsteps heard on the recording were provided by Mike Ensley, who was part of the band in 1962.
Cheri Woudstra left the Eschelons in June of 1962. She had entered the Miss Wyoming Amvets pageant during her senior year and won. Since she then had to prepare for the upcoming Miss Michigan pageant, Cheri quit the band so that she could concentrate on her vocal lessons. In a recent phone interview, Cheri stated that she now wishes that she would have continued with the Eschelons. She said "it would have been more fun than participating in the pageant". Cheri got married after leaving the band and moved to Detroit. Now remarried and living in Tennessee, Cheri (Woudstra) Hoffman now limits her singing to church. She had lost touch with the Eschelons for nearly 50 years before making contact through Facebook in 2012.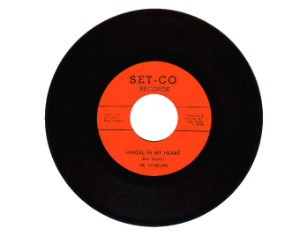 The band's final single was recorded in Gil King's home studio. "Angel In My Heart" was written by Ron Beatty and "Tears Of Love" by King. The 45 was again released on the SET-CO label with both sides listed as being produced and directed by Gil King. "Angel In My Heart" reached # 41 on WGRD's Classic "50" chart in the late fall of 1962, but the original members of the Eschelons had already begin to splinter due to high school graduation, marriage, and other factors.
Although he was a valuable addition to the band, King had been beset with health problems since childhood. Sue Geiner recalled that "he was in and out of the hospital" during her time with the Eschelons, and that "he eventually had to have much of his stomach removed". King would leave the band because of his health issues, but would eventually go on to play in other Southwest Michigan bands including the Footsteps and the Rhythmtones. Gil King passed away in 1992.
Ron and Dick Beatty kept the Eschelons going from 1963 to 1966, adding Diane Ehinger and Fred Tusch and playing mostly in Grand Rapids bars and nightclubs like the Elbow Room and the Stardust Lounge. The band finally called it quits in 1966 when Ron Beatty went into the Service. Dick Beatty went on to join a polka band following a one shot performance in a group with Jack Hazewinkel and Mick Noonan. Al Bischoff would go on to play in several bar bands, most notably with the Kingtones.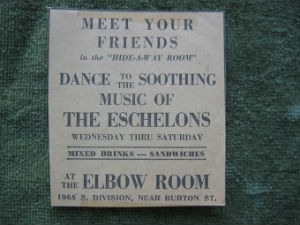 Sue Greiner left the Eschelons around the same time as Gil King. She joined Dave Kalmbach's group, Dave and The Shadows, shortly thereafter. Sue had been dating Mel Plumley, guitarist for the band, and it was he who brought her aboard. Greiner recorded a single with Kalmbach on his Fenton label in 1963, "Go Tell It On The Mountain" b/w her original composition of "Love In My Eyes". In addition, she would provide all the vocals on the Dave and The Shadows LP, "The Two Sides Of Christmas", also released in 1963.
Through her contact with WGRD DJ Skip Bell, Greiner performed on a number of spot commercials and radio jingles for the station. She was also featured in an Archway Cookies commercial produced by Dave Kalmbach that was aired outside of Michigan. After she had become a name around Grand Rapids, she did some informal singing in some nightspots in the city like the Century Post and The Focsle before traveling to California to visit her brother. Sue got a job there in a photography studio where she worked with a magician named Ralph Adams. She passed up an opportunity for a show business career when she declined an offer to travel with him as his assistant. Adams would later become quite successful as the man who pioneered the magic of illusion on television and on stages in important venues around the country.
Her singing career ended when she married at the age of 25, becoming Sue (Greiner) Fischer. She now lives in Brighton, Michigan, and enjoys spending time with her grandchildren. Sue has nothing but fond memories of her days with the Eschelons. She says they were like brothers to her, picking her up and taking her to gigs. Sue also stated that she had a great deal of fun, and that it was a wonderful time in her life.
The Eschelons' reunion came about because Dick Beatty wanted to play one more show with the guys he started out with. One evening in December 2004, he called his brother and asked if he would be interested in getting the old band back together again. Ron told him to contact the original members to see if they were agreeable to a reunion. Vic Hill, Jim VanPutten, Al Bischoff, and Jack Hazewinkel were unanimous in their decision to bring the band back together, at least for one more performance.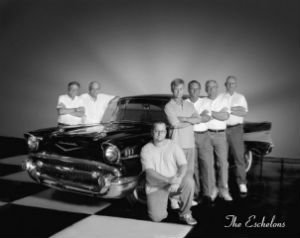 (l. to r.) Al Bischoff, Dick Beatty, Warren Beatty, Ron Beatty, Jack Hazewinkel, Jim VanPutten, and Vic Hill.
Their reunion concert was set for June 4, 2005, at the Guest House in Grand Rapids, one of the Eschelons' old haunts. The band worked hard preparing for the show, which would feature two new players, John Hoekstra and Warren Beatty, along with the original six members.
Warren, who is Ron's son, was asked to play the keyboards and sing. Although he had taken piano lessons as a youngster, Warren hated the lessons and learned to play be ear. Always interested in music, he had bought a four-track recorder by his teenage years, and like his father before him, had started writing and recording his own songs.
Even though it had been nearly 40 years since their singles had been played on Grand Rapids radio stations, the fans had not forgotten the Eschelons. Their comeback show was a big success, and the band has kept the momentum going in the seven years since the reunion. Jim VanPutten can still hit the high notes, and their renditions of doo wop classics like "Remember Then" by The Earls, "Where Or When" and "That's My Desire" by Dion & The Belmonts, "Tonight" by The Velvets, and "Pretty Little Angel Eyes" by Curtis Lee are highlights of their live performances. The group generally works out the intricate harmonies on the songs together during rehearsals.
The gigs that they play now are much bigger than during their heyday in the early 60's. Besides the show with Mitch Ryder, the band opened for another Michigan legend, Peter Rivera of Rare Earth, at the Fifth Third Ballpark in 2011. They played the Red Barn Theater in Saugatuk, Michigan, for the first time in the summer of 2012, and play four times each year at the Boat and Canoe Club in Grand Rapids. Rob Beatty, Dick's son, has recently taken over for his dad on drums.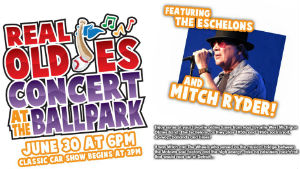 The Eschelons change their sets regularly, adding new numbers to keep it interesting for both themselves and their fans. Although they do perform some of their singles, the shows contain mostly oldies from rock and roll's first decade including some seldom-heard novelties like "Beep Beep" by The Playmates.
All of the original members of the Eschelons recall what a great experience it was to be in a rock and roll band during high school, and appreciate the fact that they are still able to play and perform the music they love almost a half-century later.
After narrowly missing being inducted in both 2010 and 2011, the Eschelons were voted into the Michigan Rock and Roll Legends online Hall of Fame in June of 2012. https://www.michiganrockandrolllegends.com/mrrl-hall-of-fame
2013 saw the band schedule their final series of gigs. Tom Bischoff replaced Rob Beatty on drums for the Eschelons, but the band announced in April that after their July 6th show "they will be hanging up their doo wops" for the last time.
Video: Listen to the original recording of "Lonely Footsteps" by The Eschelons https://www.youtube.com/watch?v=ZD0YT3ncKYo
Dr. J. Recommends:
"So Many Songs, Too Little Time" CD by The Eschelons. After nearly 50 years, the band recorded a new album in 2011. Composed of mostly covers of classic doo wop songs from rock and roll's first decade, including "Sh-Boom", "Book Of Love", "Come Go With Me", and "Remember Then". The CD sounds great, and is better than most of the material sold by the many oldies cover bands that play around the country.
Internet Connections: The Eschelons have their own web site . You can access it by clicking below.