MRRL Hall of Fame
IGGY POP
Details

Category: Inductees
Created: Friday, 26 October 2012 11:31
Written by Gary Johnson
Iggy first gained renown as the dynamic and totally unpredictable lead singer of The Stooges. He was first voted into the Michigan Rock and Roll Legends online Hall of Fame along with The Stooges in 2008, two years before the band was inducted into the Rock and Roll Hall of Fame in Cleveland. But that only represented the first chapter of a fascinating career that has included a host of memorable solo recordings, roles in films, and even a successful reunion of the band that first made him famous.
Following the second breakup of the Stooges in 1974, Iggy Pop moved to Los Angeles. He rehearsed for a time with Ray Manzarek of The Doors, but nothing came of it beyond a few live gigs because of Iggy's erratic behavior caused by his increased use of heroin and Quaaludes. Beset with legal problems and unable to control his drug intake, Pop checked himself into the UCLA Neuropsychiatric Hospital to help overcome his addiction after he had been busted for a second time by the LAPD. He had been given a choice by the police: a prison cell or the psych ward.
After Iggy was stabilized and all traces of drugs had disappeared from his body, he was diagnosed with having hypomania, a bipolar disorder characterized by episodes of euphoric or overexcited and irrational behavior, succeeded by depression. But there was little doubt that his problems were more specifically related to the drugs he was taking, his wild rock and roll lifestyle, and his attempts to live up to the image of Iggy Pop that he had helped create.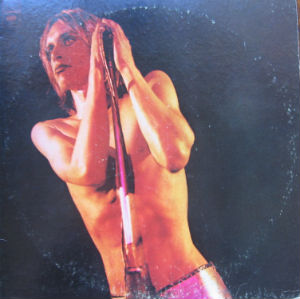 "Raw Power" album
David Bowie had been a longtime fan of Iggy and The Stooges. He produced the critically acclaimed Stooges album "Raw Power", and his 1972 hit song, "The Jean Genie", was said to have been written about Iggy. Bowie visited Pop in the hospital and was an important source of support when he was released. He was often accompanied by his female companion Ola Hudson and her 9-year-old son Saul. Her son would later become famous in the 90's as Slash, the top-hatted guitarist for Gun N' Roses.
After his release from the hospital, Iggy started to try to rebuild his music career. He made some recordings with ex-Stooge James Williamson, but these were not released until 1978 on an album called "Kill City". After Iggy's partnership with Williamson soured, he began to slip back into his drug- fueled lifestyle.
Iggy was thrown a life preserver when he was invited to travel with David Bowie during the latter's Station To Station tour in 1976, with the understanding that they would record another album together upon its completion. It was Iggy's first experience observing a large-scale, professionally run tour; and he was impressed Bowie's organization and work ethic.
Unfortunately, Bowie had become addicted to cocaine over the past two years, so he felt it necessary for both he and Iggy to record the album far away from Los Angeles. The bulk of the sessions were done in Berlin, Germany, and the partnership resulted in a great, new sonic landscape for both Iggy and Bowie. The pair made a pact to cut down on their cocaine intake, made easier by their relative anonymity that Berlin seemed to offer and the absence of dealers and flunkies who would offer drugs as a way to get close to the stars.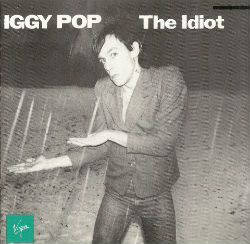 "The Idiot" LP
The album that came out of the Berlin sessions was "The Idiot", and featured Iggy singing in a baritone growl over heavy, almost robotic rhythms, juicy synthesizers, and guitars that sounded nothing like the Stooges. Bowie then helped broker a deal for Iggy at RCA to release the album.
The cover photo of Iggy on "The Idiot" was based on Roquairol, a painting by Erich Heckel of a mentally disturbed person. With Iggy's hair dyed black, striking an angular pose, and wearing a female jacket several sizes too small, even his look signaled a radical departure from the music of the old Iggy of Stooges' fame.
Bowie also recruited a band that included himself on keyboards, Ricky Gardiner on guitar, along with a rhythm section of drummer Hunt Sales and bassist Tony Sales to tour in support of "The Idiot". Some of the live performances from the tour were later released on the album "T V Eye" in 1978.
For the follow-up album, "Lust For Life", Iggy and Bowie returned to Berlin with the Sales brothers and new guitarist Carlos Alomar, who had played on Bowie's "Station To Station" and "Low" albums. Iggy and Bowie seemed to be almost competitive during the sessions, according to the other musicians present. The electricity of the sessions produced a collection of songs that all involved felt was something special. The cover photo of a smiling Iggy Pop that was used for "Lust For Life" was shot in a dressing room as Iggy waited to be interviewed by the BBC.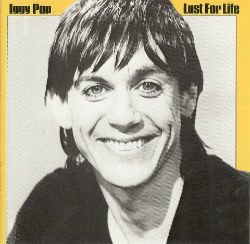 "Lust For Life" album
Just when he seemed to be on the verge of major success, Iggy fell off the wagon and began to ingest large amounts of cocaine. Under its effects, he toured to support the album, but RCA had turned all its attention to pressing Elvis Presley recordings in the wake of his death; and "Lust For Life", which peaked at # 120, got lost in the shuffle. Iggy became dissatisfied with RCA as a result, and the live album, "T V Eye", was released to fulfill his three-album contract.
Iggy unceremoniously fired the Sales brothers, before hiring Fred Smith and his Sonic's Renezvous Band to support "T V Eye" on a European tour. The tour using the Detroit band was a disaster as Smith refused to learn Iggy's songs, and insisted on working the songs out again from scratch. The resulting friction between Pop and Smith resulted in shows that were inconsistent. When Iggy asked Sonic's Rendezvous Band to accompany him on the North American leg of the tour, they turned him down.
Arista became Iggy's new record label in 1979, and his first album for the label, "New Values", was something of a Stooges reunion with James Williamson on board as producer and guitarist and latter-day Stooge Scott Thurston on guitar and keyboards. The album was more guitar-dominated than the Bowie productions, but only reached # 180 on Billboard's Top Album chart.
Iggy fired Williamson during the recording of the "Soldier" LP in 1980. That album was a commercial failure at # 125, as was its dull follow-up, "Party", # 166 in 1981. Arista dropped Iggy in 1981.
In 1982, Iggy signed with Animal Records owned by Chris Stein of Blondie. "Zombie Birdhouse" was released that same year, but was yet another commercial flop, failing to chart at all. Iggy's fortunes were improved during the following year, however, thanks to David Bowie. Bowie recorded a cover of the song "China Girl". The song had originally appeared on "The Idiot", and became a major hit single from Bowie's blockbuster "Let's Dance" album. As co-writer of the song, Pop received substantial royalties.
On Bowie's 1984 follow-up album, "Tonight", Iggy visited David in the studio and co-wrote two new songs with him. Bowie also recorded two more of their co-written songs, this time from the "Lust for Life" album, "Tonight" and "Neighborhood Threat". In addition, Bowie recorded "Don't Look Down", a song written by Iggy and James Williamson. These songs, included on Bowie's # 11 hit album, assured Iggy Pop financial security, at least in the short term. Furthermore, the money enabled Iggy to take a three-year break during which he overcame his cocaine addiction and took acting classes.
Iggy's first experience in Hollywood was recording the theme song to the film Repo Man in 1984. The following year, Iggy's song "Lust For Life" was used on the soundtrack of the hugely successful Desperately Seeking Susan, which featured Madonna's breakout film role.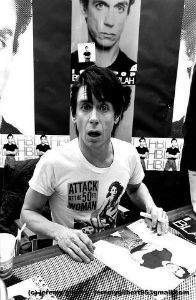 Iggy Pop
Without a record label, Iggy and David Bowie began recording a new album in Montreux, a city located on Lake Geneva in Switzerland. The album, which was filled with songs written by Bowie and Iggy, was picked up by A&M Records and released as "Blah Blah Blah" in October, 1986.
But it was a cover of a hit from the 1950's, Iggy's throbbing version of Australian rocker Johnny O'Keefe's "Real Wild Child (Wild One)", that broke the album and provided Pop with his first worldwide hit single. The song was a # 1 smash in Australia and New Zealand and peaked at # 10 in England. A&M chose to release "Cry Of Love" as the lead single in the United States, however, only putting out "Real Wild Child" after it had made a big splash in other countries. "Blah Blah Blah" would prove to be Iggy's big comeback record, reaching # 75 on the Billboard Top 200 Albums chart, his biggest hit since "The Idiot" in 1976.
Following a long tour in support of the album, Iggy had small roles in two memorable films, Sid and Nancy and Martin Scorsese's The Color of Money. His new album, "Instinct", had a heavier guitar sound and featured ex- Sex Pistol Steve Jones. The cover was done by Gary Grimshaw, the man who had designed many of the classic Grande Ballroom posters of the 1960's in Detroit. Sadly, the songs didn't deliver what Iggy's fans were looking for, and it failed to chart. A&M didn't like the album either and spent less on promotion than on its predecessor. Iggy was dropped from the label, and what looked like a promising career revival had stalled again.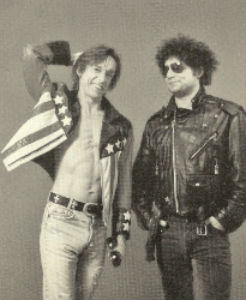 Iggy and Don Was
In 1990, Iggy appeared in the American teen musical comedy movie, Cry-Baby. Directed by John Waters, the 50's-era film starred Johnny Depp, and featured an unusual cast that included former porn star Traci Lords and heiress Patty Hearst.
Iggy signed with Virgin Records that same year and began working with Detroiter Don Was on a new album called "Brick by Brick". Was employed a group of top-notch session musicians including Kenny Aronoff, David Lindlay, and Waddy Wachtel, as well as members of the B-52's and Guns N' Roses. The album reached # 90 on the charts and sold over 500,000 copies, providing Iggy with his first gold album. His duet with Kate Pierson on "Candy" also became his first Top 40 hit in the U.S. when it peaked at # 28 in early 1991.
Iggy recorded his next album, "American Caesar", in New Orleans in 1993. It was a bit of a sales disappointment after "Brick by Brick", failing to break into the Top 100 albums, and providing no hit singles.
In 1996, Iggy was back in the spotlight after his song "Lust For Life" was featured prominently in the hit film, Trainspotting. It became a # 28 single in England. A new video was recorded for the song, with clips from the film and studio footage of Iggy dancing. An Iggy Pop concert also served as a plot point in the film.
The song would also be used in TV commercials for Royal Caribbean Cruise Lines and as the theme music to The Jim Rome Show a nationally-syndicated American sports talk show. Iggy's "Search and Destroy" from the "Raw Power" album was also used in a striking Nike commercial that same year.
Iggy's new 1996 album, "Naughty Little Doggie", was both a critical and sales disappointment. His only album release in 1997 was Iggy's remixed version of "Raw Power". The new version offerred a more cranked-up sound and removed the glam-rock edge of David Bowie's original production. Iggy's relationship with Bowie was fictionalized in the 1998 cult film Velvet Goldmine. Former Stooge Ron Asheton played guitar on the movie's soundtrack.
Neither 1999's "Avenue B" or 2001's "Beat 'Em Up" were hit albums, but 2003's "Skull Ring" created a lot of interest because Iggy reunited with Ron and Scott Asheton, the other surviving members of the original Stooges to record some new songs for the album.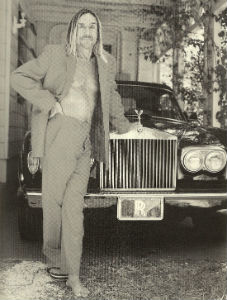 This led to a reunion of the Stooges and a DVD of their Detroit homecoming show, postponed by the 2003 North American blackout, called Live in Detroit. The Stooges' reunion eventually produced an album of new tunes in 2007. "The Weirdness" was mastered at the Abbey Road Studios, but received mixed reviews as most critics felt it failed to capture the essence of the band's original recordings.
On March 10, 2008 Pop appeared at Madonna's induction into the Rock and Roll Hall of Fame at the Waldorf Astoria Hotel in New York. Together with The Stooges he sang raucous versions of two Madonna hits, "Burning Up" and "Ray of Light". According to guitarist Ron Asheton, Madonna asked The Stooges to perform in her place as a protest to the Rock and Roll Hall of Fame for not inducting The Stooges despite having six appearances on the nomination ballot. That same year, The Stooges were voted into the Michigan Rock and Roll Legends online Hall of Fame.
In January, 2009, original Stooges guitarist Ron Asheton was found dead from an apparent heart attack. He was 60-years-old at the time of his death. Asheton was replaced in the band by another former Stooge, James Williamson.
The Stooges were finally inducted into the Rock and Roll Hall of Fame in 2010. "I Wanna Be Your Dog", one of the Stooges' signature songs, was voted a Legendary Michigan Song in 2011.
Iggy Pop was voted into the MRRL online Hall of Fame as a solo artist in June, 2012.
MRRL Hall of Fame: https://www.michiganrockandrolllegends.com/mrrl-hall-of-fame
Video: Watch a live performance of Iggy's "Lust For Life" https://www.youtube.com/watch?v=Y2D4S1K8HW
Dr. J. Recommends:
The three original Stooges' albums, "The Stooges", "Fun House" and "Raw Power" are essential. This is primal rock and roll at its finest. Among Iggy's post-Stooges albums, the Bowie-produced "The Idiot" and "Lust for Life" are top-notch. I've always like the "New Values" album that Iggy did with James Williamson, as well as the Don Was-produced "Brick by Brick".
On The Bookshelf:
Iggy Pop: Open Up And Bleed by Paul Trynka. Broadway Books. New York. 2007.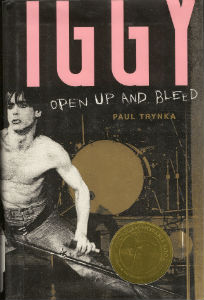 This highly entertaining and very detailed biography of Iggy Pop is a great read. It was the source of most of the information I used to write the MRRL biographies of both Iggy Pop and The Stooges. If you are a fan of Iggy and The Stooges, you will find no better book than this one.