MRRL Hall of Fame
IGUANAS
Details

Category: Inductees
Created: Friday, 01 June 2018 08:41
Written by Gary Johnson
Although the Ann Arbor band is primarily known as Jim Osterberg's (a.k.a. Iggy Pop's) launching pad, the Iguanas were a successful 1960's garage band in their own right. The group was a popular attraction at dance clubs throughout the state, and is best remembered as being the house band during the summer of 1965 at the Club Ponytail, Northern Michigan's most famous teen nightspot. In addition, the Iguanas' lone 45 rpm is now a permanent part of the collection of influential recordings at the Rock and Roll Hall of Fame in Cleveland.
The birth of what would become the Iguanas happened at a talent show at Ann Arbor's Tappan Middle School in March of 1962 where drummer Jim Osterberg and guitarist Jim McLaughlin performed two songs as the Megaton Two. Their version of Sandy Nelson's "Let There Be Drums" and a self-penned guitar jam, inspired by Duane Eddy and Chuck Berry, reportedly brought the young audience out of their seats and dancing in the aisles.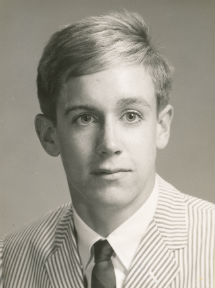 Jim Osterberg
In a 2016 interview with Rolling Stone magazine, Iggy Pop recalled the aftermath of their performance. "Immediately, y'know, I took a level up socially in my encounters in the hallway," Pop said with a laugh. "The chicks were a little nicer and the guys were – 'Hey that was pretty cool Osterberg.'"
Jim Osterberg was born in Muskegon, Michigan in 1947. Shortly after his birth, Jim and his parents moved to Ypsilanti, where his father got a job teaching English at the local high school and his mother began working in an office in nearby Ann Arbor. Because of the housing shortage in the area following World War II, the Osterberg's lived in a trailer park off of Carpenter Road.
Osterberg's first training on drums came in school where he was part of the marching band and, later, in the school orchestra. His interest in rock and roll came about after meeting Jim McLaughlin in the school marching band in 1961. Osterberg described McLaughlin as "Not particularly popular, not particularly anything, but nice." It was McLaughlin who turned Osterberg on to Ray Charles, Chuck Berry and Duane Eddy.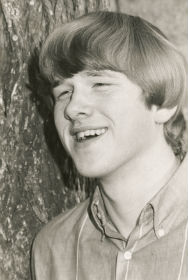 Jim McLaughlin
The two became close friends and would spend hours together after school at the Osterberg's trailer, McLaughlin working on guitar riffs and Osterberg accompanying him on his three-piece drum kit. Osterberg was the more confident member of the duo, and it was he that prodded McLaughlin into making their public debut at the Tappan Talent Show.
Accordingto Paul Trynka's book, Iggy Pop: Open Up And Bleed, the acclaim they received from their peers drove the pair to practice incessantly after school, and when they moved up to Ann Arbor High School, the work intensified as the lineup was augmented with sax-player Sam Swisher, the son of an Ann Arbor real estate agent who lived across the road from the McLaughlins, and, in 1964, guitarist Nick Kolokithas, and bassist Don Swickerath.
Swickerath was born in Ann Arbor in 1946, the same year as Kolokithas. They were both a year older than Osterberg, McLaughlin, and Swisher. Swickerath became interested in rock and roll after his folks bought him a laptop Hawaiian steel guitar. He started taking lessons but since it was not an instrument commonly played by rock and rollers, he convinced his parents to buy him a Les Paul Junior electric guitar instead.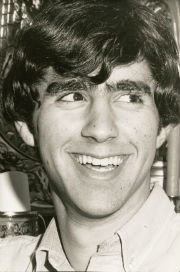 Don Swickerath
Swickerath started taking guitar lessons from Bob Richter, at the same music store as McLaughlin and Kolokithas, neither of whom he knew at the time. In a recent interview with MRRL, Swickerath stated this about Richter: "He was one of the milestones in the career of the Iguanas because he encouraged us to call each other and get together to play."
The three guitarists met at McLaughlin's house. "Osterberg was already hanging with McLaughlin," Swickerth said. "Sam Swisher lived across the street, and that's how we came together." Swickerath switched to bass when they started playing regularly, but since he couldn't afford to buy another new instrument, he purchased an adapter that dropped the sound of his guitar a couple of octaves when it was plugged into it. He then could play the bottom four strings on his Les Paul Junior like a bass guitar.
According to Trynka's book, Osterberg named the band the Iguanas, after what he claimed was the "coolest" animal. They rehearsed in the basements of Swisher's and Swickerath's homes. Sometimes they would record the rehearsals on a reel-to-reel tape recorder. Some of those rehearsal performances were later released on "Jumpin' With The Iguanas." The CD gives us a picture of what the Iguanas were playing, and it includes covers of "Twist And Shout", "Slow Down", "Louie, Louie", and "California Sun", along with a host of instrumentals including "Wild Weekend", "Summertime", "Walk Don't Run", "Tequila", "Surfin' Bird", "Pipeline", and "Out Of Limits".
Swickerath said that their first gig was at a fraternity party at the University of Michigan. "We only had about six songs," he recalled. "It didn't go well, and we were pelted with plastic beer cups during our performance."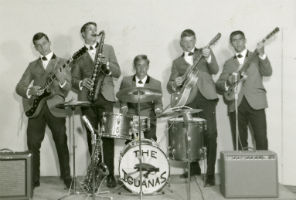 Iguanas: (L to R) Nick Kolokithas, Sam Swisher, Jim Osterberg, Jim McLaughlin, Don Swickerath
Despite their rocky start, it wasn't long before the Iguanas developed into, as Cub Koda described them, "a great, greasy little rock and roll band." Their striped surf band shirts were replaced by matching sharkskin suits; and the sax-led instrumentals supplanted by the British Invasion songs of the Beatles, Rolling Stones, and Kinks. Sam Swisher proved adept at lining up gigs for the band; and for the next year and a half they played the local high schools, more U of M frat parties, monthly dance parties hosted by Robin Seymour at the Ann Arbor Fairgrounds, and a bevy of the teen nightclubs that had sprouted up throughout the state.
Following the high school graduation of McLaughlin, Osterberg, and Swisher in 1965, the Iguanas scored their best gig yet when they secured a residency at Harbor Spring's Club Ponytail that summer. Don Swickerath remembers that idyllic summer fondly. "Club Ponytail was a big boost for us," he said. "I believe that Sam Swisher got us booked there for the summer. Harbor Springs in Northern Michigan was a favorite summer retreat for some of the wealthiest families in the Midwest."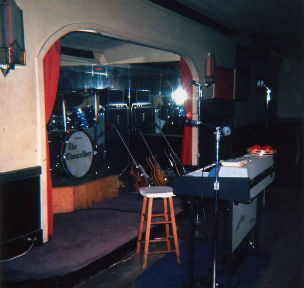 Club Ponytail's indoor stage
"Mr. Douglas was the owner, and he paid us a couple hundred dollars per week each," Swickerath recalled. "He was a decent guy to work for. The venue used to be a hangout/speakeasy for Detroit's Purple Gang. It was located on a hill and had walls that moved and would expose part of the dancefloor when opened. It also had small gambling rooms. There was also a tunnel at the bottom of the place that went down into a field where cars were parked in case they were raided. The stage was on a wall that moved and would expose part of the dancefloor."
Swickerath's memories of the Club Ponytail proved to be on the money. According to a lengthy 2014 story by Morgan Shelburne in the Petoskey News-Review, "The club began its life as the Club Manitou in 1929. Above ground, the venue was a fine dining establishment. Club Manitou was only open during the summer when it could take advantage of the wealthiest visitors who vacationed in Northern Michigan. Its owner, a man from Detroit named Al "Slim" Gerhart, brought in the finest chefs and wait staff from New York to work in his high class eatery."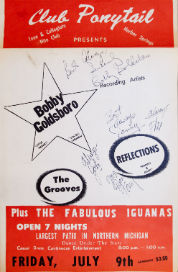 "But below the main floor was the club's second purpose: a speakeasy called 'Slims', which was never advertised. Only those who knew someone who knew someone could gain entry. The basement was fortified against potential police raids, and escape tunnels led away from the speakeasy should a raid happen."
Local historian Richard Wiles, who had done extensive research on the club, dug up some FBI files that indicated Gerhart was a member of the Purple Gang, which Detroit's Historical Society called "Detroit's most notorious organized crime gang in the 1920s and 1930s."
The repeal of Prohibition in 1933 put an end to the need to have a speakeasy at the club, but Gerhart continued his illegal gambling operation until 1954 when the State of Michigan's Liquor Control Commission revoked Gerhart's liquor license, and he reluctantly put the building up for sale.
The Douglas family from Harbor Springs purchased it; but when the Liquor Control Commission refused to grant another liquor license, the family decided to open an alcohol-free teen club and called it Club Ponytail. According to the research done by Richard Wiles, it was one of the first teen and collegiate dance clubs in the United States when it opened in 1962.
Located near Little Traverse Bay on Lake Michigan, Club Ponytail was situated on Pleasantview Road in Harbor Springs and advertised by a huge wooden cutout of a blonde with a cute turned-up nose and a ponytail. The club and its two dance floors soon became the hottest ticket in town for teens who wanted to party the night away.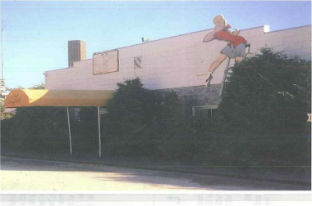 Club Ponytail in Harbor Springs
Along with the music, Club Ponytail had an enclosed patio and would host outdoor concerts which featured many big name recording stars including the Beach Boys, Roy Orbison, Brian Hyland, Lou Christie, and Bobby Vinton.
During the Iguanas residency at the club, playing two sets per night, five nights a week, they had become a well-oiled band, confident in blasting out new Beatles' songs like "I Feel Fine" and "Eight Days A Week", along with covers of Rolling Stones' hits like "Tell Me" and the summer's biggest song, "Satisfaction".
All of the band members became local celebrities in Harbor Springs, often being asked for autographs by the town's youths, but Osterberg seemed to be the main attraction. He had an innate ability to charm, honed in part by his skills in public speaking and interest in a possible political career while in high school. He was not only able to easily bond with the teenage fans but also with their wealthy parents, including owners of the Reynolds Aluminum Company and Wrigley's Chewing Gum.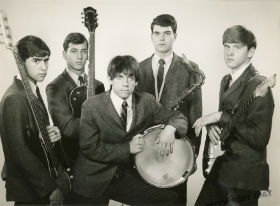 (L to R) N. Kolokithas, D. Swickerath, J. Osterberg, S. Swisher, J. McLaughlin
Although most of the numbers performed by the Iguanas were sung by McLaughlin or Kolokithas, Osterberg got his chance to shine on "Louie Louie", which he would customize with his own version of the dirty lyrics that Detroit bands like the Fugitives had regularly incorporated into the song. According to Trynka's book, this did not go over well with owner Jim Douglas, and McLaughlin learned to hover by the volume control on Osterberg's microphone and protect the teens of Harbor Springs from lines such as "Girl, I'd like to lay you again" and "Her ass is black and her tits are bare".
The original Kingsmen recording of "Louie Louie" was the subject of an FBI investigation of the supposed but nonexistent obscenities in its lyrics. Although the investigation ended without prosecution, the rumors that the slurred vocals of the Kingsmen hid various profanities continued. They resulted in the song being banned from several radio stations and the state of Indiana where it was personally prohibited by the governor.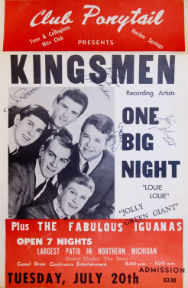 According to Don Swickerath, the Harbor Springs Council of Churches was aware of the "Louie Louie" controversy. "They got together and got some petitions signed," he recalled. "The Iguanas could not play 'Louie Louie' after midnight on Saturday because the profanity in the song would travel across Little Traverse Bay at night."
Coincidently, the Iguanas opened for the Kingsmen at the Club Ponytail on July 20, 1965. The Kingsmen were still an important act at this point with "The Jolly Green Giant" hitting # 4 in 1964 and their newest release, "Annie Fanny" inching toward the Top 40. Don Swickerath recalled playing football on the beach with members of the group. According to Paul Trynka's book, the Kingsmen took a paternal interest in the Iguanas and mentioned that they liked to run around town in their underwear. This inspired Osterberg to talk Swickerath into a nighttime motorbike run through Harbor Springs with Swickerath in pajamas and Osterberg completely naked.
Their first big show at Club Ponytail was 11 days earlier when they backed Bobby Goldsboro ("See The Funny Little Clown" and "Little Things") and the Reflections, a Detroit vocal group that had a big hit in 1964 with "(Just Like) Romeo and Juliet". With tickets priced at just $3.00 to see nationally known recording stars, the club was a magnet for area teenage music fans. Don Swickerath estimated that they would play for as many as 2,000 kids when there was an appearance by a big act like the Four Tops.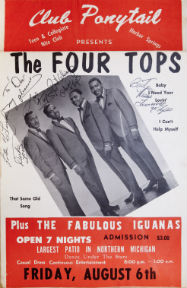 The Four Tops were a veteran vocal group who had been together since 1953. They had been hitless, however, until they signed with Motown in 1963 and started working with the label's songwriting and production team of Holland-Dozier-Holland. Starting with "Baby I Need Your Loving" in 1964, the Four Tops had been consistently on the charts, scoring their first # 1 hit in the spring of 1965 with "I Can't Help Myself (Sugar Pie Honey Bunch)".
Their newest hit, "It's The Same Old Song", had just been released the month before they appeared at Club Ponytail on August 6th, and it was quickly climbing up the Billboard Hot 100. Although each of the Four Tops were at least ten years older than any of the Iguanas, they were very friendly and even visited the small chalet where the band was staying.
Just four days later, on a Tuesday evening, the Iguanas backed the Shangri-Las. The famed girl group from Queens, New York, had scored two melodramatic Top Ten singles in 1964 with "Remember (Walking In The Sand)" and the # 1 hit, "Leader Of The Pack". Sisters Mary and Betty Weiss along with twins Mary Ann and Marge Ganser were touring teen clubs in the Midwest behind their 1965 hits, "Give Him A Great Big Kiss", "Out In The Streets" and "Give Us Your Blessings". Swickerath recalled that the girls traveled from gig to gig in a Winnebago driven by their manager/musical director.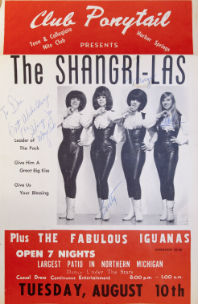 Four of the Iguanas were petrified at trying to provide backing that approximated the big, atmospheric sounds on the Shangri-Las' records, produced by "Shadow" Morton. Osterberg, however, was confident and Jim McLaughlin remembered him saying, "This is going to be great…we're on with the Shangri-Las." After just an hour of practice in the afternoon and bolstered by the confidence of their drummer, they took the stage for a legendary performance with the Shangri-Las at Club Ponytail for an admission price of just $2.00.
Osterberg had been religiously listening to two albums during their stay in Harbor Springs, Dylan's "Bringing It All Back Home" and "The Rolling Stones Now". Sensing the musical changes that were in the air, Osterberg wanted to move in a new direction and away from the songs that featured Sam Swisher's saxophone, leaving him little to do on stage besides playing the tambourine. Swisher, who had been so important in acquiring gigs for the band and dealing with the group's finances, accepted his reduced role but would leave the Iguanas in the fall to pursue a degree in business law at the University of Michigan.
When the Iguanas' contract with Club Ponytail came to an end, the band played a few gigs at the Depot, a coffee house owed by Chuck Bowbeer. He liked the band and told them he had connections with Columbia Records and some other labels. Bowbeer took over the management of the Iguanas after Swisher left.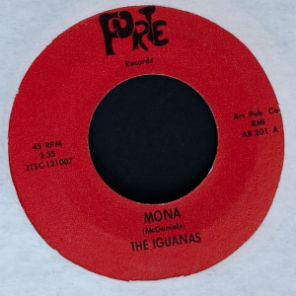 The Iguanas' first, and only, professional recording session took place in the United Sounds recording studio in Detroit. The band recorded a cover of Bo Diddley's "Mona", a song they learned from the Stones' version of the song on "The Rolling Stones Now" album and had been playing to enthusiastic response at Club Ponytail. They also brought in two original compositions, "I Don't Know Why" – a pleasant British Invasion-style rocker written by Nick Kolokithas, and the snarling "Again and Again" that sounded like a punk rock combination of the Stones and Dylan, featuring words by Osterberg and music by Kolokithas. Listen to "I Don't Know Why" https://www.youtube.com/watch?v=dMd_NiofRpU
Osterberg wanted his first composition to be "Mona's" B-side, but he was outvoted by the rest of the band who decided to go with the more commercial sounding "I Don't Know Why". Listening over fifty years later, "Again and Again" would have been the more inspired choice, but it didn't happen and neither did a record deal for the Iguanas. With no major label interested in signing the band, they pressed a thousand copies of the single on their own Forte label and sold the records at their shows. Listen to "Again and Again" https://www.youtube.com/watch?v=AdaeqBJGvwo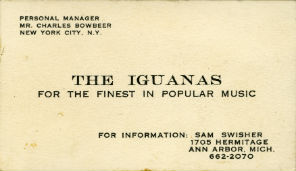 The Iguanas returned to Ann Arbor in September for several gigs, but by late fall Osterberg, still disappointed over the band's decision to not include "Again and Again" on the single, left the Iguanas to join an Ann Arbor blues band called the Prime Movers.
Led by brothers Michael and Dan Erlewine, the Prime Movers were a group of self-styled intellectuals and blues scholars who looked down on the British Invasion-inspired music of the Iguanas. Michael Erlewine claimed that although they recognized that Osterberg was a talented drummer, the group called him "Iguana" for a while just to remind him where he came from and to keep him in line. After a while, it was shortened to just "Iggy".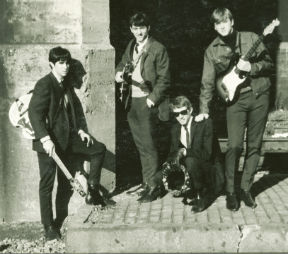 (L to R) Don Swickerath, Nick Kolokithas, Tom Ralston, Jim McLaughlin
Swickerath and Kolokithas were enrolled at Eastern Michigan University, and McLaughlin was taking classes at the University of Michigan. Besides getting an education, proof of college enrollment also earned you a deferment from the draft board and a way to prevent being sent to Vietnam. They found an able replacement on drums in Tom Ralston, an Ann Arbor High graduate who planned to attend the Berkley Jazz Conservatory in Massachusetts.
When school ended in June of 1966, Chuck Bowbeer lined up what seemed to be a golden opportunity for the band that summer. "Because of all the English bands coming to the United States and taking money out of the economy, the Musicians Union demanded that American artists be booked overseas to keep the money in balance," Don Swickerath recalled. "Chuck had set up the Iguanas to be one of the bands to travel overseas to play."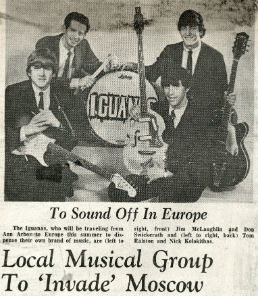 The Ann Arbor News featured a story about the Iguanas' plans on June 22nd titled Local Group To 'Invade' Moscow. The story revealed that the Iguanas were planning to travel to Russia and become the first American band to play rock and roll in the country. The article made a big deal about their long hair (it was 1966 after all) and erroneously claimed that the band had a recording deal with Columbia Records. According to the story, the Iguanas planned to play at the Cavern Club in Liverpool and then on to play in Germany, Holland, Sweden, and at a number of American Armed Services bases in Europe.
Don Swickerath recalled that the band traveled to New York City but then couldn't get a flight to Europe when 35,000 airline workers across the nation from five different airlines went on a strike that lasted 43 days and caused 60% of the nation's commercial airlines to become literally inoperative. "We were stuck there with no money when we couldn't get a flight," Swickerath remembered.
"We ended up traveling to Boston and became friends with some teens there, and we were invited by one of them, named Sandy McIntire, to come to her family's home for dinner. Her parents invited the band to stay in their basement and asked if their nephew, who was a singer, could sit in with the band," Swickerath said. "Robin McNamara turned out to be very talented, and he was asked to join the Iguanas."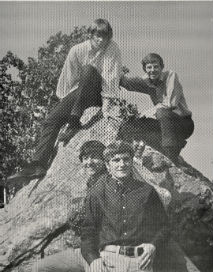 (Top to Bottom) McLaughlin, Ralston, Swickerath, Kolokithas, and Robin McNamara
The band of Swickerath, McLaughlin, Kolokithas, Ralston, and McNamara then toured the East Coast, playing dates in Boston, Cape Cod, and New York City with Robin as the lead singer. McNamara would remain with the Iguanas until they broke up in 1967. "There were money issues with Bowbeer, who controlled the band's finances," Swickerath said. "That led to the band splitting up."
Robin McNamara carried on in the music business after the Iguanas broke up. He would go on to become one of the original cast members in the hit musical Hair. In 1970, McNamara had success as a solo recording artist with his hit single, "Lay A Little Loving On Me", which reached # 11 on the Billboard Hot 100. Later in the year, he enjoyed his final charting single, "Got To Believe In Love", which featured backing vocals from the cast of Hair.
Sam Swisher graduated from the University of Michigan and went on to become a corporate lawyer. Jim McLaughlin earned a degree in engineering from the University of Michigan. Both Don Swickerath and Nick Kolokithas earned fine arts degrees from Eastern Michigan University. Tom Ralston went on to become an independent sound man and currently lives in California.
After Swickerath retired, he and his wife Gayl moved to Cheboygan, Michigan, and he began writing music in earnest. He has reconnected with Robin McNamara and was put in contact with Ivan Kral through Iggy Pop's manager. Through file sharing, Swickerath, McNamara, and Kral have been able to write music together ever since. Some of their songs are available on internet sites like Rhapsody and iTunes.
Jim Osterberg, as Iggy Pop, went on from the Prime Movers to form the Stooges and then to a successful solo career. The Stooges were inducted into the Rock and Roll Hall of Fame in 2010. With the induction of the Iguanas into the MRRL Hall of Fame in 2018, Iggy Pop has been inducted a record four times to the Internet Hall. He was previously honored as a member of the Stooges and Prime Movers, as well as a solo artist.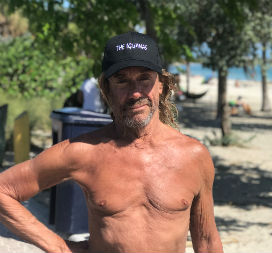 Jim "Iggy" Osterberg wearing Iguanas cap
Don Swickerath has kept in contact with Iggy over the years, and when he had 'The Iguanas' caps made, he sent one to Iggy. "He's a lucky guy to be alive, and he is also one of the smartest guys I know," Swickerath said of his old bandmate. "He never gave up. He never stopped chasing his dream."
During our interview, Swickerath revealed that a copy of the Iguanas' "Mona" 45 is part of the collection at the Rock and Roll Hall of Fame in Cleveland. "I met Howard Kramer, the director of the RRHOF, while I was visiting the hall," Swickerath said. "Howard was aware of the Iguanas and our Iggy connection. He had Detroit roots and a special interest in Michigan rock. We spent a few minutes together talking about the group and some of the performances we did in Michigan. We soon discovered that we shared friendships with the same people, most notably Ivan Kral."
"I mentioned the 'Mona' 45, and he was interested in knowing if there were any copies left," Swickerath recalled. "He wanted a copy for the Hall, and I was happy to send him one. A few weeks later, I received a letter from the RRHOF informing me that it was placed into their permanent collection on June 20, 2012." Listen to "Mona" https://www.youtube.com/watch?v=Q5z0IzyIFus
In July of 2018, all of the original Iguanas, with the exception of Iggy, plan to meet at the Rock and Roll Hall of Fame to celebrate the installation of an 'Iguanas' legacy brick and receive their MRRL Hall of Fame certificates that were given to Don Swickerath. The RRHOF is putting together a special VIP tour for the Iguanas, including areas not open to the public.
Looking back, Swickerath said that with the exception of his wife Gayl and his two boys from a previous marriage, his years with the Iguanas were the best times of his life. "I don't know anybody that has played music to walk away from that and not have a fondness for those years," he said. "Once you make music and you hear somebody clap for what you did… it's a love that never dies."
MRRL Hall of Fame: https://www.michiganrockandrolllegends.com/mrrl-hall-of-fame