MRRL Hall of Fame
JACK SCOTT
Details

Category: Inductees
Created: Friday, 30 September 2011 07:47
Written by Gary Johnson
Jack Scott is one of Michigan's unsung early Rock and Roll heroes. Scott was one of the first artists in the genre to be directly linked to Detroit. He charted nineteen singles, most of them self-written. Jack also placed four of those singles in the Top Ten on Billboard's Hot 100.
Despite these achievements, Jack's successful career and his music have been largely ignored by commercial Rock and Roll "oldies" radio and by the Rock and Roll Hall of Fame. Possessing one of the most distinctive voices north of Johnny Cash, Scott never quite achieved the recognition that was merited by his talents when he was a dominant chart presence from 1958 through 1961.
Jack Scott was born Giovanni Dominico Scafone in 1936 in Windsor, Ontario, located across the river from Detroit, Michigan. He was the first of seven children born to Giovanni Scafone senior and his wife Laura. Jack's father had emigrated from Italy in 1931 and had learned to speak English from listening to the radio. In 1946, the Scafone family moved to the Detroit neighborhood of Hazel Park.
Scott was known as John Scafone growing up in Hazel Park. In those days, he loved listening to country music and tuning in to programs like the Louisiana Hayride and the Grand Ole Opry on the family radio. Hank Williams was his early musical hero. His father bought him a guitar after young Jack had expressed an interest in playing music and then taught him a few chords. Scott later studied with a guitar teacher in the area and began to sing shortly thereafter.
Jack's first break came in 1952 when a local country music deejay named Jack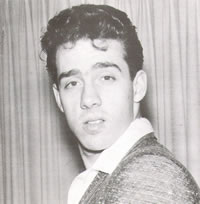 Jack Scott Ihrie saw him performing with his younger sister Linda at a Hazel Park high school concert. Ihrie invited Jack to perform on his radio show at WEXL in Ferndale, Michigan. Ihrie became an early mentor to Jack, and suggested that he change his stage name to Jack Scott rather than the difficult to pronounce Scafone. Ihrie also promoted weekend country music concerts in Detroit that featured both local talent and such early country stars as Webb Perce, Marty Robbins, and Carl Smith. At the age of sixteen, Scott made a few dollars each weekend singing at the shows and got to meet many of the artists that he had listened to on the radio.
By the mid-1950's, Jack had formed his own band called the Southern Drifters and played the current country hits in area dance halls. Scott was first turned on to the new Rock and Roll sound through the early recordings of Elvis Presley. Because the young people in his audience requested Rock and Roll songs at the dances, Jack started incorporating them into his sets.
By 1956, Jack and his band were playing a regular gig at a combination barn/dance hall called Bill's Barn in Utica, Michigan. It was there that they developed what became known as the "Jack Scott sound". These same musicians; Stan Getz on bass fiddle, Dave Rohiller or Al Allen on lead guitar, Dominic Scafone on drums, and sometimes George Kazakas on sax, all played on Scott's early singles on ABC Paramount and Carlton.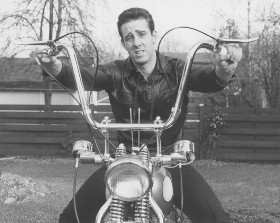 "Baby I'm Gone"
In early 1957, Jack and the band decided to cut a record. They went to United Sound, the only studio in Detroit they were aware of, and cut two of Scott's original compositions, "Baby She's Gone" and "You Can Bet Your Bottom Dollar". At this time you didn't have to pay up front for a session at United Sound. The studio would record you, give you an acetate as a sample, and then you could come back later and buy the master tapes.
A local record store owner named Carl Thom heard Jack's acetates and helped make a recording deal for him with ABC Paramount. "Baby She's Gone" was a big local hit for Scott, but it did not chart nationally. Scott and the band released a second single for the label called "Two-Timin' Woman" later in 1957, but it also failed to chart on the Hot 100.
Based on their success at Bill's Barn, Jack and the band decided to go into business for themselves. They hired a hall in Hazel Park, fixed it up, and called it 'Jack Scott's Dance Ranch'. Local kids came to the new venue in droves, and this is where Jack tested out the two new songs that would be his breakout hits. Scott was still under contract with ABC when he and the band went to United Sound to record "Greaseball" and "My True Love".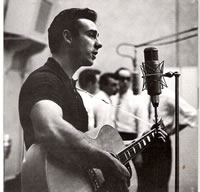 Scott recording with The Chantones
Before doing the session, Jack felt his songs needed some extra vocal backing similar to what the Jordanaires provided on Elvis Presley's recordings. A friend gave him the phone number of a vocal group from his hometown of Windsor called the Chantones. Although the group was not as smooth and subtle as the Jordanaires, the Chantones turned out to be the missing ingredient in the recorded sound Jack was looking for. The Chantones would provide the backing vocals on all of Scott's future hits on the Carlton, Top Rank, and Capitol labels.
In the meantime, Joe Carlton, an experienced record executive, was in the process of setting up his own Carlton Records. He heard Jack's two new songs and wanted to sign him to a recording contract. Carlton purchased the masters to Scott's new songs, but before the record could be released, Carlton felt a change had to be made to the A-side.
"Greaseball" was a hard-rocking song about a friend of Jack's named Bill Johnson who had slicked-back black hair and sideburns and who had been sent to jail for a time on an assault charge. Carlton wanted Jack to change the title of "Greaseball" because it could be misconstrued as being offensive to Latinos.
Jack went back in the studio to rerecord the song and found inspiration for a new title in the studio restroom. Written on the wall was 'Leroy was here' and Scott used "Leroy" for the new version. The B-side of the record was a powerful ballad that Jack wrote about his girlfriend at the time called "My True Love" complete with a spoken recitation in the middle of the song.
Carlton promoted the A-side of Jack's new record with ads in Billboard saying "Leroy's broken loose!" while Scott appeared on American Bandstand and lip-synched his hit. "Leroy" was shooting up the charts when a deejay in Cincinnati decided to start playing "My True Love". The response to the song was overwhelming, and Jack now had a two-sided monster hit on his hands. "My True Love" ended up being the bigger hit of the two, as it peaked at # 3 on Billboard's Hot 100. The song was also a # 5 hit on the R&B charts. "Leroy" was also a big winner as it reached # 11 on the Hot 100 in the summer of 1958.
Jack didn't stray far from his successful formula on his follow-up single. "With Your Love" was a ballad similar to "My True Love", and the B-side "Geraldine" was an up-tempo rocker. Both songs charted on the Hot 100 with the ballad side becoming the bigger hit as it peaked at # 28.
Just as Scott's career was taking off, he received his induction notice in the mail. Distressed about leaving his girlfriend behind, Jack wrote his next hit single, "Goodbye Baby". The song became Scott's second Top Ten hit in early 1959. It's B-side, the gospel-tinged "Save My Soul" also charted at # 73 giving Jack three two-sided hits in a row.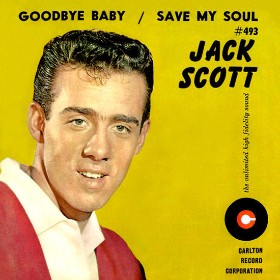 "Goodbye Baby" 45
By January of 1959, Jack was stationed at Fort Knox, Kentucky. Carlton released his next single, "I Never Felt Like This/Bella" in April, but "I Never Felt Like This" was only a minor hit, peaking at # 78 on the Hot 100. Scott's time in the Army, however, was to be short-lived. He suffered from a recurrent ulcer condition that had plagued him for several years. Because of this he was granted an honorable discharge in May of 1959 on medical grounds.
Jack's next release was the classic "The Way I Walk", and it put him back in the Top 40 during the summer of 1959. Scott had cut the song before going in the Army and had only completed two of the verses when the song was put on tape. To fill the gap at the end of the song, Jack had the Chantones repeat "Oo-wee, oo-wee, oo-wee, oo-wee, doo-wah". Featuring a blistering sax solo by George Kazakas, who would soon find success with the Royaltones, the song is classic Jack Scott and ranks as one of his all-time greatest recordings.
Scott appeared on American Bandstand eight times during the next year, and also toured with Dick Clark's Caravan Of Stars bus tour. He appeared with Clark's show at the Michigan State Fair in 1959 on a bill that also featured Frankie Avalon, Duane Eddy and The Rebels, Bobby Rydell, Jan & Dean, the Coasters, and LaVern Baker. Jack, however, was never comfortable with the relentless touring and promotion that was part of being a recording star. He often became homesick for his family and girlfriend while on tour, and his relationship with Dick Clark soured after Scott left in the middle of one of Clark's bus tours to go home for a few days.
A disagreement between Jack's managers, who represented Southern Music, and Joe Carlton over the material that Scott should record resulted in Jack signing with the Top Rank label in 1960. One last single on Carlton, "There Comes A Time", was a minor hit for Jack late in 1959. The buyout package for Scott to leave Carlton cost a total of approximately $100,000. Everything seemed to be working well, however, as Jack's first single for Top Rank, a strong ballad called "What In The World's Come Over You", became a big hit in early 1960 reaching # 5 on the Hot 100. Scott performed the song on The Dick Clark Saturday Night Beechnut Show.
Jack tried to stay true to his country music roots with his first Top Rank album, "I Remember Hank Williams", but the LP failed to generate much interest in either the pop or country markets. His next single, "Burning Bridges", was recorded during the sessions for the Hank Williams album.
The ballad was the most country-sounding of any of his singles, and it turned out to be the biggest chart hit of his career, reaching # 3 on the Hot 100 during the summer of 1960. It did not cross over to the country charts, but it surprised everyone by peaking at # 5 on the R&B charts. The B-side of the single was also a Top 40 hit. "Oh Little One" was written by Jack and was actually superior to "Burning Bridges", although it only reached # 35 on the Hot 100.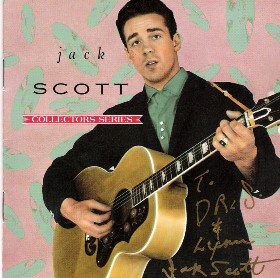 Jack's next single, "It Only Happened Yesterday", would be his last Top 40 hit. It would also be his fifth and last two-sided hit as the B-side, "Cool Water", spent three weeks in the upper regions of the charts. Scott released two more charting singles on Top Rank, "Patsy" and "Is There Something On Your Mind", before his contract was purchased by Capitol Records in 1961.
Scott's first Capitol single, "A Little Feeling (Called Love)" barely got into the Hot 100 at # 91. The follow-up single, "My Dream Come True", did a little better reaching # 83 in late summer of 1961. When Jack's next single, "Steps 1 & 2" also failed to generate much interest, an already recorded album was scrapped. Scott soldiered on with some quality singles in 1962; "Cry, Cry, Cry", "You Only See What You Wanna See", "I Can't Hold Your Letters (In My Arms)", and "If Only", but none of these recordings were able to break into the Hot 100.
After Jack's Capitol contract was completed, Berry Gordy approached him in 1963 about recording for Motown. Instead, Scott signed with country producer Chet Atkins at RCA Victor. Jack then released a number of unsuccessful 45's on RCA's Groove subsidiary. In 1966, he returned to ABC-Paramount for a single before releasing singles for the Jubilee and GRT labels near the end of the Sixties.
Jack's last major label was Dot. It was there, in 1973, that he made his first and only record to make the country charts. "You're Only Getting Better" was just a minor hit, however, reaching # 92.
Although he does not get very much recognition in this country, Jack is considered a major star in Europe and Asia where the "Rockabilly Revival" has once again put him in great demand. At the age of 73, Jack keeps himself in great shape and is singing and performing as well as ever. In 2007, he performed at the five-day Rockin' 50's Fest in Green Bay, Wisconsin, and had the unenviable task of having to follow Little Richard and his large orchestra. Jack was visibly upset that Little Richard had run overtime and that the stage wasn't completely ready when he was scheduled to perform, but he and his four-man combo tore the house down and literally blew Little Richard's show off the stage.
Jack Scott was voted into Michigan Rock and Roll Legends Hall of Fame in 2007. "The Way I Walk" was voted a Legendary Michigan Song in 2010 and "Leroy" in 2018. Sadly, Jack passed away on December 12, 2019.
MRRL Hall of Fame: https://www.michiganrockandrolllegends.com/mrrl-hall-of-fame
Dr. J. Recommends:
Assuming that most people do not want to spend over $100 for the excellent Bear Family 5 CD Box Set, "The Way I Walk", I'm going to list two cheaper alternatives.
"Jack Scott: The Way I Walk" The Original Carlton Recordings 1958-1960. Roller Coaster Records CD. This is a nice collection of 26 songs that includes three of the early ABC-Paramount sides from 1957, the original "Greaseball", as well as all the Carlton hits. It also has great liner notes by Rob Finnis that I found very helpful in writing Jack's biography.
"Jack Scott: The Capitol Collectors Series" Capitol Records CD. This collection contains 23 songs that cover Jack's recordings for Top Rank and Capitol. It also includes some previously unreleased material.