MRRL Hall of Fame
JOHN LEE HOOKER
Details

Category: Inductees
Created: Friday, 30 September 2011 08:03
Written by Gary Johnson
John Lee Hooker was Michigan's greatest Blues musician. His one-chord boogie compositions, growling vocals, and rhythmic electric guitar style made him one of the most important historical links between the Blues and Rock and Roll.
Hooker was born near Clarksdale, Mississippi, in 1917, the fourth of eleven children. John Lee's father was a sharecropper and a Baptist minister. As a child, John Lee's first musical experiences involved singing in the church choir.
After his parents divorced, Hooker became interested in Blues music when his sister Alice began dating a guitar player named Tony Hollins. John Lee's first musical instrument was an inner tube that he nailed to the barn door and would pull with one hand and pluck with the other. Hollins would later give John Lee his first guitar, an old Silvertone model.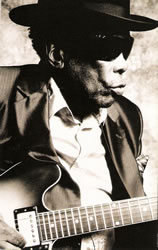 John Lee Hooker
The next significant step in John Lee's musical development came when his mother remarried. His stepfather was a farmer named William Moore who was also a highly respected regional Blues artist. Moore encouraged John Lee and allowed him access to his record collection that included 78's of Charlie Patton, Blind Lemon Jefferson, LeRoy Carr, and Blind Blake.
Hooker listened to the records over and over but his greatest influence would be the guitar style of his stepfather. Although William Moore never recorded, he sometimes worked with the legendary Charlie Patton, and he had a unique way of playing the guitar that young John Lee emulated. Years later Hooker would be quoted as saying, "All I listened to mostly was my stepdaddy, 'cause I was into him just like he was God. The style I'm playing now, that's what he was playing then".
John Lee was not interested in the life of a sharecropper so at the age of fourteen, he left home to live with an aunt in Memphis. He worked as an usher at a black movie house for three years before moving north to live with another aunt in Cincinnati. There he found work with the Phillips Tank & Pump Co. and did some singing with a few local gospel quartets.
By the 1940's, the Depression was ending and Hooker kept hearing about the opportunities for a black man in Detroit. The United States' entry into World War II further boosted the activity in the Motor City and almost guaranteed a young black man a high-paying job. Hooker moved to Detroit in 1943. He arrived by Greyhound bus in Black Bottom, a sixty-six block area that was home to most of the city's 150,000 black residents. Hooker found a place to live in a rooming house and got a job at the Ford River Rouge Plant.
By the late 1940's, Hooker was married and had children. He had a daytime job as a janitor at the Dodge Main Plant and at night he played guitar and sang at various house parties. In 1948, he took a job on the day shift at Comco Steel. At night he still played for tips at rent parties, but he was now branching out into the bars and clubs in Detroit's black entertainment district known as Paradise Valley.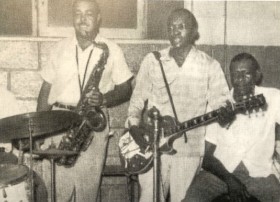 Hooker (center) at the Apex Bar in Detroit
John Lee played most often at the Apex Bar on Oakland Avenue. It was there that he was discovered by a black record store owner named Elmer Barbee. Barbee had a small recording studio at the rear of his shop, and he invited John Lee over to record some demos. Barbee then introduced Hooker to Bernie Besman, the owner of a small local label called Sensation Records and co-owner of Pan American Music Distributors. Besman liked John Lee's demos and signed him to a personal management contract.
Besman arranged for Hooker's first major appearance at a concert at the Broadway Capitol Theatre in Detroit where he closed the show with a very impressive solo performance.
Besman then set up a recording session for John Lee at United Sound, Detroit's premier recording studio. Hooker usually played with pianist James Watkins and drummer Curtis Foster in Detroit clubs, but on this session, he played alone. John Lee's first big hit, "Boogie Chillen" was recorded that night. He based the song on a number that he heard his stepfather do when John Lee was still a young boy.
Because Sensation Records was such a small operation, Besman leased "Boogie Chillen" to Modern Records, a label that operated out of Los Angeles and was owned by the Bihari brothers. Released at the end of 1948, the record reached # 1 on the R&B charts early in 1949.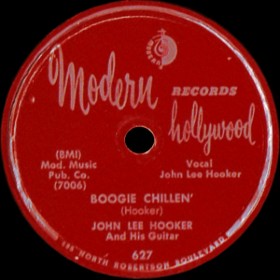 Boogie Chillen' 78
The overwhelming success of "Boogie Chillen" enabled John Lee to quit his day job and become a full-time musician. Hooker quickly followed up his big hit on Modern with the two-sided R&B smash, ""Hobo Blues/Hoogie Boogie". Both sides of the record made the Top Ten on the R&B charts in the spring of 1949. John Lee completed an amazing first year as a recording artist with another Top Ten R&B single, "Crawling King Snake Blues".
John Lee Hooker's music was in such demand that he released records for other labels under a variety of names such as John Lee Booker, Texas Slim, Birmingham Sam, Delta John, and Boogie Man. In 1950, John Lee released "Huckle Up, Baby" on Besman's Sensation label, and it reached # 15 on the R&B charts.
Hooker seemed to save his best material, however, for release on the Modern label. His biggest hit came in 1951, as John Lee's "I'm In The Mood" topped the R&B charts for four weeks and sold over a million copies. The song even managed to reach # 30 on Billboard's Pop charts. Hooker claimed that Glenn Miller's 1939 big band hit "In The Mood" was the inspiration for the song, but John Lee's song sounds nothing like Miller's.
Hooker's contract with Modern expired at the end of 1954, and he signed a recording contract with Vee-Jay Records of Chicago. He continued to live and record in Detroit, however, and he performed locally with his Motor City-based band, the Boogie Ramblers.
By this time the vogue for solo singer-guitarists had passed and Vee-Jay recorded Hooker with his band. "Dimples" released as a single in 1956 is a good example of John Lee's sound at this time. Hooker's first charting hit for Vee-Jay was "I Love You Honey" in 1958.
In 1959, John Lee Hooker signed with Riverside Records and made his debut performance at the prestigious Newport Folk Festival. John Lee recorded his first album for the jazz-oriented label. He also recorded for the first time with an acoustic guitar as the folk audience expected "authentic" Blues musicians to perform without electric instruments. The 1960 Riverside single, "I Need Some Money", was based on Barrett Strong's then current hit single "Money" and features Hooker on acoustic guitar.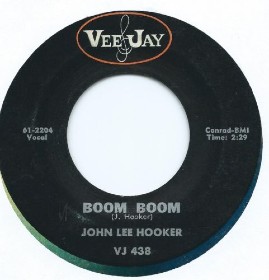 John Lee was back on Vee-Jay for 1960's R&B hit "No Shoes". His last R&B chart hit for the label was 1962's "Boom Boom". The song idea came from a waitress at a Detroit club where Hooker regularly performed. John Lee was consistently late for his gig and the waitress would chide him by pointing her finger at him like a gun and saying, "Boom boom, you late again". Hooker worked it into a song and recorded it with some moonlighting members of Motown's Funk Brothers at United Sound. The song peaked at # 18 on the R&B charts and even reached # 60 on the Hot 100.
During the early 60's, Hooker had begun to tour extensively in Europe where he was held in great esteem. He also enjoyed a resurgence of popularity in America from an unlikely source. The British Invasion bands included many groups like the Rolling Stones, Yardbirds, and the Animals who were steeped in the Blues and had recorded versions of classic Blues songs.
The Animals, with gravelly-voiced lead singer Eric Burdon, covered three of Hooker's compositions and had a chart hit with their reworking of "Boom Boom" in early 1965. As a result of these British bands and American groups like the Paul Butterfield Blues Band, the J. Geils Band, and Canned Heat, Hooker as well as other great Blues artists such as Muddy Waters and Howlin' Wolf gained a legion of young white fans.
Hooker recorded albums for a myriad of different labels in the 60's and 70's including Chess, Vee-Jay, Impulse, Stateside, Red Lightnin', Crescendo, United Artists, BluesWay, Liberty, Labor, ABC, and Specialty. His most successful LP during this period was a double album with Canned Heat called "Hooker 'n' Heat" that reached # 73 on Billboard's album charts in 1970. John Lee continued to tour in the 70's and 80's often opening for rock acts. In 1980, he performed "Boom Boom" in The Blues Brothers film.
The late 80's saw yet another resurgence of John Lee Hooker. He sang the title role in Pete Townshend's 1989 album "The Iron Man". That same year he joined the Rolling Stones for their pay-per-view concert in Atlantic City, New Jersey. He also released his biggest-selling album, "The Healer" and earned his first Grammy Award for his duet with Bonnie Raitt on their version of "I'm In The Mood".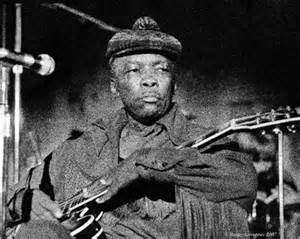 John Lee Hooker
In 1990, New York's Madison Square Garden hosted an all-star concert celebrating Hooker's music. That same year he joined Miles Davis on the Grammy-nominated movie soundtrack "The Hot Spot".
In 1991, John Lee Hooker was inducted into the Rock and Roll Hall of Fame. He was nominated that year for another Grammy for his album "Mr. Lucky" which featured tracks with Keith Richards, Van Morrison, Carlos Santana, and others.
More successful albums followed including 1992's "Boom Boom", 1995's "Chill Out", and the Van Morrison-produced "Don't Look Back" in 1997. Hooker was awarded the Lifetime Achievement Grammy in 2000. He died in his sleep the following year at the age of 83.
John Lee Hooker was voted into Michigan Rock and Roll Legends Hall of Fame in 2007.
MRRL Hall of Fame: https://www.michiganrockandrolllegends.com/mrrl-hall-of-fame
Video: Watch John Lee Hooker's performance of "Boom Boom" with The Groundhogs in England https://www.youtube.com/watch?v=uG7tAQ3NRfs
Dr. J. Recommends:
"Hooker" Shout Factory, 4 CD, Box Set, 2006. This is the ultimate collection for the John Lee Hooker fan. The four discs cover his entire career, and the set has a very informative booklet.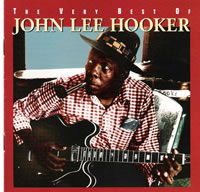 "The Very Best Of John Lee Hooker" Rhino CD, 1995. If you don't want to shell out the big bucks for the box set, this 16 song collection covers some of the best recordings of John Lee's career from the years 1948 to 1980.
"John Lee Hooker: Come See About Me, The Definitive DVD" This is an absolute must-have for any fan of John Lee Hooker. This is the first official DVD from the Hooker estate archives, and its eighteen riveting performances cover the years 1960 through 1994.