MRRL Hall of Fame
KOPPERFIELD
Details

Category: Inductees
Created: Monday, 02 March 2020 09:21
Written by Gary Johnson
Although they failed to achieve commercial success as recording artists, Kopperfield emerged in the early 1970s as one of Michigan's premier progressive rock bands. Formed on the Michigan-Indiana border, Kopperfield gained acclaim as a live band while playing the club circuit in the Midwest and South and opening for some of the big names in the rock and roll field.
Jerry Opdycke was born in Louisiana in 1951 and moved to the city of Sturgis at the age of six. Future bandmates Chuck Eagan and Bill Wallace were also from the small town which boasted just under 8,000 residents in the 1950s. Located in the southeast corner of St. Joseph County, near the Michigan – Indiana border, Sturgis is known as the "Electric City" because of it municipal electric utility and hydroelectric dam, which date back to the early days of the community.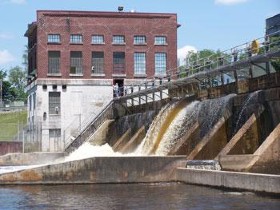 Sturgis hydroelectric dam
According to Opdycke, growing up in Sturgis was fun. His family lived out on Klinger Lake and, as a result, he got to know a lot of people from Chicago, 140 miles away by car, who had summer homes there.
Opdycke started playing acoustic guitar in 7th grade around the time of the British Invasion, heavily influenced by the Beatles and Rolling Stones. After taking some lessons to learn basic structure, he started putting bands together. Opdycke recalled that, after picking up the bass, his first public performance was as part of an instrumental trio, called The Chargers, at the White Pigeon Band Follies while attending White Pigeon Junior High. They played a cover "Wipe Out" by The Surfaris.
While still in junior high, Opdycke was soon playing in bands with older guys who were in high school. "One of the reasons I got into playing bass was the Motown records that I loved," Opdycke revealed. Although he didn't know anything about bassist James Jamerson or the Funk Brothers since Motown did not list session musician credits at the time, Jamerson's playing on the label's vast number of hits during the 1960s made him one of the most influential bass players in modern music history and someone Opdycke tried to emulate.
Chuck Eagan, the future lead guitarist for Kopperfield, was born in 1954, He was raised in Sturgis and was introduced to the guitar by his lifelong friend, Larry Emerson, who taught him to play three basic chords. Emerson let Eagan take the guitar home and, in no time, he was playing entire songs by ear – the first being "Secret Agent Man".
After his parents bought him his first electric guitar, Eagan formed a band in the 7th grade with Emerson on bass and John Schuler on drums. They played their early gigs at the Sturgis Youth Center and at some private parties.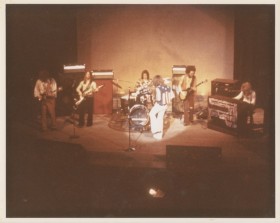 Kopperfield on stage: (L to R) Chuck Eagan, Jerry Opdycke, Tom Curtis, Jimmy Robinson, Bill Wallace, Keith Robinson
The groups rehearsed in basements and in the homes of band members since no one had much in the way of gear at the time. The fledgling bands played small outdoor concerts in the summer, including the Youth Center which served as the local teen club. There were also high school dances, house parties, and the Dawn Patrol events out at the Kirsch Municipal Airport, which were part of the annual Sturgis Fest held in July.
Keyboardist Keith Robinson and his brother Jimmy were from the tiny community of Union, Michigan, located about 24 miles west of Sturgis. The Robinsons and Opdycke attended White Pigeon High School, however, which was equidistant from both towns.
"We did battles of the bands in high school but that scene had passed when Kopperfield was formed," Opdycke explained. "The battles were usually held outside and involved ten or so bands. We did them in Sturgis as well as Coldwater, Michigan, located about 45 minutes away."
Opdycke said that he and Keith Robinson knew each other in grade school and high school. "We were in different bands that played the high school circuit," Opdycke recalled. "Keith was in The Dew and I was in The McDoogle Sprocket Company. We often talked about playing together but it didn't happen until we were out of school in 1971."
Bill Wallace played with Opdycke in a band called Touch of Blue. They were successful in that they were opening for bands like the James Gang. Touch of Blue was doing Motown, R&B, and funk, which was a little unusual for a band at that time. Most groups were just playing heavy rock.
The band that would become Kopperfield sstarted to cometogether after Touch of Blue performed at Glenn oaks Community College. The Dew, which contained future Kopperfield members Keith Robinson, Tom Curtis, and Paul Decker, also played there. Opdycke and Robinson again talked about getting together, but it didn't happen until both band dissolved.
Looking to start another band, Opdycke teamed guitarist Chuck Eagan with Wallace. "Chuck Eagan played lead and rhythm in a variety of groups prior to Kopperfield, but he and I were never in the same bands," Opdycke said. "He was a great guy, a good singer, and he also wrote some original material. Chuck came from a rock background so the combination with he and Bill Wallace made the band very versatile."
Opdycke then called Robinson to tell him that he had two guitar players, and he was looking for a keyboard player and singer. Robinson, who played the Hammond organ, was interested and recruited his brother Jimmy as the band's lead singer. "Jimmy had previously been working with a band in Indiana and he liked to write music, which made him valuable as well," Opdycke said. "The Robinson brothers also brought drummer Tom Curtis to the jam session held in a room above the Walgreen's store in Sturgis."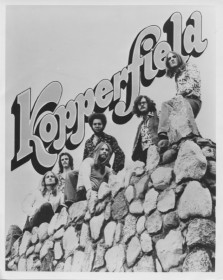 "We were having trouble finding a drummer. They either played too much or not enough, or couldn't keep time," Opdycke explained. "We had a limited selection in our area and Keith supplied the perfect guy in Curtis; he fit in immediately. He was influenced by jazz, especially drummer Billy Cobham. That influence helped make Kopperfield a very progressive band – able to cover Kansas as well as Jeff Beck, Styx, and Brian Auger.
Tom Curtis was born in Elkhart, Indiana. Inspired by his older brother on the string bass, he began taking lessons in the fourth grade. He was also interested in the drums and took lessons all through junior high and high school. Curtis had played bass in his first bands in Indiana and also as a member of The Dew which he described as a "kick butt horn band."
The Dew was deeply in debt when the band broke up, and it was Curtis's parents that paid off the band's debt to the bank, leaving them in possession of the equipment, including the drums. Keith Robinson had become a close friend, and he encouraged Curtis to bring the drum kit to the jam session even though he had only played bass, never the drums, in all the bands he'd been in. Despite his inexperience, he was the right drummer for what was to become Kopperfield.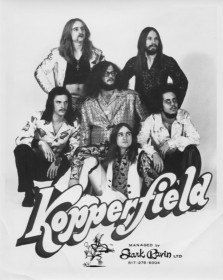 (Top L to R) K. Robinson, C. Eagan, J. Opdycke (Bottom L to R) T. Curtis, J. Robinson, B. Wallace
"The magic happened right away," Opdycke recalled. "We knew we had something good almost as soon as we started playing together." Opdycke claimed that they started writing original music right away, but Robinson's Hammond organ enabled them to play a wide variety of music. This allowed them to also cover popular 70s' groups like Santana, The Allman Brothers, and Uriah Heep, as well as other things that were very keyboard oriented.
The name Kopperfield came from Opdycke and Bill Wallace who had played a couple of times under that name with some different musicians. When they joined up with Eagan, Curtis, and the Robinsons, they suggested it for the band's moniker and everyone agreed.
Opdycke described Kopperfield's music as "progressive with a little bit of funk." Since they had written a good deal of original material rather quickly, they decided to do some recording. The band opted to go to Chicago which they felt was a better match than Detroit for their brand of progressive rock. They called around to various studios and that's how they connected with Gary Loizzo and his Pumpkin Studio.
Loizzo had been the guitarist and lead singer in the American Breed, a band from Cicero, Illinois, that had some Top 40 hits in 1967 and 1968 with "Step Out Of Your Mind" and "Green Light", and a Top 10 smash with "Bend Me. Shape Me". Following the American Breed's break up, Loizzo opened his own recording studio. Loizzo would go on to receive a Grammy nomination for his work with Styx at the end of the decade.
"We did our first recordings at Pumpkin, and Gary Loizzo said we had something – even at that early stage," Opdycke recalled. "Those early recordings in Chicago were never released until they were included in the GearFab Records reissue of "Tales Untold" in 2001.
"The trip to Chicago was the result of our rising popularity from playing in clubs," Opdycke recalled. "We began to establish a name for ourselves by playing music that was different from other club bands. Playing in bars, we had to incorporate hits like "The Letter" and "Spooky", but we would do them in our own style; and our last set was always made up of mostly original material," Opdyke stated.
"The main writers in Kopperfield were Keith Robinson, Chuck Eagan and myself, with Jimmy Robinson doing the lyrics; but basically the band wrote together," Opdycke said. "We all got along well and didn't have a lot of massive arguments. The songs were credited to the band, but by the time we started recording, Bill Wallace was no longer with us."
"Once we started traveling on the road, Bill Wallace didn't progress as quickly as the rest of us. We made the decision that, since we were moving in a different direction and didn't need two guitar players, Bill would be cut from the band. It was difficult, but he wasn't contributing anything to the writing and, when Paul Decker joined, most of the recording was already finished," Opdycke said.
Their debut LP, "Tales Untold", was recorded in the Ann Arbor area at SRC's studio. The band self-produced the album and recorded the basic tracks in just a couple of days. It helped that they had been playing the material live before going into the studio. After completing the basic recording, the band felt they needed more vocals so Paul Decker was brought in. Jimmy Robinson was the front man, with Eagan and Decker adding vocals and Opdycke and Keith Robinson providing backing vocals. Listen to "Wake Up People" https://www.youtube.com/watch?v=S46pjQQVtf8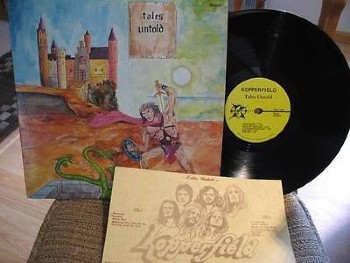 "Tales Untold" album
When Decker joined on electric piano, they had two keyboard players; and he and Keith Robinson would play on opposite sides of the stage. Kopperfield began traveling all the time a this point since that was the best way to expose the band. The road made recording difficult, however, and they ended up switching studios and going to the Sound Machine studio in Kalamazoo to complete the vocals on the "Tales Untold" album.
.Kopperfield's manager was Terry Green who had worked with Grand Funk Railroad on their stage lighting. Green lined up a lot of the early gigs, and had a close relationship with Grand Funk's drummer, Don Brewer. Opdycke said that Green had a lot of good ideas, including eventually setting up the band's own agency, Stark Ravin' Productions.
According to Tom Curtis the album was done primarily to promote the band and help them get jobs. Kopperfield decided to issue it on the band's own label, Copper Disc, in 1974. Doing it all themselves, they distributed album by visiting local record stores wherever they were playing and they managed to sell a lot of copies at gigs.
A record deal was not out of the question, however, so Green brought the "Tales Untold" album to Don Brewer at Grand Funk's studio outside of Flint. Brewer listened to it there and suggested they try to pitch it to some labels in California; but the band wasn't playing any gigs west of the Rockies and nothing came of it.
Kopperfield was one of the first non-national bands to put together their own promo packs. "When you went to see the band, there would be color photos posted in the clubs, and we would bring posters advertising our club appearances, Opdycke said. "That was Terry Green's influence, and it came from his experiences with Grand Funk Railroad."
The band purchased a 24-foot box truck to haul their gear, and they employed people on lights and sound for their shows
Kopperfield used a number of different agencies while touring. They started with Dynamic Productions out of Cincinnati in 1971 and then to JR Productions of New York who booked them into the bigger clubs like the Coral Gables and the Alibi East and West, which were clubs that they ran. The problem with the New York agency was that they booked the band in the South and then back to Ohio and Michigan, which involved a great deal of traveling.
When Kopperfield started opening up for nationally known artists like Foghat and Country Joe McDonald, they were being booked by Windy City Productions in Chicago. According to Opdycke, touring was fun in a lot of ways. "Kopperfield played in a lot of cool clubs on what was known as the A-circuit, also in auditoriums, festivals with thousands of music fans, and big car shows around the Midwest and South," Opdycke recalled.
The songs for the band's proposed second album were written either on the road or on off days from touring. "The idea for the title, "Back To Bitchin'", came from the reality of trying to write material while you're on the road and busy, or trying to rehearse and do sound checks at clubs with people having dinner and complaining about the loud music," Opdycke said. "It seemed like were always moving gear or trying to get something accomplished at the hotel after miles of traveling. It was also a struggle to even purchase fuel during the nationwide gas shortages during the 1970s," he recalled. "It resulted in a lot of bitching about what we were going through, hence the album title."
They recorded two basic tracks at Sound Machine but, according to Opdycke, they weren't knocked out by the results. "We had a few songs left over from the first album and Paul had some songs he had written," he said. "We had put together just about enough material for the second album but the pressures of traveling all the time put a lot of strain on personal relationships and family life," Opdycke stated. "The band might be on the road for six or seven weeks and then come home for a short period and then be gone again. That's the touring life," he said. As a result, they changed agencies again and went with Siddhartha Productions out of East Lansing which was closer to home.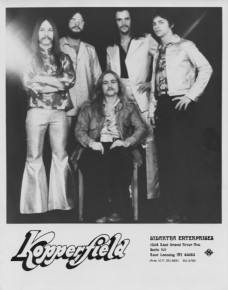 (Standing L to R) J. Opdycke, C. Eagan, T. Curtis, P. Decker (Seated) K. Robinson
The grind of dealing with the wide variety traveling issues, playing the same places over and over again, and the pressure from booking agencies to play more covers at the clubs made it difficult for a band, like Kopperfield, that wanted to play its original music.
The first chink in the armor of the band happened when lead singer Jimmy Robinson left the band. "Jimmy was a vital part of the band," Curtis stated, "but we were all young and being on the road constantly takes its toll."
Robinson's departure, as well as increasing pressures at home, led to Kopperfield breaking up after Opdycke and and Chuck Eagan left in 1975. They both offered to play with the group until they found suitable replacements, but once the unique combination of musicians had shattered, it could never be put together in quite the same way again.
Twenty-five years later, Roger Maglio and his GearFab Records label came calling. GearFab obtained the rights to "Tales Untold" for three years. GearFab redid the entire album, adding the eight early songs from Chicago along with a couple of live cuts. Maglio and GearFab sold out of all the copies the label produced and, in doing so, rekindled interest in Kopperfield. The original vinyl copies of "Tales Untold" are sold online for upwards of $700 and much as $1,100 for an autographed copy.
Sadly, Chuck Eagan passed away in October of 2019. He played in a number of different groups after leaving Kopperfield, and his final performance was with the 16th Avenue Band in Sturgis, Michigan. Those close to Eagan said that he was very humble about his playing and never really knew how outstanding and special he was.
Keith Robinson, Jerry Opdycke, and Paul Decker also continued to play music over the years, while Tom Curtis left the music scene to take over a family company.
Jerry Opdycke looks back fondly on his years with Kopperfield: "I've been in over twenty bands in my career but Kopperfield was the kicker," Opdycke said. "We had the right combination of people. The chemistry was great. There were no problems, no egos, it was all music. That is very rare."
Kopperfield was voted into the Michigan Rock and Roll Legends Hall of Fame in 2020.
MRRL Hall of Fame: https://www.michiganrockandrolllegends.com/mrrl-hall-of-fame
Listen to "Magic In Your Mind" https://www.youtube.com/watch?v=xBOZ7Nub9-E