MRRL Hall of Fame
MAD DOG
Details

Category: Inductees
Created: Tuesday, 04 June 2019 04:55
Written by Gary Johnson
Formed in Bay City, Michigan, in the early 1970s, the power trio Mad Dog developed its unique style of hard rock in the basement of a family home and later in a rented warehouse near the banks of the Saginaw River. Although their only vinyl release was an independently released album, the band played its original material regularly at clubs, bars, road houses, high school dances, and festivals for a decade before finally disbanding.
The Charlebois brothers, Joe (1954) and Bob (1957) were born at Mercy Hospital in Bay City, the very same hospital where singing star Madonna was born in 1958. The brothers grew up in the Banks area on the city's West Side. Although their parents did not play musical instruments, they listened to records of popular singers like Frank Sinatra, so there was always music around the Charlebois house.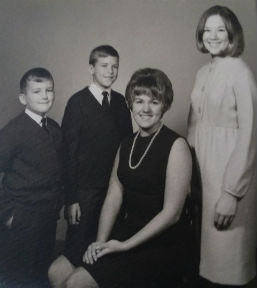 (L to R) Bob and Joe Charlebois with sisters Cindy and Yvonne
The brothers credit their oldest sister Cindy as an early inspiration. She was a folk music fan and exposed them to the artists she liked. Joe recalled that Cindy bought Joe his very first album, "Got Live If You Want It" by the Rolling Stones. She also brought the first musical instrument into the Charlebois home when she used babysitting money to purchase a piano.
Cindy, who was crowned Miss Bay County in 1964, opened the eyes of her brothers in another way when they saw her on stage, getting all that attention and having her photo in the newspaper. It planted a seed in the minds of Joe and Bob, but the idea of forming a band together would be nine years in the future.
Joe Charlebois started his musical career wanting to play the saxophone. His parents sprang for lessons but he didn't practice and the instrument soon fell by the wayside. Bob had originally wanted to play clarinet, but he recalled that when he went to his first music class at Lindsay School, he was the only student who did not have an instrument. That ended his school music career.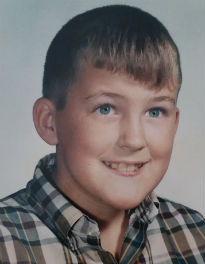 Bob at Lindsay School
The Charlebois brothers grew up during the golden age of AM radio, a time when the music played wasn't strictly formatted. WTAC out of Flint was the leading station, and Joe remembered that during those days you could her a song by The Stooges, followed by a Motown single, and then the latest hit by Johnny Cash. This led to frequent trips to Lucky's Record Shop on Midland Street. Joe recalled buying the "Dandelion" single by the Rolling Stones there and later special ordering the "Michigan Rocks" album that collected tracks from the Bob Seger System, MC5, Frost, SRC, the Rationals, the Amboy Dukes and others.
In 1967, bitten by the rock and roll bug, Joe asked for a drum kit and Bob a guitar. Completely self-taught, Joe practiced diligently on the drums for over a year and was invited by his cousin, Mark Heintskill, to join a high school band called Love Inc. Joe recalled his first gig with the band was at a dance at the St. Joseph High School gym at which the entire band was paid $25 for their performance.
After that band fizzled out, Joe went on to play in a blues band with fellow students at T. L. Handy High School. They called their group Brutus, and it also lasted about a year. During this time, Bob watched his older brother play, often hanging around as his bands rehearsed. Bob had taken a few guitar lessons by this time, and he later applied what he learned to play the piano by ear on his own.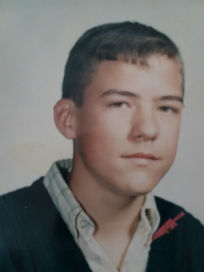 Joe at Handy High
Bob recalled that he was crazy about the hit instrumental "Telstar" by The Tornadoes when he was growing up and that Johnny Winter was his early guitar hero. He remembered that he initially thought that Winter had written "Johnny B. Goode". Bob's guitar had a whammy bar; and he would set it on top of his amplifier, turn it up full blast, then then pull on the bar to produce feedback that sounded like an airplane taking off. It was an effect he would later use in Mad Dog.
Enrolled in Handy High's music program under the direction of Mr. White, Bob often got to spend much of the hour-long class playing his guitar with other students in the music department's soundproof rooms. His guitar playing at that time was influenced by both the sustaining sound of SRC's Gary Quackenbush and the clean chords of The Stooges' Ron Asheton.
In a recent interview, Joe Charlebois said that saw many different bands at Roll-Air in Bay City. He stressed that it was important that he actually got to talk to members of the Detroit bands back in the day and said that Iggy Pop once bummed a cigarette from him. Joe had a job cleaning his father's barber shop, and he used the money to buy records and go to rock shows.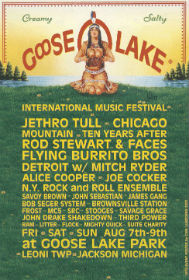 Goose Lake poster
Joe got the chance to go to one of the largest music events of the era when he attended the Goose Lake Festival in Leoni Township, Michigan, held from August 7– 9, 1970, with his sister Yvonne and her boyfriend Don Langenburg. They were among the 200,000 music fans to see Jethro Tull, the Faces with Rod Stewart, Chicago, Ten Years After, and the James Gang along with Michigan acts including the Bob Seger System, The Stooges, Brownsville Station, SRC, and Detroit featuring Mitch Ryder.
Don Langenburg was born in 1949 in Bay City and traveled to England with Yvonne Charlebois while they were in high school. He was inspired to start a rock and roll band after he returned and began learning the bass guitar. He recruited Bob Charlebois but Joe didn't initially want to play with them because Don was just starting on bass and his brother lacked experience. Bob convinced him, however, by playing a spot-on rendition of the lead guitar part on the Mott The Hoople song "Thunderbuck Ram".
Langenburg came up with the name Mad Dog from the Mogen David wine, MD 20-20 (a 20-ounce bottle that contained 20% alcohol). The sweet, low-priced wine was nicknamed 'Mad Dog'. It was also somewhat descriptive of Langenburg who the brothers described as "a crazy guy, but very generous as well; a wild man and a total rock and roll guy who would wear leather pants and stand on tables screaming at the top of his lungs." They also recalled that Langenburg was a great salesman who kept the band working, and that he got Mad Dog its very first gig in 1973 playing at his older brother's pool party.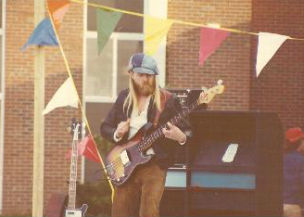 Don Langenburg
Initially, Mad Dog used the basement of the Charlebois home for rehearsals; but after the neighbors began complaining about the noise and the police started coming around, the band rented a rehearsal space in a warehouse located in an industrial area near the Saginaw River, just down the road from the Last Chance Tavern and the old Belinda Street Bridge.
Featuring a large garage and a restroom for just $125 per month, the warehouse at 617 Marquette became not only the place where they refined their sound, but also what the Charlebois brothers described as "party central" for the band members and their friends.
There was a lot more work than play at 617, however, as they treated being in the band like a traditional job. Joe and Bob would work four hours a day on just their vocals, recording them on a Sony reel-to-reel, and then Langenburg would join them for another four hours of band rehearsal. Bob and Joe Charlebois shared vocals in Mad Dog. Bob was basically the front man on their original songs while Joe would often do the leads on cover tunes and provide sibling harmony on the originals. Listen to "Climbing" by Mad Dog at https://www.youtube.com/watch?v=lyZ6zTrehzU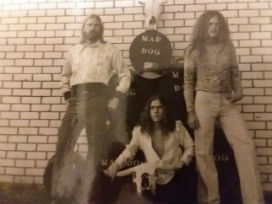 Mad Dog at 617: Don, Bob, and Joe
Mad Dog's heyday was during the time when 18-year-olds could drink legally. On January 1, 1972, Michigan had passed the law to align the legal drinking age with the new voting age law. The band played a lot of original materials during their performances, the idea being that they weren't going to get very far just playing covers. It was a ballsy move since most bar owners preferred bands that played covers of the hits of the day. The strategy seemed to work for Mad Dog, however, and they were soon making twice as much money playing in bars as they could make working in a factory. They started out renting trucks to bring their equipment to gigs, but when the price of gas rose dramatically, they purchased a new Chevy van and trailer.
One of the band's favorite early appearances was at the Music Performer's Trust Fund benefit at Veterans Memorial Park in Bay City on a little plywood stage. Some of the earliest photos of the band were taken at that performance.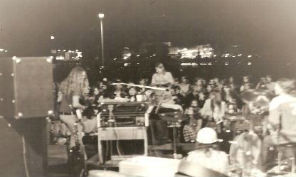 Mad Dog at Vet's Park
Mad Dog's first important gig was opening for Bob Seger at the Skidway Lake Music Festival in 1974. They got the job through a friend who had once served as a roadie for Mad Dog. The MC5 also played, but it was a makeshift lineup fronted by just Wayne Kramer. The event took place shortly before Bob Seger broke big nationally, and Joe Charlebois recalled that he was surprised by how beat-up Seger's equipment was. Joe remembered that Seger took a lot of care with his stage clothes during that time. "He used to dress better back then", Joe said. "Now he comes on stage looking like he going out to cut the grass". Seger's band ended up borrowing mic chords from Mad Dog for the performance.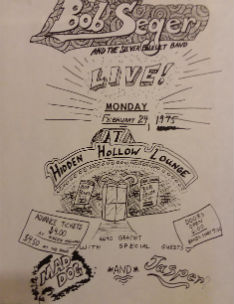 A year later, Mad Dog played a second memorable gig at the Hidden Hollow nightclub in Saginaw opening for Bob Seger and The Silver Bullet Band. Don Langenburg's new girlfriend had quite a bit of pull in Saginaw, and she helped get them the job. All of their equipment was set up ahead of time, and they just walked out on stage and started playing. Although they regret not hanging out backstage with Seger, it was an opportunity to play a show the way it was supposed to be done.
By the following year, Mad Dog felt they had enough high-quality original material to make a recording. They recorded their debut album in Glen Arbor, Michigan, in 1976. The small Northern Michigan town is in Leelanau County and is located near the Sleeping Bear Dunes National Lakeshore. The Glen Arbor Roller Mills recording studio was a former gristmill that had been converted into a recording studio by Fred Ball, a descendent of the family that owned the Ball Corporation, famous for its canning jars.
Glen Lake Roller Mills
It was a four-story building with the studio, which contained a grand piano and the control room, on the third floor. According to an article on the Ann Arbor District Library's website, it had "four stories of stilled milling machinery, all in pristine condition, with microphone outlets, keyboard instruments, drums, guitars, isolation booths, 16-track tape decks, a massive control panel, speakers and monitors all nestled in among the natural wood beams, the conveyor belts and the massive turning gears of the milling equipment." The buiulding also had gorgeous stained glass windows, thick wall-to-wall carpeting, an original 78-rpm juke box, reclaimed potbelly stoves, and wooden pegs rather than nails to hold the ceiling's acoustic panels in place.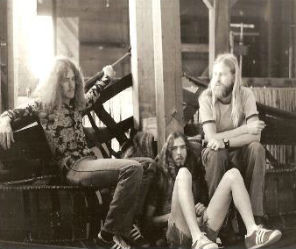 (L to R) Bob, Joe, and Don
The band produced the album themselves, more as a demo to get them signed to a record label. But they also wanted it to be good enough to release on their own if they didn't get signed. Chip Schrader worked at the studio and engineered what became the "617" LP. The music on the album was basically put together at the 617 warehouse and so they felt it was an appropriate title.
Joe's high school buddy, Chuck Clark, did the album's artwork. He was in art school at the time, and he used a pointillism technique of painting small dots to form the sci-fi image that was used for the cover. Sadly, Chuck Clark later died in a drowning accident in the Saginaw River.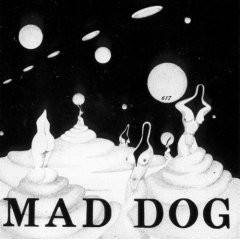 "617" album cover
Bob and Don went to New York after it was completed to shop the recording to major labels in an attempt to attract interest. With the album in hand, they plotted out the companies they wanted to visit, including Atlantic Records and Led Zeppelin's Swan Song imprint, but they were unsuccessful in getting a deal.
Their hopes dashed, the band ended up forming its own label, Fish Head, and releasing the "617" album independently in 1977. They also came up with a unique plan after Joe got ahold of a copy of Broadcasting Yearbook, which listed all of the Album-Oriented Rock stations across the country as well as Canada and even the Caribbean. The band sent out 500 copies of the album to the AOR stations in the hope that it would garner airplay.
It was a gutsy move, but the considerable investment was only semi-successful as the album was picked up and added to the playlists of numerous college radio stations but none of the big commercial stations. The "617" LP ended up being most important as something they could sell at gigs and use to promote the band. Listen to "We'll Try" by Mad Dog at https://www.youtube.com/watch?v=dtBHT3gRlpo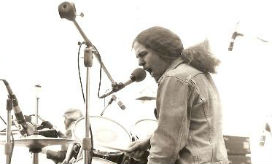 Joe Charlebois
Mad Dog then contacted the Diversified Management Agency (DMA), the company that handled Bob Seger and Ted Nugent. The band met with some of the agency's representatives but nothing came of it. Band members also made a point of visiting radio stations in person. But radio playlists in the 1970s had become very formatted and DJs had a lot less freedom. It wasn't like the 1960s when an artist could bring a record to a station with a reasonable expectation that the DJ might give it a spin.
Meanwhile, the band continued to gig relentlessly. They played nearly all the high schools in the Saginaw Valley from Bay City to Flint. They also played a wide variety of bars and roadhouses in Northwest Michigan towns including Cadillac, Benzonia, and Manistee. A favorite venue in that area was The Fireplace near Interlochen. The band would camp overnight in warm weather and stay in cheap motels during the winter months. Hidden Hollow in Saginaw, Wolcott's Frontier in Bay City, and the Rockin' Roundup in Midland were all venues Mad Dog played regularly in the Tri-Cities. The band also had gigs as far south as Ohio and Indiana and also in Ontario, Canada.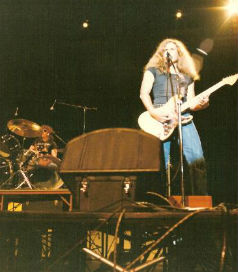 Bob Charlebois
By the end of the decade, the legal drinking age in Michigan had been pushed back to 21 in an attempt to curb the alarming rise of drunk driving accidents. Playing the bars was not quite as lucrative as it had been, and the band was running low on money when they completed a second album in 1980 that remains unreleased. They recorded part of it at the A-Square Studios in Ann Arbor, and Mad Dog produced the songs themselves.
The band was starting to fall apart at this point, however, and another album release was going to require a considerable investment. In an attempt to keep things going, Mad Dog experimented with expanding to a four-piece. Pete Whyte, who played guitar, keyboards, and violin, was a childhood friend of Joe's and he joined the band near the end. Don Langenburg seriously injured his fingers in a chainsaw accident, however, and left the band soon after. Dan Ferguson replaced Langenburg on bass but it was the beginning of the end for the band. After ten years, playing up to 250 dates per year, Mad Dog broke up in 1983. Looking back nearly four decades later, the Charlebois brothers now agree that they should have probably put the band to rest after Langenburg left.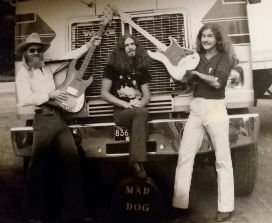 Mad Dog: Don, Joe, and Bob
Don Langenburg retired from music and went on to work at stripping and refinishing antique furniture. Bob Charlebois married Ellen Richardson, his girlfriend of six years who had ran the sound, booked the motels and collected the money from the gigs for six years until Mad Dog disbanded. Bob worked construction and went on to play with the KMJ Band and The Burdons for the next three decades. Joe Charlebois moved to Detroit for a while, and then returned to the Bay City area and worked for a landscaping company. Joe started his own grass cutting business that he operates to this day. Bob and Joe formed the Bare Bones Blues Band in 2000 and that group eventually morphed into Blues Mobile, a blues-based rock band. Blues Mobile plays regularly at Scotty's Sandbar, located on the banks of the Saginaw River on the middle grounds in Bay City.
Mad Dog's "617" album was illegally released by Mr. Nobody Records in 2005. Joe Charlebois discovered the operation on the Internet. He sent out cease and desist letters and contacted the F.B.I. to inform them of the copyright infringement. Joe met with an agent as well as a representative of the R.I.A.A. (Recording Institute Association of America) who told him that they couldn't help, but two weeks later he found a box of pirated CDs on his porch. It contained a letter that said that Mr. Nobody Records had tried to contact members of Mad Dog but had been unsuccessful.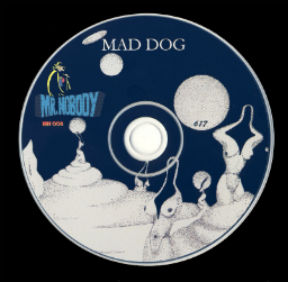 Illegal "617" CD
The silver lining in all this is that Joe started a Mad Dog web site. He had the album remastered and CDs printed up, thereby turning a negative into a positive. Joe says that he has sold copies of the "617" album all over the world. Their music is now being labeled 'proto-punk' much to the amusement of Bob and Joe Charlebois.
Although there are currently no plans to release the second album, it is on Joe's bucket list. There has been some interest in reissuing the "617" album from a company called Kinda Got Lost Records in Chicago. They are affiliated with Garrison Records, a Spanish label, but they were offering very little money. The brothers want to maintain control of their recordings so they have not yet accepted any offers; and they have been content to sell albums on their web site to fans in North and South America and also in Europe.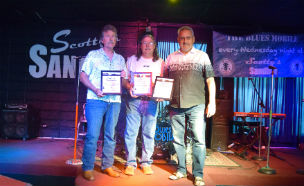 (L to R) Bob Charlebois, Joe Charlebois, receive their MRRL HOF certificates from Gary "Dr. J" Johnson at Scotty's Sandbar
Mad Dog was voted into the Michigan Rock and Roll Legends Internet Hall of Fame in 2019.
MRRL Hall of Fame: https://www.michiganrockandrolllegends.com/mrrl-hall-of-fame